Similac Pro-Advance Infant Formula with 2'-FL Human Milk Oligosaccharide (HMO) for Immune Support, Ready to Feed, 32 fl oz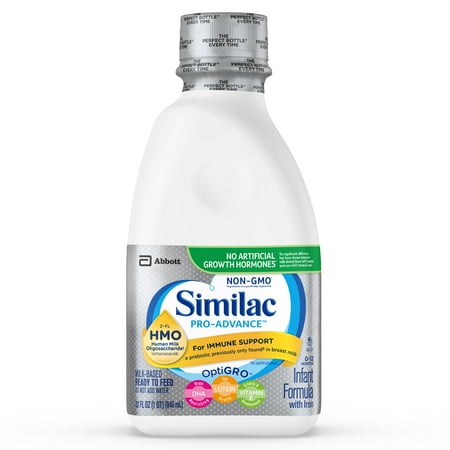 Sale :

$9.86

Sold & shipped by Walmart
Product Description

Additional Information

Reviews
Product Description
The first year of life is a period of rapid brain growth. Help your baby reach important milestones with Similac Advance Stage 1, an ideal first formula to provide complete nutrition for your baby's first year. Similac products are designed to support your baby's changing nutritional needs. Similac Advance Stage 1, from birth - 12 months, is designed to support your baby's developing immune system, brain, and eyes, and to help build strong bones.
Additional Information
IMMUNE SUPPORT: Similac Pro-Advance is the first infant formula with 2'-FL human milk oligosaccharide,* designed to be closer than ever to breast milk. (*Not from human milk.)
NO ARTIFICIAL GROWTH HORMONES: Similac is the first leading infant formula brand with no artificial growth hormones† (†No significant difference has been shown between milk derived from rbST-treated and non-rbST-treated cows)
REDUCED FUSSINESS: Parents reported‡ reduced fussiness, gassiness, and spit-up after 1 day (‡After switching to Similac Pro-Advance)
TRUSTED FORMULA: Similac is the #1 brand recommended by pediatricians for immune support and the #1 brand chosen by moms§ (§Total US infant formula, all outlets as of 3/31/2018, Nielsen data)
OptiGRO: Our exclusive blend of DHA, Lutein, and Vitamin E, nutrients also found in breast milk, help support baby's brain and eye development
Reviews
Rob531
Something changed!
We've been using this formula since June & I bought a new tub on Monday and when we make bottles there is so much foam! The excessive foaming was why we didn't like the Pro-advance formula to begin with. What changed with the advance non-gmo formula recently? All this foam can't be good for babies, we're seriously thinking about switching formulas. So disappointed!
Samanthajean14
One star
We originally started on the non gmo similac advance and my baby did fine on it. We just went and bought another tub and didn't realize we bought the regular similac advance by accident because they look the exact same. We had to use the new one because it cost so much and we already opened it. My daughter is spitting up more on the regular advance. What makes me mad is that enfamil has made all their formula non gmo and yet similac hasnt. It's time to get with the program and make all non gmo. Probably gonna switch her to enfamil for that reason alone.
Victoria040116
Gave our baby girl horrible gas!
Our baby girl was breastfed for 6 months and I was ready to start giving her formula due to the fact I was only pumping for her and my supply was slowing down. We tried the supplementing which was great but ounce she had it more than my milk she started to have 6 bowel movements a day so it was time to switch her to something else ounce she wasn't having anymore breast milk. We tried the Total Comfort and that made her constipated so we figured the sensitive was they way to go. Boy were we wrong! It gave her really bad gas and it smelled so bad we had to roll down the windows in the car! She was crying all the time and she vomited up two full bottles in one day! So we went back to giving her the Supplementing to at least get her comfortable again and then we finally tried the Advanced Non- GMO and she is doing amazing! She loved the taste of all the Similac products but this one just wasn't for her. After trying four of the products Smilac offers we finally found the right one!
BrianS87
#1 Powder Milk
My wife and I are Super Health Conscious since food today is not what it once was 10 years ago so we was very skeptical to what our first newborn will have to consume in her little body. People today reassure that the hospitals will recommend the best which is not always true due to the fact of promotional products and contracts that they have with the competitors for Infant Formulas. In 1987 my mother fed me Similac with Iron along with my other 2 siblings back then and today we all have grown to feed our own Similac Advance. The confidence I have with this formula when I hear complains with my friends newborn of gas, fussiness, diarrhea and they tell me there using other brands and when switched to Similac Adavance NON GMO in less than a week they experience the difference. Yes it is expensive BUT like the saying goes "you get what you pay for", can't expect to drive a BMW and pay a Toyota price tag. I endorse this product and will recommend nothing else but Similac.
nick
price jump
this formula is great for our son. this is more to walmart for jacking the price up $2 out of nowhere. Thats a steep increase in my opinon. Please lower the price