Similac Pro-Advance Infant Formula with 2'-FL Human Milk Oligosaccharide (HMO) for Immune Support, Ready to Feed, 32 fl oz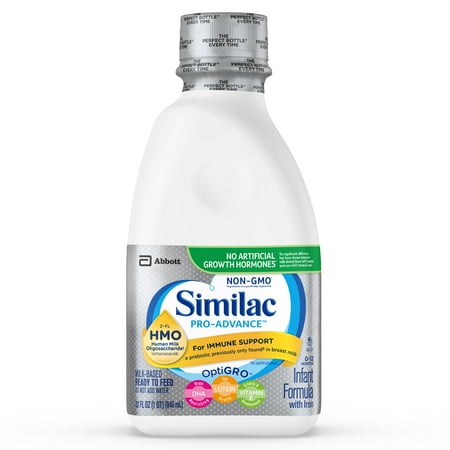 Sale :

$9.86

Sold & shipped by Walmart
Product Description

Additional Information

Reviews
Product Description
The first year of life is a period of rapid brain growth. Help your baby reach important milestones with Similac Advance Stage 1, an ideal first formula to provide complete nutrition for your baby's first year. Similac products are designed to support your baby's changing nutritional needs. Similac Advance Stage 1, from birth - 12 months, is designed to support your baby's developing immune system, brain, and eyes, and to help build strong bones.
Additional Information
Similac Pro-Advance and Pro-Sensitive infant formulas are the first and only formulas with 2'-FL Human Milk Oligosaccharide (HMO)*, an immune nourishing prebiotic previously only found** in breast milk (*Not from human milk **At significant levels)
2'FL HMO helps support your baby's developing immune system by closing multiple gaps in immune function* between formula-fed and breast-fed infants (*As measured in blood samples in a clinical study)
All ingredients are carefully selected to meet our high standards and are Non-GMO*** (***Ingredients not genetically engineered)
Closer than ever to breast milk. From Birth – 12 months our formula provides complete nutrition for your baby's first year from the #1 brand chosen by moms* and the #1 brand fed in hospitals (*Total US infant formula all outlets as of 12/31/16, Nielsen data)
Reviews
meg89
Way to many bubbles/foam
The doctor switched my 3 month old to the sensitive, it's super foamy which concerns me with all the bubbles and she spits up. She very rarely spit up before now it's almost all the time.
Victoria040116
Gave our baby girl horrible gas!
Our baby girl was breastfed for 6 months and I was ready to start giving her formula due to the fact I was only pumping for her and my supply was slowing down. We tried the supplementing which was great but ounce she had it more than my milk she started to have 6 bowel movements a day so it was time to switch her to something else ounce she wasn't having anymore breast milk. We tried the Total Comfort and that made her constipated so we figured the sensitive was they way to go. Boy were we wrong! It gave her really bad gas and it smelled so bad we had to roll down the windows in the car! She was crying all the time and she vomited up two full bottles in one day! So we went back to giving her the Supplementing to at least get her comfortable again and then we finally tried the Advanced Non- GMO and she is doing amazing! She loved the taste of all the Similac products but this one just wasn't for her. After trying four of the products Smilac offers we finally found the right one!
Tsk12
Bubbles
Switched from Nutramigen to this at 7 months. Very foamy and bubbles in bottle . Is this normal?
Mandy922
Concerns
This formula is very foamy, why.? Is it because it's sensitive? What causes that? It seems to be making my son gassy. The doctor put him on this formula due to him puking. Is there another suggestion of formula to ask my doctor about?
nick
price jump
this formula is great for our son. this is more to walmart for jacking the price up $2 out of nowhere. Thats a steep increase in my opinon. Please lower the price