Ensure Plus Nutrition Shake with 13 grams of high-quality protein, Meal Replacement Shakes, Vanilla, 8 fl oz, 16 count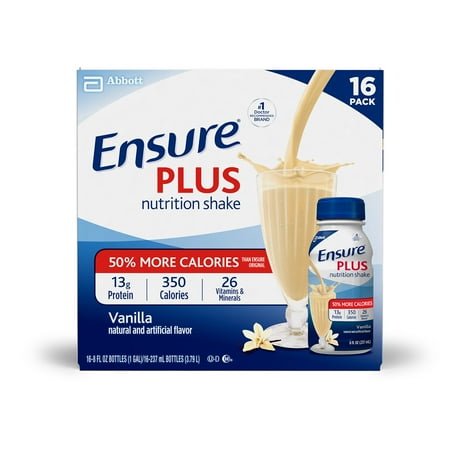 MSRP :

$40.911





Sale :

$24.97

Sold & shipped by Walmart
Product Description

Additional Information

Reviews
Product Description
Ensure Plus Nutrition Shake provides nutrition to help you gain or maintain a healthy weight from the #1 doctor recommended brand. It has 350 nutrient-rich calories, including 13g of protein and 24 essential vitamins and minerals. It also delivers antioxidants (Vitamins C, E, & Selenium) to support your immune system and Omega-3's to support heart health. Ensure Plus has a variety of benefits, whether you?re looking to gain healthy weight, recover from an illness or surgery, or need to add extra nutrition to your diet.
Additional Information
STRENGTH & ENERGY: Nutrition scientifically designed for Strength & Energy
COMPLETE NUTRITION: Each Ensure Plus Shake provides 350 calories and 13 grams of protein and 26 vitamins and minerals to provide you with complete nutrition at just over $1 per serving
GREAT TASTE: A great tasting way to get protein and antioxidants (Vitamins C, E, & Selenium) every day
Suitable for lactose intolerance and gluten-free. (Not for people with galactosemia)
DAILY USE: Drink 1-2 shakes daily to gain and maintain a healthy weight.
Reviews
GWilley
Great product! Horrible shipping issues!
Nothing bad to say about the Ensure Plus product. It tastes much more like a milkshake than the regular Ensure variety. However, after multiple orders over multiple years from Walmart's online store, we've had multiple occasions of boxes broken open and bottles of Ensure leaking out. The last batch was a joke. The UPS guy struggled to get the box to our porch, and the entire bottom of the box was broken open and soaked from leaking bottles that had broken open. I had to open all the Ensure boxes, inspect each bottle for cracks and leakage, and then wash them all in the sink before I could store them until consumption. A bit silly, I do think. Come on Walmart! We get that this is a heavy/bulky product, so package it appropriately! Dumping 4 cartons in a regular thickness cardboard box and putting tissue style paper in it to "pad" it does nothing! I'm going to go over to Amazon and begin ordering the Ensure from there if this irresponsible shipping continues.
GWilley
Great tasting!
I was prescribed Ensure around 1980 or so when my mouth was wired shut after an operation on a broken jaw, and I remembered liking it back then. Last December, my doctor wanted to put me on statins to lower my annually increasing, now too-high cholesterol, but I didn't want to be on drugs for the rest of my life, so I started keeping track of saturated fats, cholesterol, etc., in my diet and added daily a cup of oats, an apple, and 8 ounces of grape juice. After five months, all but one of my levels were lowered to within range, with the one already down 40 points, just 14 above acceptable. And keeping the various daily nutritional levels under maximum also reduced my weight by about 12 pounds to a healthy 160. However, when the weight kept going down, I decided I needed to add calories, and Ensure Plus Vanilla is a great way to add the calories without going over on saturated fat, etc. I find it delicious and wish I could afford more than just one bottle a day! [This review was collected as part of a promotion.]
Kelly79
Great for gaining weight and back to a healthy start
Two years ago I was going through a deep depression because of the lost of my father, I couldn't eat or sleep and lost myself completely. After time kept going by basically six months after his death my family kept stating I should see a doctor because I looked way to skinny and malnourished at the point. I went to see my Pcp and was told I wasn't to far off from being anorexic and I would have to eat or I can be hospitalized. So one day I turned on my t.v. and the first thing that popped up was this endure commercial.. and because I knew I couldn't really get myself into cooking or eating certain things I decided to start this while working myself back into eating food.. 8-10 months later I had gained back 11 pounds and my complete appetite.. I also introduced this product to many other people that was in a group I attended and it helped them as well. So I want to thank your company for helping me get my health back and being myself again [This review was collected as part of a promotion.]
Kirstene91
Hello
So I'm currently 26 years old. When I was 25 years old, I use to have a lot of issues with my gastrointestinal area and I never knew why. I use to lose weight slot and not be able to gain it, loss my appetite, have stomach pains, and it was hard to maintain the proper calories and nutrition I needed to maintain a healthy body. When I read rushed to the hospital one day, I wasn't able to keep down liquids, I had no o appetite all day and had sharp stomach pains. I was diagnosed with gallbladder disease and prep for immediate surgery. They said my gallbladder was the size of a goofball and wasn't able to break down fats or the things I ingested in my body. After surgery I was referred to Ensure Plus and to try to start a routine at adding it to my daily diet. When I started my Ensure plus, I was gaining weight that I desperately needed, I gained a constant appetite, and my immune system started working alot better. I am very grateful for this product because it is very beneficial to maintaining a healthy body and life. [This review was collected as part of a promotion.]
Ceejaay5
I love Ensure
I gained 1 pound a day drinking this. I lost so much weight fighting SIBO i could not keep any food down rather could not put much in because of gas. Ensure helped with lost nutrients. I still drink it daily. Buy the large cans of powder cheaper and goes long way. All you need is 1 or 2 glasses a day and you all set. Plus added energy i was lacking for so many years.