Ensure Plus Nutrition Shake Vanilla with 13 grams of protein, Meal Replacement Shakes, 8 Fl oz Bottles, 16 Ct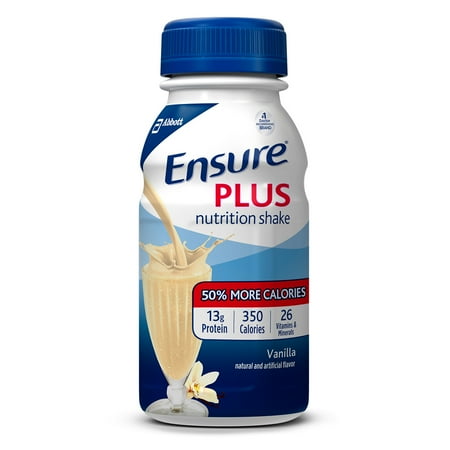 MSRP :

$24.97





Sale :

$23.49

Sold & shipped by Walmart
Product Description

Additional Information

Reviews
Product Description
Ensure Plus Nutrition Shake provides nutrition to help you gain or maintain a healthy weight from the #1 doctor recommended brand. It has 350 nutrient-rich calories, including 13g of protein and 24 essential vitamins and minerals. It also delivers antioxidants (Vitamins C, E, & Selenium) to support your immune system and Omega-3's to support heart health. Ensure Plus has a variety of benefits, whether you?re looking to gain healthy weight, recover from an illness or surgery, or need to add extra nutrition to your diet.
Additional Information
STRENGTH & ENERGY: Ensure users feel more strength and energy in just 2 weeks*
COMPLETE NUTRITION: Each Ensure Plus Shake provides 350 calories and 13 grams of protein and 26 vitamins and minerals to provide you with complete nutrition at just over $1 per serving
GREAT TASTE: A great tasting way to get protein and antioxidants (Vitamins C, E, & Selenium) every day
Suitable for lactose intolerance and gluten-free. (Not for people with galactosemia)
DAILY USE: Drink 1-2 shakes daily to gain and maintain a healthy weight.
Reviews
GWilley
Great product! Horrible shipping issues!
Nothing bad to say about the Ensure Plus product. It tastes much more like a milkshake than the regular Ensure variety. However, after multiple orders over multiple years from Walmart's online store, we've had multiple occasions of boxes broken open and bottles of Ensure leaking out. The last batch was a joke. The UPS guy struggled to get the box to our porch, and the entire bottom of the box was broken open and soaked from leaking bottles that had broken open. I had to open all the Ensure boxes, inspect each bottle for cracks and leakage, and then wash them all in the sink before I could store them until consumption. A bit silly, I do think. Come on Walmart! We get that this is a heavy/bulky product, so package it appropriately! Dumping 4 cartons in a regular thickness cardboard box and putting tissue style paper in it to "pad" it does nothing! I'm going to go over to Amazon and begin ordering the Ensure from there if this irresponsible shipping continues.
Musical23
Gross
I've always been very tiny, but now it's gotten to a point of unhealthy. So I decided to try this ensure plus that was recommended to me. This drink is gross. I can't stand the smell, the thick consistency, or the taste. I tried adding ice in the cold drink and chocolate syrup.. and nothing helped. I was really hoping I could stand to drink this because I have trouble wanting to eat, but wow I can't stand these. I'd honestly rather starve
Nickied89
The Best Tasting Ensure Product Ever
A while back my mother let me try the original ensure in the strawberry flavor. i did not like the aftertaste after trying it out I got a chance to try the ensure plus in the strawberry flavor and to my amazement it has been a godsend because i can drink a lot of the ensure plus strawberries and never get sick or nauseous from them and i sometimes drink it before i go to bed after a long day. I would give it a rating of A+++++++++++++++++++++++++++++++ all the way around. Way to go Abbot Laboratories and to Ensure for making the Ensure Plus in strawberry i hope one day that you would partner with Haagen Dazs ice cream and make Ensure Plus in a Chocolate Peanut Butter Version
Enelissa77
Awsome
Love-it. Help-me-with-nutrition-severe-problem. Love-flavor-and-body-feeling-after-drinking-it. Help-me-live-better
ReggieT
taste great !!!
Im a throat cancer survivor ... I lost 50 lbs doing my radiation treatment ... I'm 5'11 and fell from 170 lbs to 120 lbs by time my treatment ended ... I looked liked a skeleton when told I was cancer free ... I started drinking ensure to help me gain some of my weight back as fast as possible ... Well its been 2 months now since I started drinking this product and I have already gained 30 lbs of it back yayyyy !!!! I'm halfway back to my original wt. I'll be using ensure well past my goal to help me maintain my wt and perhaps gain a little more then my original 170 lbs once I get there ... This product does work and taste great too .