Ensure Original Nutrition Shake Powder with 9 grams of protein, Meal Replacement Shakes, Vanilla, 14 oz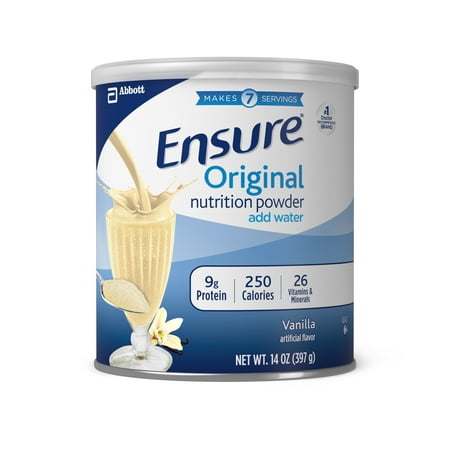 MSRP :

$23.894





Sale :

$19.55

Sold & shipped by CLICKFOROTC
Product Description

Additional Information

Reviews
Product Description
Ensure Powder provides complete and balanced nutrition from the #1 doctor recommended brand. The convenient powder form makes it easy to mix with your favorite foods and beverages, and it's easy to store. Per serving, it contains 24 essential vitamins and minerals plus 9 grams of protein. Ensure Powder has a number of benefits, whether you're looking for a convenient source of nutrition or recovering from an illness or surgery.
Additional Information
STRENGTH & ENERGY: Nutrition scientifically designed for Strength & Energy
COMPLETE NUTRITION: Each serving of Ensure Original Powder has 250 calories and 9 grams of high- quality protein, to provide you with complete nutrition at just over $1 per serving
GREAT TASTE: It's a great tasting way to get protein and antioxidants (Vitamins C, E & Selenium) every day from the #1 doctor recommended brand
Suitable for lactose intolerance and gluten-free (Not for people with galactosemia)
DAILY USE: 1-2 servings recommended daily
Reviews
SMALMAN
TO EARLY TO TELL,BUT I'VE BEEN USING ENSURE 4 2WKS
I JUST STARTED ENSURE,AND I HAVE'NT HAD A CHANCE TO SEE THE RESULTS YET. BUT IT TASTE GREAT!
RadhaKa
Ensure Original Nutrition Powder is perfect in taste & nutrition
Due to an ongoing hyperthyroid condition, I have relied on Ensure Original Nutrition Powder for many years to maintain my health and keep an adequate weight. No other product has ever achieved this for me. I became aware of this product whilst working as a nurse with patients who could most often not eat normally. For many of these people, their entire nutrition was derived from Ensure Original Nutrition Powder. Despite most of these patients not only being bedridden, but also unable to exercise, they were maintaining their weight over their many months of recovery post their brain injuries and they were thriving. Impressed, I began to purchase Ensure Original Nutrition Powder to maintain my weight whilst working in this highly physically demanding job. I was delighted to find that this product not only tasted very pleasing, but my weight was maintained, my energy boosted and my sense of wellbeing enhanced. I highly recommend Ensure Original Nutrition Powder. [This review was collected as part of a promotion.]
enigma65
Is it possible to add powder to hot water?
I have been mixing the powder with cold water to a slurry then topping up with cold but find the slurry does not always dissolve
Namzie
In this world of food adulteration a nutrition drink such as this for a careless woman like me is absolutely wow,
I am a lawyer, a busy lawyer, a mom of 5 whose day starts early with my kid's school and then whole day is quite a roller coaster eventful day! Where time is of essence for my clients, it is of essence to a mom whose child is anxiously waiting for her mom with full of energy to match hers, when do I get time to eat right. A question that remains unanswered but this nutritional drink is always welcome at night when 15 mins before I call it a day, mean getting something right for my body and gearing myself for the next day! Thanks Ensure for ensuring a happy sleep and strength to sail through the next day! [This review was collected as part of a promotion.]
Oyet
Ensure not just for the oldies but for Adults too!
I was introduced to Ensure when the doctor of my parents advised us to add it to their daily supplements. True, enough, after just a few weeks of regular drinking of ensure I can see that my parents began to be more active and lively. I was so happy to learn that this product is not only for old aged people but there are also products that can cater to middle aged adult like me. Now, Ensure original vanilla flavor is one of my favorite daily drink! [This review was collected as part of a promotion.]