PediaSure Grow & Gain Nutrition Shake For Kids, Chocolate, 8 fl oz (Pack of 24)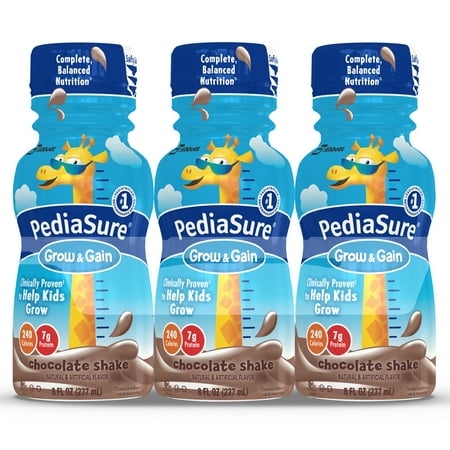 MSRP :

$37.53





Sale :

$31.98

Sold & shipped by Walmart
Product Description

Additional Information

Reviews
Product Description
Additional Information
CLINICALLY PROVEN GROWTH: Help kids catch up on growth with PediaSure Nutrition Shakes
MOST RECOMMENDED: #1 pediatrician-recommended brand
COMPLETE, BALANCED NUTRITION: Contains no artificial growth hormones* and provides a good source of protein and 25 essential vitamins and minerals, for the nutrients kids need (*No significant difference has been shown between milk derived from rbST-treated and non-rbST-treated cows)
KID-APPROVED FLAVORS: Chocolate Shake, Banana Shake, Berry Shake, Strawberry Shake, S'mores Shake, and Vanilla Shake
DIETARY NEEDS: PediaSure is gluten-free, kosher and halal, and suitable for children with lactose intolerance, but is not for children with galactosemia
Reviews
SIJA
Our children like this product very much
We have no issues with the product or selection of items. The challenge we have is having the product delivered in tact and NOT damaged. Our latest order was unfortunately damaged as it looks like the product was just thrown onto the snow bank. I understand we have bad weather and that drivers can use their discreation to decide on leaving a package outside or not. In this case I don't think it was the correct decision. The packaging was damaged, wet and some contents were also damaged. Maybe some of the product froze while sitting outside and therefore the expanding fluid broke the containers. Another reason for not delivering this way. Maybe it should have been held on the truck and delivered on a better day Anyway we're currently patiently waiting for a Walmart Rep to contact me for resolution and what we can do. Not looking for refund. I just want product replace asap if possible due to travel.
Jennifer
Saving grace for our failure to thrive toddler
Pediasure has been my favorite product that I have ever purchased in my entire life. Not only has it provided adequate calories and nutrition helping my failure to thrive toddler grow, but it has given me my sanity back. Before our pediatrician suggested pediasure, I was constantly chasing down my toddler trying to offer him whole milk and food that he would continuously reject. I would log every calorie and read every label just to make sure he was getting what he needed. Every day was stressful and feeding him was a struggle. I constantly felt guilty that I wasn't doing enough for him. We finally introduced my tiny boy to pediasure and he gobbled down the whole bottle in only a few minutes! He was able to get 240 calories in a just a few minutes vs. me following him around with food for hours! He still eats his tiny meals and snacks, but I am MUCH less stressed when he only picks at his food bc I know he's drinking his pediasure. I cannot express how much I love this product!
ArisMom
LOVE PEDIASURE
My daughter has special needs and is now 4. At 11 months her GI dr recommended we go ahead and convert her from formula to pediasure for all her GI issues and not gaining weight. We did and it worked great. She still drinks 1-3 bottles per day to supplement her diet. She LOVES it and it works great for keeping her growth going in the right direction. We tried organic preoducts, which I liked a lot but what keeps us coming back to Pediasure is that she still only sucks liquids from a nipple and it is so easy to just pop a bottle top on one of these and go! My daughter doesn't talk but when she sees a pediasure bottle, she throws her hands up in the air and squeals! Friends and family give it to her as presents at holidays! It's the only brand that works perfect for our needs and that I trust. I think we will be drinking pediasure for years to come. I buy it in bulk twice per month. We tried other pediasure products and they don't work well for us, but the original blue bottle, vanilla is our favorite!
BsMama
Perfect for gaining weight
My son is going through chemo, so he lost quite a bit of weight. I got him these pediasures and in a month he gained back the weight he had lost. He drank about 3 a day for a few weeks to get back to his normal weight. This has been a blessing for this worried mama!
EmilyBear
Perfection!!!
My daughter loves the taste!! Really does make ur child grow amd adds healthy wt.. 100% recommend!!!