Similac Pro-Advance Infant Formula with 2'-FL Human Milk Oligosaccharide (HMO) for Immune Support, Ready to Feed, 2 fl oz (Pack of 8)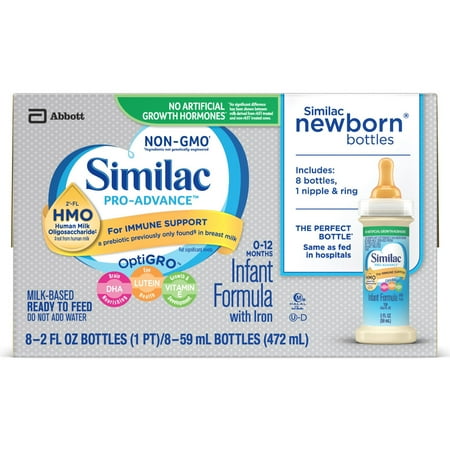 Sale :

$7.96

Sold & shipped by Real Basics
Product Description

Additional Information

Reviews
Product Description
Similac Advance is a nutritionally complete milk-based iron-fortified infant formula, featuring OptiGRO, an exclusive blend of brain & eye nourishing nutrients for baby's development. Similac Advance is designed to support your baby's developing immune system, brain, and eyes, and to help build strong bones.
Additional Information
IMMUNE SUPPORT: Similac Pro-Advance is the first infant formula with 2'-FL human milk oligosaccharide,* designed to be closer than ever to breast milk. (*Not from human milk.)
NO ARTIFICIAL GROWTH HORMONES: Similac is the first leading infant formula brand with no artificial growth hormones† (†No significant difference has been shown between milk derived from rbST-treated and non-rbST-treated cows)
REDUCED FUSSINESS: Parents reported‡ reduced fussiness, gassiness, and spit-up after 1 day (‡After switching to Similac Pro-Advance)
TRUSTED FORMULA: Similac is the #1 brand recommended by pediatricians for immune support and the #1 brand chosen by moms§ (§Total US infant formula, all outlets as of 3/31/2018, Nielsen data)
OptiGRO: Our exclusive blend of DHA, Lutein, and Vitamin E, nutrients also found in breast milk, help support baby's brain and eye development
Reviews
Jaskaran
Very best choice !!
Very helpful product !!
FamiliesRUS
Short Dated Formula
Formula is Good Fantastic. Babies Like It. But the two star is because the problem is with the supplier of Walmart who is giving almost expiring products. I bought 8 boxes and 4 boxes of this were expiring same month and 2 boxes of this were expiring in 15 days. Formula is one thing the suppliers should not play with. One of the short dated formula is repacked package. Don't dump on your customers your returns. Walmart and their suppliers should know better not to play with Baby Formula.
dynasty16
Great for quick grab and feed!
I have used these before after giving birth to my other two children as well as my newborn! These are really good for supplementing if you're nursing, or if you're on the road and needed a quick bottle. The hospital usually gives you some to start out with but I have found that they are just as useful after you leave the hospital! I recommend anyone to get these to put in their diaper bag !
GabRo
Easy to use and baby loves it
This is the same formula given to my son in the hospital. Comes in 2 oz bottles .. All you do is shake and attach nipple. Super fast and convenient. The down side is that this formula sells out every where quick, but is always available online. Also the box of 8 only comes with one reuseable nipple.Walmart has the cheapest price than anyother store.I order it online and it always arrives earlier than expected. My newborn loves this formula;) I highly recommend it!! It is so much easier than preparing the powder formula especially at night.
MommyofM
Very handy especially when travelling
Started using this product as soon as we came back from the hospital. I am a first time mom and this helped my husband and I a lot especially during midnight/early morning feedings. We have a two story home and it saved us time by not having to mix and warm/formula. We most especially like using this product when travelling as it takes away the hastle of preparing the bottles and the formula before and during travel. My son is now 6 months old but we still purchased this newborn bottles specifically for travel and when we're at church since it is very easy to use. Oh and also my son loves the milk as it seem tastier compared to the powdered version.