Similac Pro-Advance Infant Formula with 2'-FL Human Milk Oligosaccharide (HMO) for Immune Support, Ready to Feed, 2 fl oz. (1 box of 8 bottles)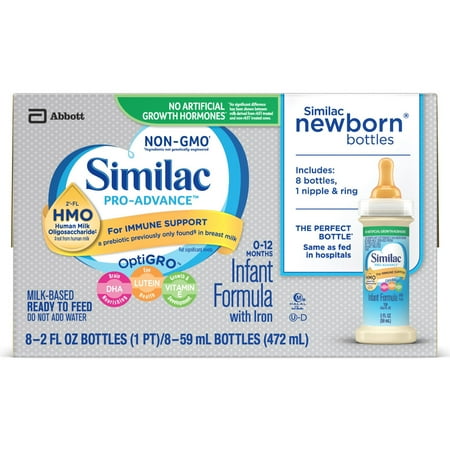 MSRP :

$9.32





Sale :

$8.33

Sold & shipped by Walmart
Product Description

Additional Information

Reviews
Product Description
Similac Advance is a nutritionally complete milk-based iron-fortified infant formula, featuring OptiGRO, an exclusive blend of brain & eye nourishing nutrients for baby's development. Similac Advance is designed to support your baby's developing immune system, brain, and eyes, and to help build strong bones.
Additional Information
Similac Pro-Advance and Pro-Sensitive infant formulas are the first and only formulas with 2'-FL Human Milk Oligosaccharide (HMO)*, an immune nourishing prebiotic previously only found** in breast milk (*Not from human milk **At significant levels)

2'FL HMO helps support your baby's developing immune system by closing multiple gaps in immune function* between formula-fed and breast-fed infants (*As measured in blood samples in a clinical study)

All ingredients are carefully selected to meet our high standards and are Non-GMO*** (***Ingredients not genetically engineered)

Closer than ever to breast milk. From Birth – 12 months our formula provides complete nutrition for your baby's first year from the #1 brand chosen by moms* and the #1 brand fed in hospitals (*Total US infant formula all outlets as of 12/31/16, Nielsen data)

Reviews
dynasty16
Great for quick grab and feed!
I have used these before after giving birth to my other two children as well as my newborn! These are really good for supplementing if you're nursing, or if you're on the road and needed a quick bottle. The hospital usually gives you some to start out with but I have found that they are just as useful after you leave the hospital! I recommend anyone to get these to put in their diaper bag !
GabRo
Easy to use and baby loves it
This is the same formula given to my son in the hospital. Comes in 2 oz bottles .. All you do is shake and attach nipple. Super fast and convenient. The down side is that this formula sells out every where quick, but is always available online. Also the box of 8 only comes with one reuseable nipple.Walmart has the cheapest price than anyother store.I order it online and it always arrives earlier than expected. My newborn loves this formula;) I highly recommend it!! It is so much easier than preparing the powder formula especially at night.
Phernandezs01
You need to buy Similac Nb for your baby's tummy
I try a few different formulas and similac was best for my new born tummy, less colic and less constipation :) I absolutely recommend this product for newborn :)
jfw38
Great price for baby supplies
the product was delivered in a Period. this was great for my family thank you..JW
FamiliesRUS
Short Dated Formula
Formula is Good Fantastic. Babies Like It. But the two star is because the problem is with the supplier of Walmart who is giving almost expiring products. I bought 8 boxes and 4 boxes of this were expiring same month and 2 boxes of this were expiring in 15 days. Formula is one thing the suppliers should not play with. One of the short dated formula is repacked package. Don't dump on your customers your returns. Walmart and their suppliers should know better not to play with Baby Formula.