Similac NeoSure Infant Formula with Iron, For Babies Born Prematurely, Powder, 13.1 oz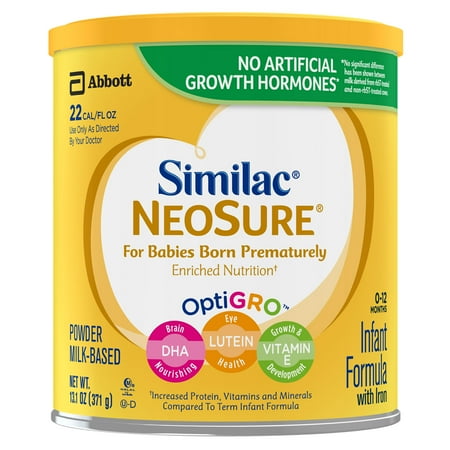 MSRP :

$27.26





Sale :

$19.49

Sold & shipped by Walmart
Product Description

Additional Information

Reviews
Product Description
Promotes catch-up growth during your premature baby's first 12 months. A nutrient enriched formula for babies who were born prematurely. Designed to be used as a preterm post-discharge formula.
Additional Information
Similac is the first leading infant formula brand with no artificial growth hormone* (*no significant difference has been shown between milk derived from rbST-treated and non-rbST-treated cows)
Similac NeoSure promotes excellent catch-up growth in your premature baby including better gains in weight, length and head circumference when compared to premature babies fed term infant formulas
An easy-to-digest milk-based formula that contains increased protein, energy, vitamins and minerals compared to standard infant formula as well as extra calories for growth in baby's first year
The only nutrient-enriched formula for preterm infants with data to show it promoted greater rates of growth than a term infant formula during the first year of life for babies born prematurely
Includes DHA and ARA, special nutrients found in breast milk that are important for helping support brain and eye development and calcium and phosphorus for baby's growing bones
Reviews
FirstTimeParents
NeoSure: Formula for Weight Gain and Gas Production
Our premie was born at 29 weeks and 2 days and stayed in the NICU for about 10 weeks. He was sent home on alternate breast milk and Neosure 24 combination. He was fed in quite measured quantities in the NICU, which, BTW, we always thought was less than sufficient for him (but we understand their cautious approach). At home we offered more and he took it happily. We believe that his excellent weight gain in the early weeks at home is due to this product, however, after about 10 weeks at home, his weight gain has reduced pace a little. He likes breastmilk over Neosure for sure, but he doesn't mind Neosure when hungry :) We notice that he can tolerate less volume of Neosure when compared to breastmilk, We also see more frequent spit-ups, and throw-ups with Neosure, both of these may be gas related. We also noticed that he goes less often when on Neosure (we have tried experimenting changing levels of Neosure). We tried some pear juice but that did not help much and was cutting into his calories. We wish there a less gassy version of this product.
Twinning
Constipated Twins
I pretty much have the same problem as shelbiwelbi. My twins were born March 3rd at 32 weeks. While they were in the NICU, they were taking the Ready to Feed bottles. When they were discharged 13 days later, we were sent home with a couple days worth of the bottles as well. Both boys were having regular bowel movements a couple times a day but about a day or two after switching to the powder I noticed that they both were constipated. Immediately after they eat, they grunt and strain to produce a bowel movement that sometimes never happens. At some point of the day, if a bowel movement finally happens, they resemble rabbit pellets or a hard ball. (SORRY IF THAT'S TOO MUCH INFO) Like the previous poster stated, this too breaks my heart and makes me want to cry when I see the pain in their faces from the issues they are having. I came to this site to gather some info before switching the formula. My suspicion seemed to be confirmed and I also see that my babies aren't the only ones having this problem.
Kolby2018
This product is helpful but at the expense of a gassy uncomfortabe baby
My baby was born at 34 weeks weighing 3lbs 11oz. He stayed in NICU 12 days and was immediately put on Neosure 22 for weight gain while also supplementing with breast milk. During the first month our baby was taking Neosure just fine but by month 2 is when we noticed fewer poops, more spit up and extreme gassiness. Although we were advised to give two servings of Neosure daily while also taking breast milk our baby seem to develop an intolerance for Neosure. Our Pediatrician suggested we give baby half and half meaning 1/2 Neosure and 1/2 Pro- Advance. We had least spit ups and he still gained but did not poop often. We just purchased Total Comfort and I am looking forward to seeing some relief for our baby based on all the reviews about Total Comfort.
Molly85
Average product
For the price and lack of availability, I am hoping for the best for my beloved premie. Unfortunately I agree with many that it causes excessive gas & discomfort & makes my baby unhappy. He has been through so much already at the nicu and I was hoping things would get better. I am strongly thinking of switching to a different formula which is a shame since my first one relied heavily on Similac. We are loyal customers but not a fan of neosure!
Linds
Expensive
My baby was born at 34 weeks and the NICU put her on Neosure and her pediatrician wants to keep her on it for a while to gain weight. Im now a stay at home mom and i wish there was an option for assistance paying for the formula, we go through about 6 cans a month.