Ensure Original Nutrition Shake with 9 grams of protein, Meal Replacement Shakes, Milk Chocolate, 8 fl oz, 16 Count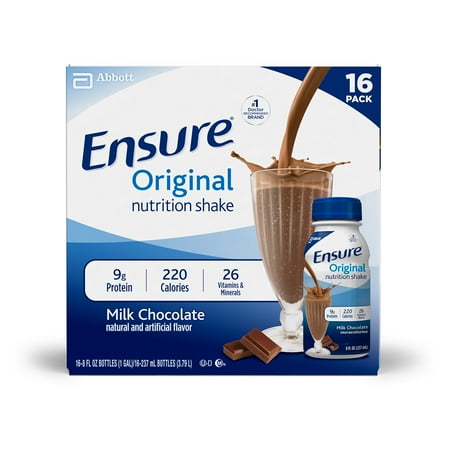 Sale :

$19.97

Sold & shipped by Walmart
Product Description

Additional Information

Reviews
Product Description
With Ensure Original Shakes, you get nutrition when you need it. Whether you are running out the door for work, had to skip lunch or need a quick pick-me-up through the day, this delicious meal-replacement option provides complete and balanced nutrition from a number one doctor-recommended brand of supplements. With 30 percent less sugar than the previous shake (15g vs. 23g), these 8 fl oz Ensure shake bottles are a smart, low-sugar alternative to keep you healthy and ready to take on the day. Packed full of vitamins and protein, this treat is both tasty and filling. It is also an excellent source of omega-3 fatty acids (320mg of plant-based ALA; 20% of 1.6g DV). Plus, the convenient pre-mixed bottles in this 16-count chocolate shake pack are convenient to take with you wherever you go. Keep one in your car, gym bag or desk at work for anytime nutrition you can count on.
Additional Information
STRENGTH & ENERGY: Nutrition scientifically designed for Strength & Energy
COMPLETE NUTRITION: Each Ensure Original Shake has 220 calories and 9 grams of protein, to provide you with complete nutrition at just over $1 per serving
GREAT TASTE: A great tasting way to get protein and antioxidants (Vitamins C, E & Selenium) every day
Suitable for lactose intolerance and gluten-free (Not for people with galactosemia)
DAILY USE: Drink 1-2 shakes daily to feel improved strength and energy
Reviews
Marlene
enlive original and complete
My husband mother-in-law and myself drink Ensure.We feel better energy and healthwise since we use this product.It also has good flavor we enjoy.
Gwen744
Rich, full flavor
I've tried other protein drinks and the other brands have left a bad after taste. I felt like I was drinking crushed up chalk that's had water added to it with the other brands. With Ensure, I can honestly say that I've been pleasantly surprised and have found none of that to be true. That is DEFINITELY NOT the case with Ensure. I was skeptical at first to try, but glad I did. I enjoy a bottle every morning with breakfast or on my drive doing errands. I prefer the milk chocolate, but I have tried Strawberry and enjoy that flavor as will. None of the chalky taste or terrible after taste like you have with other brands. I would highly recommend Ensure to anyone and everyone as a great part of a healthy diet. One more side note. I don't often give high marks on reviews of products, unless I truly believe they are well deserved. I get them out lightly. [This review was collected as part of a promotion.]
AiokiLove310
The VERY BEST since birth!!
I absolutely love me an ensure, especially when I can't stomach food and I need instant nutrients replenished to my system. I must say I can drink a few back to back on ice since it's so refreshing. I also adore the variety of flavors and choices to choose from, I myself enjoy the original vanilla anytime but will definitely switch it up from time to time. My cat even tries to drink it! I've been knowing and loving ensure since I was a little lad and my grandmother would bring some home every morning from her night shift as a nurse, as she would make it apart of our balanced breakfast. I always try to keep them in the house, but I end up having to hide them from the family because they're JUST THAT GREAT! Please don't stop doing what you've been doing 20+ years of my life. If nobody has told you then I will; I LOVE YOU & APPRECIATE YOU!! Have an awesome day with everyday to come after. [This review was collected as part of a promotion.]
SouthernBell
Dark Chocolate Ensure Original
I buy this for my dad he drinks 2 a day to help him grain weight and for the vitamins in them. So I have to get him 60 of them every month. It is important to me that he drink them to help with his weight. He is to thin for a man his height. I am so worried that if he was to get sick he would be in bad shape.My dad is 87 and he is going to have a birthday in Aug. It is my pleasure to do this for my dad because he wouldn't do it for himself. He don't like anything other flavor but the dark chocolate. I have a hard time getting all that I need because the stores only carry so many of the dark chocolate. I really wish with me buying so many every month I could save some money on getting that many. If you can help me with how I can get him 60 ensures in Dark Chocolate for a really good price I would appreciate it alot. He really loves drinking 2 ensure every day. [This review was collected as part of a promotion.]
Periapt
Flavor
The flavor is tasty. Three of us in the household enjoy the flavor. We sometimes mix it with banana and Premier Protein Shake and divide it three ways..