Pedialyte Electrolyte Solution Pops Variety (Does not ship frozen) 16-2.1 oz Pops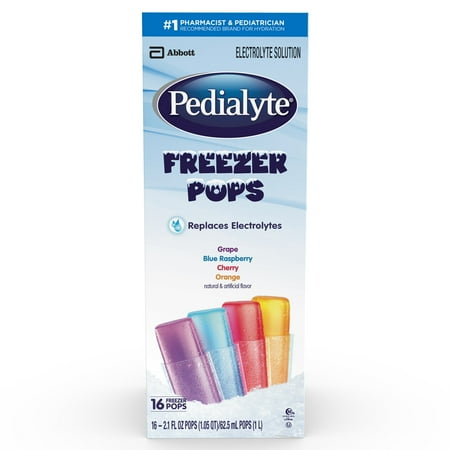 MSRP :

$5.83





Sale :

$5.08

Sold & shipped by Walmart
Product Description

Additional Information

Reviews
Product Description
Pedialyte Freezer Pops Variety come in a wide range of flavors. Unlike sodas and sports drinks, they contain just enough sugar in balance with sodium to promote absorption. This helps to rehydrate your child, and can replenish more of what kids lose when they feel sick. These flavor pops come in four child-approved tastes, helping you to feel confidant that your little one will be happy to eat them. Important nutrients like electrolytes, fluids, zinc, sodium and sugars are vital for proper body functioning, and having these on hand can help to provide a quick way to offer tasty hydration when children are not eating much due to illness. This 16-count, 21-oz wrapper package of Pedialyte pops should always be used after a recommendation from your pharmacist or pediatrician.
Additional Information
Pedialyte Electrolyte Solution Freezer Pops help prevent dehydration by replenishing fluids and electrolytes
From the #1 pharmacist and pediatrician recommended brand for hydration
Helps prevent mild to moderate dehydration more effectively than sports drinks, juice or water
Great for kids and adults to rehydrate and feel better fast. A cool way to stay hydrated - just freeze and enjoy (does not ship frozen)
Includes four great flavors: Grape, Blue Raspberry, Cherry and Orange
Reviews
Blueyeslooken
Elderly mom loves them!
When my 91 yr old mother gets sick, this is a big help & she feels like a kid again! I keep them on hand for the whole family including kids 23-29 years old. This year they go in their stockings to have Available for the next several months.
Spirit6
Low BP
I have low blood pressure and was told to hydrate with this children's supplement. It not only has more electrolytes and less sugar than the sports drinks...it tastes better! I can easily have a popcicle every day instead of finishing a 16-20oz drink to get the good stuff I need.
Amanda
Great product
2 year old couldnt keep anything down but these. It helped keep her hydrated slowly so she was able to stomach it. She loved the taste. Only thing I would say is that company should work on packaging of pops. We had to be extremely careful when tearing apart to prevent leaking. Love these though:) Would be cool if some with probiotics, vitamins/ minerals were produced.
LaSha E
Happy Patient
Purchased for my mom who is having Chemo therapy so this is a nice tasty cool refreshing treat but it also helps to put the electrolytes back into her body...,
AScorso
Happy Patient
My 5 year old eats these as an after dinner treat. Considerably less sugar than your average ice pop, so go for it kid.