South Shore Basics Full Platform Bed with Molding, 54'', Multiple Finishes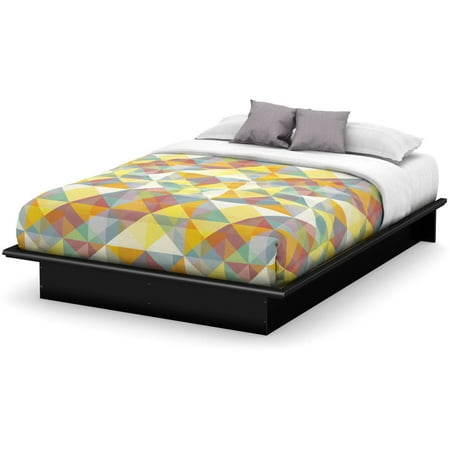 MSRP :

$171.63





Sale :

$138.25

Sold & shipped by Walmart
Product Description

Additional Information

Reviews
Product Description
The South Shore Basics Full Platform Bed is sleek, contemporary and ultra-modern, making it well-suited to most modern bedrooms. It lifts a bed up 10 inches off the floor and offers a clean and compact look that works well in smaller spaces. This contemporary platform bed comes with slight lips to keep the mattress from sliding around. It's designed for use with only a mattress and does not need a box spring. Some simple assembly is required. This South Shore platform bed with molding comes in multiple colors and finishes, giving you the freedom to choose your favorite.

Additional Information
South Shore Basics Full Platform Bed with Molding, Multiple Colors:
South Shore's full-size platform bed
Raises your mattress 10 inches off the ground
Assembly required
South Shore platform bed with molding in multiple colors comes with a 5-year warranty
Does not require a box spring; use with mattress only
Full size: 10"H x 75"L x 54"W
For information about service or parts, contact South Shore directly at 1-800-290-0465.
Reviews
sunkist4987
You Get More For Your Money
WARNING!!! HAVE PRODUCT DELIVERED TO YOUR HOUSE AND DO NOT SHIP TO STORE! This product is made out of solid wood pieces, and unless you know of 3 big strong men, do not have it delivered to the store. I have to admit I was a little worried when I read the reviews about setting up this bed. THE KEY TO SETTING UP THIS BED AS PREVIOUSLY POSTED - is to pull out all of the pieces and parts, identify them and line them up together. Once you have done that, the instructions are straight forward and it will take less than an hour for one person to put together. Once I put the bed together, I bought an elevated inflatable bed (from Walmart of course) and tahdah!!!! I have a bed for my guest room in time for my mother's visit during the holidays. I cannot believe what a great product I received for $129. My mother did not realize the bed was inflatable until I told her. I plan on buying a mattress set next month, but in the meantime this works. BOTTOM LINE - You will get more than your money's worth for this product. Although the bed frame itself is low, once you add an elevated mattress set (and in my case an inflatable one), with a comforter set and the rest of the bells and whistles, you will be quite satisfied.
9thC
Just what I expected
I got the product a little later than I wanted, but I was satistfied with the product itself. It took two people to assemble with a drill and a rubber mallet (to slide the boards evenly without damaging the wood.) But that was it. When I was done in an hour, it unveiled a very good product. I'm happy. And then I saw another similar product, that had storage draws under it. It is quite expensive but I think if I bought a separate dresser it would cost all the same, but I would have more space in the room, which is the goal for a smaller room. Oh! one more thing... The lip/edge/corner of the bed has a piece that sticks out a bit only held by a few screws. If you have a child, I know it's very temping to step on it to climb onto the bed. With just a little weight it WILL break and damage the wood under it. I'm just waiting for some dummy to climb on mine that way. =O) I hope this helps.
iLoveMAC
Way better than what I expected
I ordered this bed through site to store and it came 6 days before expected to which was awesome. The box was HUGE (box was at least 9 ft tall) and extremely heavy, we took my mom's trailblazer and it was so long it barely fit with the trunk closed, so make sure if your picking it up you take a vehicle with lots of space. My dad & boyfriend had to lug it in the house and drag it up the stairs. After reading some reviews that said pieces came cracked, uneven and the holes didn't line up I was skeptical. I had none of these issues. The boards were much sturdier than what some people described them as and all of the holes and pieces lined up perfectly for me. It was so easy to put together that my boyfriend and I could've done it without the directions and it only took us about 20 min. I don't understand why so many people had such a hard time with it. It should definately be put together by 2 people just so everything stays lined up through all the power drilling. The 2 inside support pieces came in black but I didn't care because you wont see them. Overall I think this is an amazing product, it is extremelyyy sturdy and durable and I will recommend it to anyone looking for a platform.
FloridaKO
New Bed
Shipped to store in 5 days. Had to carry the pieces into the house one by one. The box is very large and heavy. The directions were not that bad but the boards could be labeled better. Put it together by myself in about an hour. The last steps were the most difficult. Attaching the molding from the underside of the bed. I did have to use a drill. I love the bed and the way it looks in the room and would recommend to anyone that doesn't want to spend an arm and leg!
Kurbster
Nice Affordable Platform Bed
Only took me about 90 minutes to put together by myself. I also bought the 8 inch Memory Foam Mattress as well to go with it. Plus I also got the matching nightstand, and headboard, Getting ready to order another nightstand to replace that right side table, and my new Blue Vertical Blinds should be here in a couple of days to complete my setup