South Shore Basics 54" Full Size Platform Bed with Molding, Multiple Finishes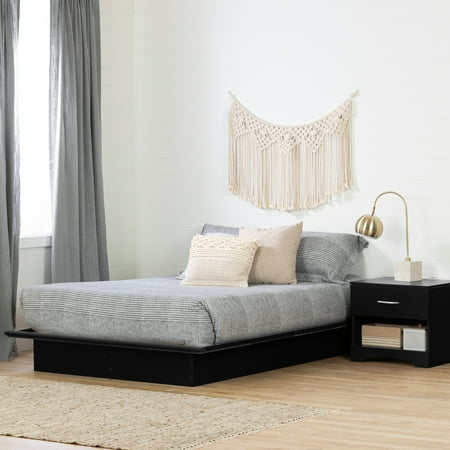 MSRP :

$319.49





Sale :

$129

Sold & shipped by Walmart
Product Description

Additional Information

Reviews
Product Description
The South Shore Basics Full Platform Bed is sleek, contemporary and ultra-modern, making it well-suited to most modern bedrooms. It lifts a bed up 10 inches off the floor and offers a clean and compact look that works well in smaller spaces. This contemporary platform bed comes with slight lips to keep the mattress from sliding around. It's designed for use with only a mattress and does not need a box spring. Some simple assembly is required. This South Shore platform bed with molding comes in multiple colors and finishes, giving you the freedom to choose your favorite.

Additional Information
South Shore Basics Full Platform Bed with Molding, 54'', Multiple Finishes:
NO BOX SPRING OR FOUNDATION REQUIRED: Save money with this economic and classic bed- your mattress can be placed directly on top of the secure frame.

HIDDEN STORAGE: Enjoy plenty of spacious storage underneath your bed. Simply lift the top and store seasonal items like clothing, accessories, and extra bedding.

TIMELESS DESIGN: Featuring neat lines, this bed will always stay in style, allowing you update your interior decor without buying new furniture.

5-YEAR LIMITED GUARANTEE: South Shore is proud to stand behind this platform bed - modern design with an exclusive 5-year limited guarantee. Shop with confidence knowing your purchase is always covered.

EASY ASSEMBLY INSTRUCTIONS: All products come with a clear assembly document that will guide you through all steps. If you have any questions during the assembly do not hesitate to contact South Shore Furniture for immediate support. This item is shipped in 1 box, make sure to have a friend with you

Reviews
9thC
Just what I expected
I got the product a little later than I wanted, but I was satistfied with the product itself. It took two people to assemble with a drill and a rubber mallet (to slide the boards evenly without damaging the wood.) But that was it. When I was done in an hour, it unveiled a very good product. I'm happy. And then I saw another similar product, that had storage draws under it. It is quite expensive but I think if I bought a separate dresser it would cost all the same, but I would have more space in the room, which is the goal for a smaller room. Oh! one more thing... The lip/edge/corner of the bed has a piece that sticks out a bit only held by a few screws. If you have a child, I know it's very temping to step on it to climb onto the bed. With just a little weight it WILL break and damage the wood under it. I'm just waiting for some dummy to climb on mine that way. =O) I hope this helps.
JennyJen26
It's PERFECT
We purchased this in a full size for our daughter's room. We love the platform look, and since we could not afford to purchase a box spring but had a full size matress on hand, it was PERFECT AND SAVED US MONEY :) It's VERY sturdy, VERY comfortable, and absolutely adorable in her room! I eventually want to make a headboard to go with this, but for now it's just everything I wanted. You really can't beat the price either. It is made of cheaper wood BUT believe me when I say it's sturdy, we have had it for over 2 years now and it's in perfect shape, not only does my little girl sleep on it but when our inlaws are down both of them sleep in it also and it holds up just fine. Make sure you tuck in your comforter for the best look! I am attaching two photos (our home is small so it's hard to get a full size photo in small rooms).
iLoveMAC
Way better than what I expected
I ordered this bed through site to store and it came 6 days before expected to which was awesome. The box was HUGE (box was at least 9 ft tall) and extremely heavy, we took my mom's trailblazer and it was so long it barely fit with the trunk closed, so make sure if your picking it up you take a vehicle with lots of space. My dad & boyfriend had to lug it in the house and drag it up the stairs. After reading some reviews that said pieces came cracked, uneven and the holes didn't line up I was skeptical. I had none of these issues. The boards were much sturdier than what some people described them as and all of the holes and pieces lined up perfectly for me. It was so easy to put together that my boyfriend and I could've done it without the directions and it only took us about 20 min. I don't understand why so many people had such a hard time with it. It should definately be put together by 2 people just so everything stays lined up through all the power drilling. The 2 inside support pieces came in black but I didn't care because you wont see them. Overall I think this is an amazing product, it is extremelyyy sturdy and durable and I will recommend it to anyone looking for a platform.
SeriousSuperShopper
Bed Platform 'Serves it's purpose'.
This Bed Platform was shipped to our home by Fed Ex. There was one spot on the trim for the left side of the bed, near head of the bed with a gash in it. That could have been from shipping. There was also poor line up when it came to the trim that is for design/looks. Everything else lined up fine, all but the trim for the right side of the bed at the foot of the bed. That was an issue with manufacturing. Really we could have left the trim off and it still would have served it's purpose. We got it just to have a better frame than the metal ones. This one works perfectly. I was just disappointed at the 2 defects in it and it actually had quite a bit of weight to it. We could have returned it but this weighs 120 lbs. It would have been more of a hassle to return or exchange. I didn't see a place where you can order or exchange to get replacement parts or we would do that.
Nothappy
Disappointed
Was very disappointed in how cheaply this product was made. The assembly instructions seemed to have been written by a child. Also it's very low to the ground.