Better Homes and Gardens Leighton Twin Over Twin Wood Bunk Bed, Multiple Finishes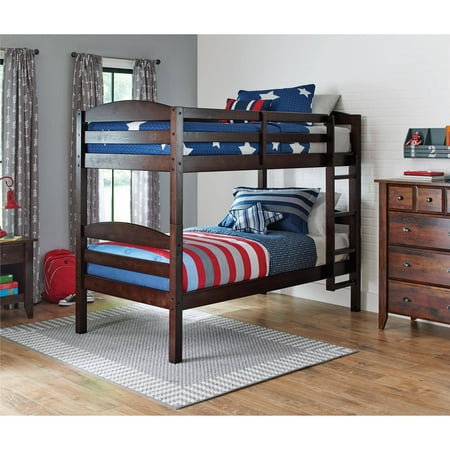 Sale :

$179

Sold & shipped by Walmart
Product Description

Additional Information

Reviews
Product Description
The Mainstays Twin Over Twin Wood Bunk Bed is a practical space saving solution for small bedrooms. Available in multiple finishes this solid wood bunk bed creates a warm and restful environment in your home. This Mainstays Bunk Bed has a sturdy frame with an integrated four step built-in ladder for safety. This bunk bed easily converts to twin beds and fits nicely in any room. This kids bunk bed can accommodate any standard twin sized coil spring mattress. The solid wood construction of this bed gives maximum support to any mattress.
Additional Information
Better Homes and Gardens Leighton Twin Over Twin Wood Bunk Bed, Multiple Finishes:
Easily converts to two stand-alone twin beds
Designed to accommodate a mattress without a box spring. Only coil spring mattresses are to be used on both bunk levels; mattresses sold separately
Bed support slats are included
Guardrails are included
Features a ladder that can be installed in 1 location
Top bunk is designed for children ranging from 6 years of age to young teenagers
Meets U.S. Safety Standards
Also available in a light cherry, pine, white, black or gray finish
Conveniently ships in 1 box
Assembly required
1-year limited warranty
Assembled Dimensions : 78.75" W x 43.75" D x 64.58" H
Reviews
XansMommy
Good 'quality', but color's off
I ordered this for my 4 yr old son. The overall quality (sturdiness, durability) is pretty good, especially for the price. My son LOVES it... BUT the colors are WAY off!! I viewed the bed & color options from 2 phones & 3 different computers (was trying to match to other existing furniture. And aware that stuff can 'appear different' on different devices). Well the color I wanted (pine) was pretty similar on all the devices. So I was confident in that choice. After arriving (assembled by the hubby while we were gone= Christmas present). I was VERY disappointed in the color!!! The ACTUAL color is the one they show for walnut. I double checked box packaging, numbers & words all= pine. Not sure if wrong wood got in wrong box, or what?!?! But no stores around me carry these or different wood colors. So I have no way of comparing or disputing (besides me saying looked at it on 5 devices prior). Now my son has & loves it, but it matches NOTHING!! And now his room looks like a hodge podge of wood colors. :(
MrsCormier24
Dints everywhere!
So Walmart manufacturers decided to paint over the dints they made with paint! Don't buy this!!!
MrsJBo
Great Bunk Bed
Summary of our experience: The delivery men only brought the box in the door (understandable... the box was HEAVY), they did not carry it to the room; so if you cannot lift/drag 200+ pounds you'll need some help. My husband and I were okay, I actually dragged the box to our boys' room myself. There are a LOT of parts so gather your tools, take a deep breath, try to overcome the feeling of immediate intimidation, take another a deep breath, and get 'er done... it'll all pay off in the end. Our instructions for both the mattresses and bed were in Spanish only; that was no major setback, we were able to get the bed up and running in no time and are extremely pleased with our purchase! If you are looking for a reasonably priced, very nice and sturdy bunk bed look no further... Hurry up and Buy!
Annette
Quality beds for an unbeatable price!
We purchased this bunk bed to have two twin beds for our young daughters with the possibility of turning them into bunk beds in the future. The price for this set was $150! That's an amazing price and my husband and I hoped the quality would not be questionable as some furniture is at the price. The bunk beds arrived in a narrow box and we knew we would be assembling every part of the bed which seemed overwhelming until we sorted the pieces (all labled with stickers) and looked over the instructions. They were very easy to follow and with my husband and I both working on it, we finished both beds in 2 hours. They are extremely sturdy and the hardware seems strong as well. The wood slats that hold the mattresses are thick and held to the frame with screws. These beds do not wiggle or wobble and my husband tried his best. We used the upper bunk bed with the side rails attached as my 2 1/2 year olds bed as she is just now transitioning from a crib. She loves it! My older daughter also loves the room she has to move as compared to her toddler bed. They are both asleep peacefully in their beds as I write this and I couldn't be happier. I give this product 5 stars for quality, price, ease of construction and the design. I would recommend this set to anyone who doesn't mind putting in a little elbow grease to build it.
HomeschoolMom02
Beautiful bed, excellent price!
We love this bed. My 2 and 7 year old boys share a room and they really needed a bunk bed for space. We researched a million beds, finishes, styles and more before deciding on this one. The cherry was masculine and I knew it would be easy to match other bedroom furniture to it (dresser, nightstand,etc) It arrived site to store just 4 days after I ordered it which was really nice. The assembly was very easy. My husband and I laid all the parts out and none were cracked or missing. The finish is beautiful and true to the picture. Everything feels very heavy and solid. The instructions were easy (although we are pretty used to assembling furniture and this is the second set of bunk beds we've put together so we knew what to expect) and we had the beds assembled in an hour. I'm 6 months pregnant too and I did most of the assembly, he did the lifting. The bottom bunk has enough space with a standard twin mattress that I can comfortably sit on the bed without bumping my head (I'm 5 foot 1 inch) so I know that my younger son will be able to sleep there for many years. The whole bed when stacked feels very strong, there is almost no movement. Nobody ever believes me when I tell them what we paid for them. They look like they cost four times as much from a furniture store. Very happy with them and my boys love them.