Better Homes and Gardens Leighton Twin Over Twin Wood Bunk Bed, Multiple Finishes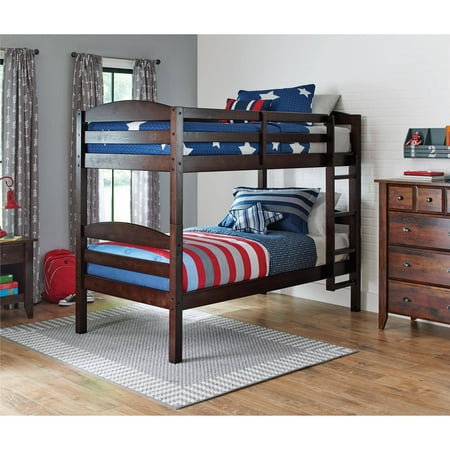 Sale :

$179

Sold & shipped by Walmart
Product Description

Additional Information

Reviews
Product Description
The Mainstays Twin Over Twin Wood Bunk Bed is a practical space saving solution for small bedrooms. Available in multiple finishes this solid wood bunk bed creates a warm and restful environment in your home. This Mainstays Bunk Bed has a sturdy frame with an integrated four step built-in ladder for safety. This bunk bed easily converts to twin beds and fits nicely in any room. This kids bunk bed can accommodate any standard twin sized coil spring mattress. The solid wood construction of this bed gives maximum support to any mattress.
Additional Information
Better Homes and Gardens Leighton Twin Over Twin Wood Bunk Bed, Multiple Finishes:
Easily converts to two stand-alone twin beds
Designed to accommodate a mattress without a box spring. Only coil spring mattresses are to be used on both bunk levels; mattresses sold separately
Bed support slats are included
Guardrails are included
Features a ladder that can be installed in 1 location
Top bunk is designed for children ranging from 6 years of age to young teenagers
Meets U.S. Safety Standards
Also available in a light cherry, pine, white, black or gray finish
Conveniently ships in 1 box
Assembly required
1-year limited warranty
Assembled Dimensions : 78.75" W x 43.75" D x 64.58" H
Reviews
WranglerofTwoBoys
Helpful Hints From All The Other Reviews...
I read ALL the other reviews on this bed. Yes really, all 150 of them. Here is a list of helpful hints that I found to be true when I put the bed together: -When putting together you CAN use an electric/power drill if you have a torque setting and a hex bit. You could use an electric drill without torque setting if you stop short and finish it by hand, otherwise it may strip. It will save you a ton of time! -When putting together as two separate beds be careful...the headboard and footboard do look the same BUT are different sizes. The footboard is shorter. -If using the beds separately put the slats that go around the ladder in first. Make sure you DO NOT block the holes needed for the ladder. (The first two slats will need to be adjusted.) Then use the spacing bar to put the rest of the slats in. This will save you a lot of hassle if you ever use the beds as a bunk. -I think it is a good idea to use MORE slat supports as well as a piece of plywood as many other reviews suggest. Call the customer service number on the instructions and they really will happily ship you more slats (or any damaged/scratched pieces) for free! We tried it and what great service! -When taking off the stickers you CAN scratch the finish. Just go slow and use Goo Gone. It really does the trick and is worth getting. -Any regular/standard mattress DOES fit fine. (6 or 8 inch) I agree that you do need a coil spring mattress though. With these tips we were able to put both beds together in 1 hour. It is thick wood and nice quality. We think the finish is beautiful. This really is fabulous bang for your buck!
SteelmanFamilyof6
Nice Surprise
We needed a cheap bunk bed and we wanted one that didn't look silly if we did seperate them. I was sure it would be wiggley and was only planning for it to tide us over until we could afford something better. Much to our surprise this bunk bed does not wobble at all. We have had it over a year and our 9 and 6 year old climb all over it, we have taken it apart in a move and it is still is solid as it was the first day.
2SmartShoppers2009
Very Sturdy!
Me and my husband bought this bunk bed for my son who is 6 and my daughter who is almost 2. I was kind of skeptical about ordering a bunk bed from wal-mart but read all the reviews and I thought well we could give it a try. My husband who is not so good at putting things together put the bunk beds together in about an hour and half! They are VERY sturdy and they look so cute!! I think buying the bunk bed from here was a good idea!!
narvaez71
Better than I expected
I am happy to review this product because I know how helpful reviews are to me, especially when buying online. We bought this for our 4 year old and it is SOLID and strong and very well built. My 215 pound husband lays on the bottom bunk and it doesn't creak at all. :) It's a great piece of furniture that I know we'll have a long time. Also, I love that the beds can be separated and placed side by side if desired. GREAT BUY!
birdwatchingmom
Extra slats at no charge
This bunk bed came together well, and looked beautiful. We were concerned about how few slats there were since we did not have a matress with coils as recommended, but instead a very heavy latex mattress. We called customer service and requested additional slats for safety concerns. Customer service was friendly, and within one week we had an additional 12 slats to fill in the spaces at no charge!