Mainstays 5-piece Dining Set, Multiple Colors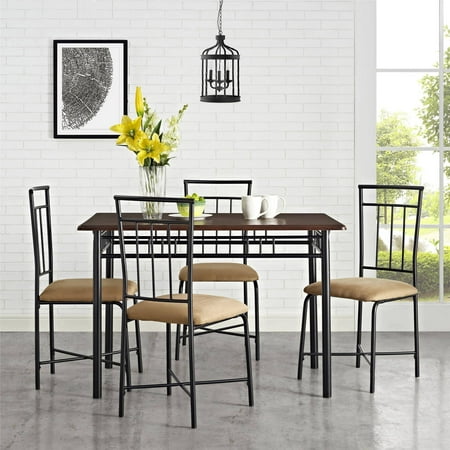 Sale :

$109

Sold & shipped by Walmart
Product Description

Additional Information

Reviews
Product Description
Update the look of your dining area with the Mainstays 5-Piece Wood and Metal Dining Set. This elegant piece has a sturdy steel table frame and a wooden top with four metal chairs that have upholstered seats. The Mainstays 5-piece dining set is available in multiple colors, so you can choose the one that works best with your room decor. The upholstered seat has some cushioning, so it is comfortable to sit in whether you are just having a quick meal or relaxing with guests after a nice dinner. This compact dining set has clean lines and a modern style that works well in many different settings. Use it in your dining room to add a contemporary look or use it in the kitchen for a more casual feel. The compact size means it will fit in smaller areas such as a kitchen nook.
Additional Information
Mainstays 5-Piece Wood and Metal Dining Set:
Sturdy steel table with wood top
Mainstays 5-piece dining set is available in multiple colors
4 chairs with upholstered seats
Hardware is individually sorted to reduce assembly time for this wood and metal dining set
Table is rugged enough to withstand years of use
Check out the 3-Piece and 7-Piece sets below:
Reviews
KTerrell
Great table for small space
This table looks so cute in my apartment. The actual table top looks way better than i thought it would. Has a nice finish. I put this together by myself, and it took about 3-4 hours. It has a lot of parts but the instructions are very easy to read and follow, so I had no problems. Only thing I'll say is that you mainly have to use an allen wrench (think thats what its called) and after a while it starts to hurt to turn because you are doing it so often. Also, I got standard free shipping and it took forever to get here. And the guy was pretty unhelpful with getting it in my apartment. Overall I think it is a great little table for the price, and its pretty sturdy.
kent312
Bad experience ever
All the things are hard to assemble. For the table, someone mail the wrong board and frame so I cannot put the screws in the right position of the board. (the board is too big while the frame is not the same size so they are not fit ). For the chair, you can't put all the screws in the right position too because all parts are not fit with each other. If I can, I will never buy anything at Walmart again.
MommaShoeFreak
Great Table for a Breakfast Area.
My son and I just moved from a one bedroom apartment to a two bedroom with den and breakfast area. Needless to say we have A LOT of space to fill. One of the most important things for my son and I was to have a place were we can sit down everyday casually as a family and enjoy a meal and lots of conversation. This table was cute and fit perfectly in our breakfast area with room to spare for a bakers rack and small deep freezer. My son and I put it together with very little assistance from my boyfriend. The only issues I have with the table were there are no holes on the top to screw the table top to the base, so be prepared to use a little elbow grease. The instructions say don't use power tools but I am sure its okay as long as you don't over do it and two of the chairs were a little wobbly but a run to Home Depot fixed that in no time. All in all I love the table and for a single mom working two jobs it fit just right into the budget. Btw...reviews were on point. Thanks folks!!
JeeJa
Looks Elegant in our house and easy to assemble.
Me and my husband recently moved to USA and this is the first purchase for our apartment. We ordered this based on earlier customer reviews but still was doubtful on the quality since it was quite cheap. It arrived as per the date they specified and packing was great. I would like to specify neither me nor my husband have any experience in fixing furniture or handling screws. But we followed the guidelines and voila!! we assembled it in nearly half an hour. We did not have any struggle. We did not use anything extra other than from the packing to fix the table and chairs. Its been 2 months since we bought it and the screws are intact. I am 128 pounds and stood on the chair to reach my AC vent which is near ceiling. So it can withstand my weight. :) Guests hardly believe the cost because the finish is so good and so it appears a better than the said price. We are really very happy with the product.
SadBuyer
Came with a broken table top corner :(
So I agree...it is not an easy assembly. It takes about 3-4 hours in putting it all together. I bought it online and it was shipped by fedex. I opened the box and first assembled chair frames. Then I assembled the table frame. Now I am supposed to screw table frame to table top. Took out plastic protectors from corners and BAM! one corner was stuck in the protector itself! Now I am more than half way through the assembly. So I call Walmart and tell them about it. They tell me I should ship it back and then can refund or replace. Are you kidding me? So Now I spend another couple of hours to dismantle everything...pack it...bring it down from my apartment and do this all over again with another unit? The table top is useless so can they simply not send a new table top?? Anyways...I was in no mood to do all that so I assembled it anyway! It feels bad to have a broken piece in my brand new apartment but I guess it is what it is!!