Mega Bloks First Builders Block Scooping Wagon (Pink)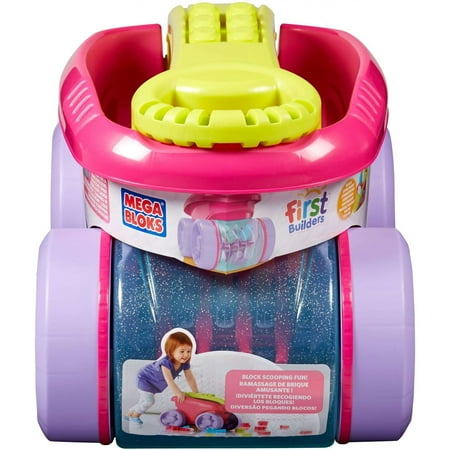 MSRP :

$34.76





Sale :

$18.88

Sold & shipped by Walmart
Product Description

Additional Information

Reviews
Product Description
Classic wagon play meets construction fun - all with a block-picking surprise! Roll out with playtime's latest creative development! Combining classic wagon play, construction, and a block-scooping surprise, your little one can push this colorful wagon forward on big sturdy wheels to pick up the included building blocks, then watch them spin inside the clear compartment! Or, pull it along using the easy-to-grip folding handle. Dump the blocks out and use them to build anything you imagine. You can even build right onto the handle! With so many ways to play, your little one will love rolling and building with this block-picker wagon! Ideal for ages 1 to 5.
Additional Information
Mega Bloks First Builders Block Scooping Wagon, Pink: Colorful pull wagon picks up blocks when you push itIncludes 20 building blocks in classic colorsBlocks spin inside clear compartmentFold-out easy-to-grip handle with buildable sectionPerfect for little handsHands-on play for early childhood developmentCombine with other Mega Bloks preschool toys and build them up!
Reviews
Jenn
We love it!
I bought this mega blocks scooping wagon for my just turned 4 year old daughter. Everytime we would go to Walmart she would pull this wagon off the shelf and start rolling it to the cash register lol so we surprised her with it for Christmas and she was so excited! I love how easy clean up is with this wagon. You just roll over the blocks that are on the floor and it picks them up! I was a little worried before I purchased that my toddlers hand would get caught in it if my 4 year old was rolling it as she reached in, but the spinner part that collect's the blocks is a flimsy like moveable plastic that would flex and move if something like that were to happen so it wouldn't pull in a hand for example. It doesn't come with a lot of blocks so we bought the mega bocks 80 piece set to fill this wagon up! I love the look of the wagon and the colors. It is made very well and very durable! We have only had it for a week and it's already been dropped down the stairs with no problems! Great choice for a little builder!
Punikins
love it
My granddaughter Emmie loves this wagon she plays with it all day.
Macfash1
Perfect first blocks for toddler
My son actually got this wagon in red and blue and he absolutely loves it. He's 16months old and i can tell when he's pulling it around that he feels like a big kid. The blocks are a great size and makes for easy snapping and buliding/stacking. He loves that the wagon picks up the blocks,  which actually helps with teaching him to pack away his blocks when he's finished with it , he's actually excited to do it . Its not always a smooth pick up, at times he may have to run the wagon over the blocks a few times before it picks up the blocks but for the most part it works well. I like that the mechanism to pick up the blocks is quite soft and flexible so its safe. Im very pleased with this product and i believe it will last him some time, the wagon is durable and its multifuntional. He throws his other toys in there and pulls it around. It was also a great beach toy and was very easy to wash off. My son loves this little wagon its one of his favorite go to toys. Its a must have if considering first building blocks for your little one. [This review was collected as part of a promotion.]
Cheryl T
Son loves it
My son loves that he can pull his legos around with him. Legos are nice and big making them perfect for little hands. Rolls smoothly and well made.
Frocker
Durable, and makes for creative play
We got the Pink Block Scooping Wagon for our daughter. She has several Mega blocks scattered around the house at all times. We were hoping this would be a creative and playful way for her to help pick them up. When our daughter first seen the Block Scooping Wagon she ran right to it and started playing with it, and plays with it daily. She loves to put her toys into the wagon and take them back out. She also enjoys climbing into the wagon and being pulled around. The fingers that scoop the blocks have held up very well to her grabbing them. Overall the whole wagon has held up to climbing in and out of several times a day. Although our 18 month old daughter doesn't quite understand how to pick up the blocks, we have pushed it over the scattered bricks as a quicker means of cleaning them versus picking up by hand. This wagon has been very durable and picks up the Mega Blocks as it promised. [This review was collected as part of a promotion.]