Mega Bloks First Builders Block Scooping Wagon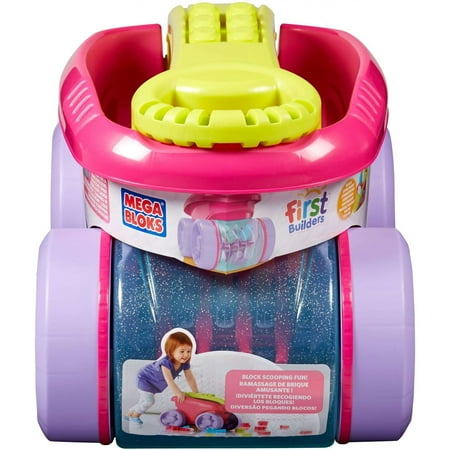 Sale :

$34.76

Sold & shipped by Walmart
Product Description

Additional Information

Reviews
Product Description
Your little builder can expect lots of fun surprises with the Block Scooping Wagon by Mega Bloks First Builders! This colorful wagon combines classic wagon play and construction fun with a block-picking surprise, as your little one can push to pick up the included First Builders blocks! Watch the blocks spin inside the clear compartment when your little one pushes the wagon along on its big sturdy wheels. Or, they can pull it along using the easy-to-grip folding handle. Dump the blocks out and use them to build anything your little one can imagine. You can even build directly onto the wagon's handle! With so many ways to play, your little one will love rolling and building with this block-picker wagon! This is ideal for ages one to five years.
Additional Information
Mega Bloks First Builders Block Scooping Wagon, Pink:
Pink pull wagon picks up blocks when you push
Fold-out easy-to-grip handle with buildable section
Includes 20 First Builders blocks in a sweet color palette for tons of construction fun
Compatible with all First Builders sets
Reviews
altosax122000
UPC : 065541383838 - Mega Bloks First Builders Block Scooping Wagon - PickPanda.com
super cute & fun toy!! My daughter loves building with these blocks. The colors are very bright & vivid. Cleaning up with the wagon does not work that great but is still a fun way to encourage children to clean up. [This review was collected as part of a promotion.]
Benn
Fun and Colorful Wagon
The First Builders™ Block Scooping Wagon arrived and I was pleased to see how easily it was wrapped. It only took one scissor and two cuts to open up the toy and the blocks that are included. The colorful wagon and multi colored blocks were an instant hit with our 13 month old. At first I was a bit concerned that he would become frustrated when the wagon did not pick up all of the blocks (as it did many times)... However, I was pleasantly surprised that he was so incredibly eager to pull the wagon and play with the blocks that the picking up of the blocks simply became an extra for him. Within minutes he had begun to not only put the blocks in the wagon but also some of his other favorite toys. It is rare that he will be able to walk in and out of the playroom without engaging with this toy each and every time. It most definitely holds his attention. As the wagon picks up the blocks as you push it on top of them you are able to watch the blocks spin inside of a clear compartment that is on the front of the wagon. This was incredibly entertaining to our little guy as he enjoys watching us pick up the blocks almost as much as he enjoys doing it himself. The handle makes it incredibly easy for him to tote the wagon around our home. I can absolutely see where this toy will be something that will become a staple in his group of favorites for years to come. I tend to purchase toys that will grow with him and this one will do exactly that. I like to provide toys for my son that encourage his exploration and that is exactly what this wagon will do! Throughout the first day that he was playing with the wagon he began to take different items and put it inside. I think that the way that this Wagon Works in picking up the blocks it is very important to note that it really doesn't matter what other toys the children put inside of the wagon, as they are easily taken out. He was having an absolute blast "cleaning up" which I can honestly say has never happened before! There are 20 blocks that come with the wagon and though there is plenty of room for more, 20 is actually enough. I would highly recommend the First Builders™ Block Scooping Wagon to anyone who is looking to entertain a child anywhere from the ages just under 1 year old to at least a 5 old! [This review was collected as part of a promotion.]
Jenn
We love it!
I bought this mega blocks scooping wagon for my just turned 4 year old daughter. Everytime we would go to Walmart she would pull this wagon off the shelf and start rolling it to the cash register lol so we surprised her with it for Christmas and she was so excited! I love how easy clean up is with this wagon. You just roll over the blocks that are on the floor and it picks them up! I was a little worried before I purchased that my toddlers hand would get caught in it if my 4 year old was rolling it as she reached in, but the spinner part that collect's the blocks is a flimsy like moveable plastic that would flex and move if something like that were to happen so it wouldn't pull in a hand for example. It doesn't come with a lot of blocks so we bought the mega bocks 80 piece set to fill this wagon up! I love the look of the wagon and the colors. It is made very well and very durable! We have only had it for a week and it's already been dropped down the stairs with no problems! Great choice for a little builder!
Julio325
Great fun
Very nice toy, my son love the wagon, he use like car, make things with the blocks, play with this inside and outside the home , the size it's perfect to toddler, very safe , very fun , I love look his face when he play with new toy , thanks Mattel for make very safe toys [This review was collected as part of a promotion.]
Kittymctaco
Scoops and holds tons of blocks!!!
We received this as a gift today and my son and daughter both love it! My son loves pulling around his blocks...it holds a lot of blocks! Very large and kid tough. My daughter loves pushing it around scooping up all of the blocks. [This review was collected as part of a promotion.]