RCA 9" Mobile Dual Screen DVD Player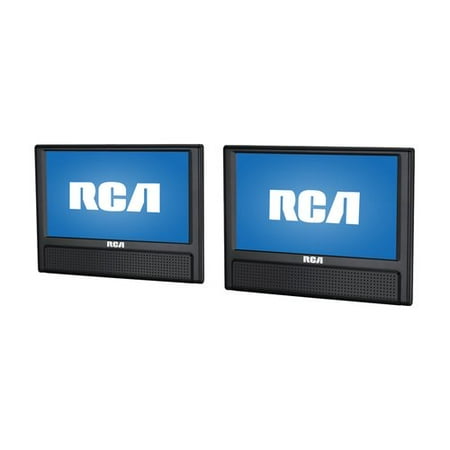 MSRP :

$99.97





Sale :

$49.99

Sold & shipped by Walmart
Product Description

Additional Information

Reviews
Product Description
Take your entertainment on the road with the RCA 9" Dual Screen Mobile DVD Player. Designed specifically for car travel, this system is comprised of one 9" LCD screen with built-in DVD player and one 9" LCD monitor that can be connected to the DVD player's AV output (AV cable included). Setup is quick and easy: just attach each screen to the back of the front seat headrests. Kids don't want to watch a movie? No big deal with this portable DVD player. You can use the system's AV outputs to connect to video game systems, camcorders and other AV products. Driver doesn't feel like listening to the movie? Just connect headphones (not included) to the built-in headphone jacks to contain the noise. Electronic skip protection ensures the movie plays smoothly. Also included with this RCA Dual-Screen DVD Player is a dual car output adapter, as well as a mounting kit for easy installation.
Additional Information
For a Limited Time Offer Movie Bundle Click HereRCA 9" Dual Screen Mobile DVD Player:
Plays DVDs, CDs and JPEGs
DVD player with 9" LCD screen
Additional 9" LCD screen for dual-screen viewing
Electronic skip protection for smooth playback
Dual-output car power adapter
AV cable for connection of additional LCD screen
Headrest mounting straps
Full-function remote control, battery included
Built-in speakers
RCA dual screen DVD player is equipped with headphone jacks for private listening
AV output jacks
Reviews
EveF
Pretty disappointed.
If you are only driving on highways in a state that spends a lot of money on the road work then MAYBE this would be okay for you. For the rest of us, it skips CONSTANTLY. I mean even just hitting a reflector on the middle line while changing lanes will cause it to skip. Forget about any roads that aren't smooth highways. Neighborhoods and city streets are pointless to even try watching it on. Also, I'm not driving some old jalopy with no suspension, I have a 2011 CR-V, so not a brand new car, but an average, not rough riding vehicle. It also periodically just restarts itself like it lost power for a second which starts the movie over. Even my one-year-old finds it incredibly frustrating so I can't imagine how irritated a kid who is actually following a storyline would be. It really is a piece of poopoo. I wanted so badly for it to be great because it was his main Christmas present this year, but I'm going to have to find another one to replace it.
Anonymous
Keeps shutting off
My brother bought this item for my children several years ago to use while on long car rides. We do not travel often, so it has not been used on a regular basis. After using it a few times, it stopped working. I tried a new power cord and it seemed to work, but it would shut off after a few minutes, so I assumed the new cord was too short. I also thought that it was because we would hit a bump. In the middle of our trip, we stopped and bought another, longer power cord, but a few minutes later it kept shutting off again. We were out the money and left without the dvd players on a very long car ride with young children. After returning home, before another trip, I decided to purchase another power cord. It was slightly longer than the 1st replacement and made specifically for this item; however it still shut off, sometimes even without hitting a bump or even moving. My children are very disappointed! When I got online to try to purchase a new one, I realized that other customers had the same issue, so now I do not believe it is just "our" dvd players, rather it is the product itself. When it worked, we were pleased. I was actually thinking of purchasing the same product, until I realized it is a common issue. We are disappointed!
MomOfTwins
Great for road trips! Easy setup.
This is a great portable dvd player set. It was super easy to install and get going. My only "complaint" (and it is minor) is that there is no volume control on the remote. There are little volume buttons on the main unit. You can easily reach them from the front passenger seat if you know where they are, but if you are driving, make sure you set the volume before you get going! Regarding some of the other comments about it not holding your place in the movie if you turn it off... if you hit "STOP" before you turn it off, then it DOES remember where you left off when you start it up again. That is mentioned in the instruction manual, too, but I thought it's a good tip to point out here. We didn't have any issues with skipping or malfunctions of any kind. The screens are big enough for the kiddos to enjoy watching from their car seats in back, and the cables were plenty long for my car (Mazda CX-5). We used this over several days driving across a couple of states, and will happily be using it for any other road trips in the future.
Momof3
It Was On Sale
Could be better. The sounds is choppy. Cords are a little too short. Another few inches would have been good, especially since they use one player to feed to both and it has to stretch across an SUV.
Justadad
Think Twice Before You Buy RCA Mobile DVD Players
Do not buy this. We have purchased 4 of these over the last year. 3 for us and 1 for a friend. At first, it worked great and we had no issues. About two months in on the first unit the DVD player just kept resetting 5 or 10 minutes into the movie...over and over. We used our extended warranty purchased through Walmart and it was a quick and easy exchange. The second one we bought did the same thing right before a road trip, we filed the claim and returned it just like the first one. We purchased a third one and this time did not get the extended warranty because at this point the price for the warranty was getting up near half the cost of what we paid for the dvd player (3x 15.00). The third dvd player made it two trips and started doing the same thing. Our friends had better luck and their dvd player did not start restarting ever 5 to 10 minutes until about 6 months after using it. In short, I am sick of sending this back and paying for extended warranties. They just need to pull these off the shelf and stop selling junk. Clearly this device is not quality and you would be better off just buying a different brand or spending a little more money.