RCA 9" Mobile Dual Screen DVD Player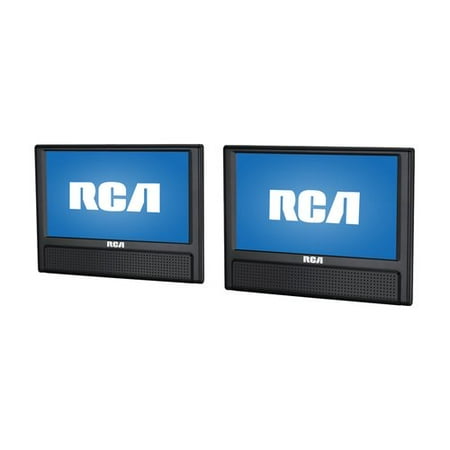 MSRP :

$184.07





Sale :

$143.93

Sold & shipped by VirVentures
Product Description

Additional Information

Reviews
Product Description
Take your entertainment on the road with the RCA 9" Dual Screen Mobile DVD Player. Designed specifically for car travel, this system is comprised of one 9" LCD screen with built-in DVD player and one 9" LCD monitor that can be connected to the DVD player's AV output (AV cable included). Setup is quick and easy: just attach each screen to the back of the front seat headrests. Kids don't want to watch a movie? No big deal with this portable DVD player. You can use the system's AV outputs to connect to video game systems, camcorders and other AV products. Driver doesn't feel like listening to the movie? Just connect headphones (not included) to the built-in headphone jacks to contain the noise. Electronic skip protection ensures the movie plays smoothly. Also included with this RCA Dual-Screen DVD Player is a dual car output adapter, as well as a mounting kit for easy installation.
Additional Information
For a Limited Time Offer Movie Bundle Click HereRCA 9" Dual Screen Mobile DVD Player:
Plays DVDs, CDs and JPEGs
DVD player with 9" LCD screen
Additional 9" LCD screen for dual-screen viewing
Electronic skip protection for smooth playback
Dual-output car power adapter
AV cable for connection of additional LCD screen
Headrest mounting straps
Full-function remote control, battery included
Built-in speakers
RCA dual screen DVD player is equipped with headphone jacks for private listening
AV output jacks
Reviews
AshleySpeaks
POOR Customer Service for Warranty
I loved this RCA system when we first got it. And really, it has worked pretty well. It doesn't have the skipping problem a lot of people have complained about. It's not super loud, but it just encourages my kids to stay quiet so they can hear it. My issue is with RCA themselves. I went on vacation, by myself, and drove my car that this system was in. No one rode in the backseat. On the way home, I noticed one screen was hanging loose. On inspection, one of the plastic brackets securing the strap around the headrest had come undone from the main unit. It really looks like maybe it melted and the weight of the screen pulled it loose. I only bought the system about 4 months ago. When I went to RCA for customer service, they told me I could send it in but they would not cover it, as "physical damage". I would basically have to pay exactly what I originally paid for it, to have it fixed. No one touched this thing. It was just poorly constructed, and they want me to take the blame for it. I loved the system but I can't handle a company who won't take care of their products for the duration of their promised warranty period. I would steer clear if you want a product you can rely on long-term, which I assume most people expect. If you must buy it, definitely buy WalMart's extra warranty (I did) because RCA is probably just going to tell you where you can stick it.
MomOfTwins
Great for road trips! Easy setup.
This is a great portable dvd player set. It was super easy to install and get going. My only "complaint" (and it is minor) is that there is no volume control on the remote. There are little volume buttons on the main unit. You can easily reach them from the front passenger seat if you know where they are, but if you are driving, make sure you set the volume before you get going! Regarding some of the other comments about it not holding your place in the movie if you turn it off... if you hit "STOP" before you turn it off, then it DOES remember where you left off when you start it up again. That is mentioned in the instruction manual, too, but I thought it's a good tip to point out here. We didn't have any issues with skipping or malfunctions of any kind. The screens are big enough for the kiddos to enjoy watching from their car seats in back, and the cables were plenty long for my car (Mazda CX-5). We used this over several days driving across a couple of states, and will happily be using it for any other road trips in the future.
lovemydeals222
Do not be fooled by the good reviews.
Do I like the fact that this dual DVD player returns to where it stopped when it's done? I sure do. Do I like that you play the same DVD on both screens and can control it via remote? I sure do. So why the 2 star review? How about the fact that this DVD player has ruined countless number of DVD's by scratching them. Before this, we had another dual DVD player that we had used for years, with no issues until it finally went kaput. We loved the screens of this DVD player when we bought it and the picture was very clear. All was great until we started driving down the roads, and the DVD's (not just one, but all of them) would skip and get scratched to no end, ruining them not only for the trip but also when they are played at home on the DVD player. I bought the warranty, so am considering if it's a faulty model or if the DVD player simply cannot handle long distance drives on roads with bumps (what roads don't have bumps every now and then??!!).
EveF
Pretty disappointed.
If you are only driving on highways in a state that spends a lot of money on the road work then MAYBE this would be okay for you. For the rest of us, it skips CONSTANTLY. I mean even just hitting a reflector on the middle line while changing lanes will cause it to skip. Forget about any roads that aren't smooth highways. Neighborhoods and city streets are pointless to even try watching it on. Also, I'm not driving some old jalopy with no suspension, I have a 2011 CR-V, so not a brand new car, but an average, not rough riding vehicle. It also periodically just restarts itself like it lost power for a second which starts the movie over. Even my one-year-old finds it incredibly frustrating so I can't imagine how irritated a kid who is actually following a storyline would be. It really is a piece of poopoo. I wanted so badly for it to be great because it was his main Christmas present this year, but I'm going to have to find another one to replace it.
Emilymac21
Well it was a good few months
I purchased this product for my 3 yr old twins that demand everything be the same. When I came across this set, I was ecstatic thinking how great it would be for long car rides and both can watch the same movie. I made my purchase in December of 2017 but we did not use until our first car ride in Jan. 2017. Fast forward to June 2017, I put in a DVD that will play for about 10 min (if we are lucky) before it completely shuts off and then proceeds to restart. We have ruined multiple Dvds including: Finding Dory, Finding Nemo, Frozen, Robin Hood, etc. Bc of the DVD player itself sending them off the play track. We live in town and when we do travel it's on the highway so no bumpy, pot-hole ridden roads. I feel duped for spending this much money on a product we have used about 20 times and has now crapped out. Looks like I will be investing in a new DVD brand as well as replacing about $200 worth of movies. Will NEVER purchase this brand again.