RCA 9" Mobile Dual Screen DVD Player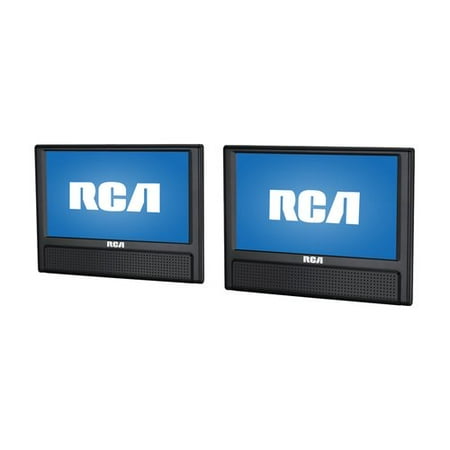 Sale :

$99.97

Sold & shipped by Walmart
Product Description

Additional Information

Reviews
Product Description
Take your entertainment on the road with the RCA 9" Dual Screen Mobile DVD Player. Designed specifically for car travel, this system is comprised of one 9" LCD screen with built-in DVD player and one 9" LCD monitor that can be connected to the DVD player's AV output (AV cable included). Setup is quick and easy: just attach each screen to the back of the front seat headrests. Kids don't want to watch a movie? No big deal with this portable DVD player. You can use the system's AV outputs to connect to video game systems, camcorders and other AV products. Driver doesn't feel like listening to the movie? Just connect headphones (not included) to the built-in headphone jacks to contain the noise. Electronic skip protection ensures the movie plays smoothly. Also included with this RCA Dual-Screen DVD Player is a dual car output adapter, as well as a mounting kit for easy installation.
Additional Information
For a Limited Time Offer Movie Bundle Click HereRCA 9" Dual Screen Mobile DVD Player:
Plays DVDs, CDs and JPEGs
DVD player with 9" LCD screen
Additional 9" LCD screen for dual-screen viewing
Electronic skip protection for smooth playback
Dual-output car power adapter
AV cable for connection of additional LCD screen
Headrest mounting straps
Full-function remote control, battery included
Built-in speakers
RCA dual screen DVD player is equipped with headphone jacks for private listening
AV output jacks
Reviews
Driverdaddy
Lifesaver
I bought this so my kids would have something to do on an eight hour drive to Disneyland. It worked better than I could have imagined. The only thing I heard from the back seat was "The movie's over". Since that was about bathroom stop time, it worked out great. We stopped for the bathroom, changed the disc and got another 2 hours down the road. No "Are we there yet?" or "I'm bored!". Best of all, no fights. I would recommend this for any family with kids going on a long drive. The hard part is the kids want me to hook it up just to go to the corner store now. Oh well, nothings perfect. It was easy to hook up, easy to use, and easy to see even when the sun was the brightest. A great product that made for a great trip. I can't wait for the next one.
MomOfTwins
Great for road trips! Easy setup.
This is a great portable dvd player set. It was super easy to install and get going. My only "complaint" (and it is minor) is that there is no volume control on the remote. There are little volume buttons on the main unit. You can easily reach them from the front passenger seat if you know where they are, but if you are driving, make sure you set the volume before you get going! Regarding some of the other comments about it not holding your place in the movie if you turn it off... if you hit "STOP" before you turn it off, then it DOES remember where you left off when you start it up again. That is mentioned in the instruction manual, too, but I thought it's a good tip to point out here. We didn't have any issues with skipping or malfunctions of any kind. The screens are big enough for the kiddos to enjoy watching from their car seats in back, and the cables were plenty long for my car (Mazda CX-5). We used this over several days driving across a couple of states, and will happily be using it for any other road trips in the future.
Rachel
Awesome dvd players
Pros: Easy to set up, right out of the box it's easy to use! Remote control, I can easily control the dvd from the front seat, just but volume control Doesn't skip (and I live on a bumpy dirt road) Both screens have their own volume control, this is nice but controls are manual. KEEPS PLACE!! That's the best feature even when I unplug the power cord, when I start it back up it's kept its place! When you stop it, it will remember its place in the movie. Cons: Both screens have to be used together. The power goes to one and the dvd goes on the other, so at all times both need hooked together. You can turn the power of to the second but they always have to be connected. Overall not too big of a deal. Power cord could be a little longer, I have a truck and from the front outlet to the back seat (she's rear facing) it reaches but stretched do still not a huge negative. Remote control doesn't control the volume, but it's still ok. The positive outweighs the negative for sure on this set! I researched many before picking this set and and I'm really glad we did. For the price, size of screens and features it's the best I've come across!
swintgs
Short cables, non-sensical controls
I use units like this in a crossover SUV for my three year old and four year old on long trips. There are several features that make these units a very poor value: - power cabling is daisy chained (in the wrong order) - cables are too short - volume controls are on the units, not the remote - the player-unit is not slot-loading With the daisy chained power cabling, the power cable *must* run from the non-player unit first, and then the linking cable provides power to the player unit. We put the non-player unit in the back row of our three-row vehicle, however. So, the power cable is not long enough for us to reach from the second row to the non-player unit. Therefore, we can't easily unplug the power from the parents' seats in the front row. Second, the cables are too short and can not reach across rows. The "linking" cable will be up in the air ready to snag kids when they climb in, or annoy them by always brushing them when they are sitting. As a side effect of the daisy chain, you can not turn the on-off switch to off and de-power both players; you have to physically unplug from the power outlet. Third, the volume controls are on the unit not the remote. As a result, the parent can not control volume for the kids in the back. Instead, the kids will have to learn how. Worse still, the volume control on the non-player unit is two of three buttons. Good luck to our daughter to change volume and not video settings. As a last point, the CD is not slot loading. The flip down door is a nuisance and quite likely to break (as happened on our first player). I wonder if the engineers ever watched a family use their units in real-world tests?
ChuckiiRose
Great product, good picture and sound.
We used his product for a road trip for Thanksgiving and it worked well. Unlike the earlier version of this product, this dvd player will allow you to push stop, turn the machine off, and resume at the same spot where you pushed stop when you turn the machine back on. The sound was great although I would recommed headphones. The picture quality was excellent.