RCA Voyager 7" 16GB Tablet Android 6.0 (Marshmallow)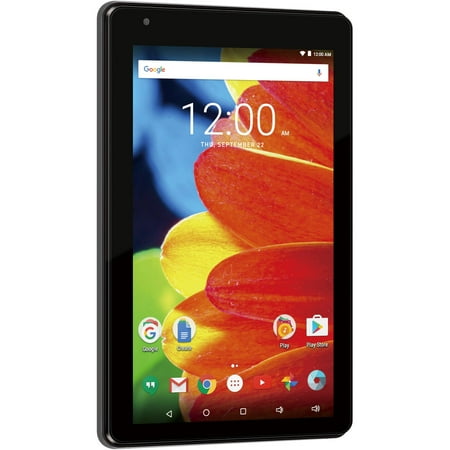 MSRP :

$49





Sale :

$39.98

Sold & shipped by Walmart
Product Description

Additional Information

Reviews
Product Description
Introducing the RCA Voyager 7-inch Google Certified Tablet. Operating on Android's sweetest operating system yet, Android 6.0 (Marshmallow), you can enjoy more of what the Google Play store has to offer. Share a smile with friends and family using the tablet's front camera. Use the tablet's built-in Bluetooth capability to connect and pair with compatible devices. Whether taking in a movie, playing a favorite game or surfing the Web, the RCA tablet's quad-core processor and 16GB flash-storage surely won't disappoint.
Additional Information
RCA Voyager with WiFi 7" Touchscreen Tablet PC:Technical Specifications:
1.2GHz quad-core processor
1GB DDR of system memory
7" touchscreen, 1024 x 600 resolution, virtual keyboard with Swype
Built-in 802.11 WiFi and Bluetooth v4.0
Additional Features:
Front 1MP webcam with microphone, auto-focus and digital zoom
microUSB 2.0 port, headphone jack, microphone jack
16GB onboard storage memory, additional memory via microSD card slot
Built-in speaker
Rechargeable battery
Weighs 0.61 lbs; 7.3" x 0.49" x 4.5" dimensions
Software and Applications:
Android 6.0 OS (Marshmallow)
Google Play (for applications)
Android Music Player
Media Formats: popular media formats
What's in the Box:What's a Tablet PC?
Tablet PCs are compact, ultra-portable entertainment devices that let you read email, surf the Internet, read eBooks, view photos, play games, listen to music and watch video files. Most tablets are based on a smaller operating system, which allows you to purchase and download additional applications from supported stores. Tablet PCs do not have a CD/DVD drive and will not run Microsoft Windows or its applications. Tablet PCs function as a secondary device for casual entertainment purposes and are not meant to replace a computer. They are ideal for use around the home and on the go with WiFi or 3-4G mobile broadband connections (pay as you go, contract may be required for service).
Reviews
SenaNor
RCA TABLET ISSUES
My RCA tablet takes a long time to power up but also doesnt stay powered up either. It gets really hot after a few minutes, the battery doesnt last past 30 minutes. The sceren keeps crushing. I am very dissapointed
GraniteOne
Screen issues
I bought two of the RCA Voyager tablets from Walmart in the last two years, both as Black Friday specials. Both of them have had the screen go bad within six months of using them. By going bad, I mean that approximately one-half of the screen becomes totally unreadable. It's as if half of the screen had been "etch-a-sketched" away. Until that happened, they worked fine. I'll be passing on them this year.
lucky2bamomof3
what happened rca?
I got the exact tablets 3 years ago, they were AMAZING! ! It was just time to replace them.. happens. These crash.. A LOT.. Screen freaks out, makes annoying high pitched sound, or freeze up and takes the battery doing to go off (which btw, doesn't really good a charge). They get hot to the touch within 10 minutes. My kids haven't been able to do their homework, successfully, some they got the new tablets. So, luckily, the teachers are working with us. I was really hoping these would be as awesome as the older models. . But maybe not all are the same. . You may luck out.
Xalan
Very poor tablet for it's price.
I paid for a RCA Voyager with 16GB storage, not 10. Very poor performance speed, low battery life for how long it takes to charge, and the touch screen likes to not respond most of the time. Most apps do not run well and the tablets best use is a low grade video and music player. Highly disappointed, would like a refund or better replacement.
Darnessa
Terrible customer service
So I purchased two of these tablets. One a voyager 7 and the other a voyager 7pro. First the voyager 7 the screen broke but luckily I purchased the insurance plan. Sent it back with o issues got reimbursed and purchased a second voyager 7. Hadthis tablet all of 10 days and it won't power on. So. Needless to say I'll be returning today. The other I've had just under 6 months. The voyager 7 pro, now that one. So last night I was using said tablet and it literally crashed. Blue screen asking for factory reset. So did as such after wiping tablet clean internally. Attempted to reset up device but the system won't accept information. Keeps asking me to use previous information used on device. Which I am. Called rca directly for assistance was told by Jeffrey that I. See to call google and tell them to sync my account with device. The problem is with the tablet not my google account. He then pretty much said well there's nothing I can do I already told you how to fix it. No he didn't. He pawned the problem off on google. It's an rca tablet not google tablet. I asked for a supervisor to explain the problem to and conveniently he was unavailable. I asked for the number to where he was (1800) because I was transferred from the tv support department and he said he didn't have a number to call them again and get transferred. All the while having a little chuckle at my frustration with his co worker. How rude! How do you not have the telephone number to your department? So I called google just because and yup you guessed it it doesn't have anything to do with my google account. Terrible service. I'm returning one and getting my money back. And I'll NEVER PURCHASE A RCA PRODUCT AGAIN! Waste of money. I guess you get what you pay for.