RCA Galileo Pro 11.5" 32GB 2-in-1 Tablet with Keyboard Case Android 6.0 (Marshmallow)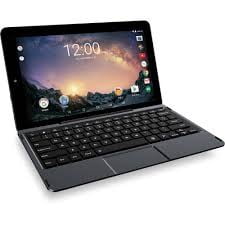 MSRP :

$99





Sale :

$79.98

Sold & shipped by Walmart
Product Description

Additional Information

Reviews
Product Description
Introducing the RCA 11 Galileo Pro 2-in-1 tablet with detachable keyboard. The 11 Galileo Pro operates on Android Marshmallow and showcases the operating system's brand-new material design. Captivate your eyes with the Galileo Pro's amazingly clear, 11.5-inch high definition screen. The impressive 1.3GHz quad-core processor is powerful enough to zoom through applications and tasks. Quickly update your social statuses, compose emails and navigate the Web with the detachable keyboard and built-in trackpad. When it's time to get down to business, open up the included WPS Office app and create powerful documents and spreadsheets. Effortlessly transition the RCA 11 Galileo Pro into a stand-alone tablet by detaching the keyboard. You may also dock the tablet to the keyboard in many positions to suit your liking or intended use. Use the tablet's Bluetooth functionality to pair and connect with other Bluetooth-enabled devices.
Additional Information
RCA 11 Galileo Pro with WiFi 11.5" Touchscreen Tablet PC:Technical Specifications:
1.3GHz quad-core processor
1GB DDR of system memory
11.5" touchscreen, 1024 x 600 resolution, virtual keyboard with Swype
Built-in 802.11 WiFi and Bluetooth v4.0
Additional Features:
Rear 2MP camera and front 1MP webcam with microphone, auto-focus and digital zoom
microUSB 2.0 port, miniHDMI port, USB 2.0 port, headphone jack, microphone jack
32GB onboard storage memory, additional memory via microSD card slot
Built-in speaker
Up to 6 hours of battery life on a single charge
Weighs 1.65 lbs; 11.81" x 0.43" x 7.28" dimensions
Software and Applications:
Android 6.0 OS (Marshmallow)
Google Play (for applications)
Android Music Player
Media Formats: popular media formats
What's in the Box:
Tablet and AC adapter
Detachable keyboard
What's a Tablet PC?
Tablet PCs are compact, ultra-portable entertainment devices that let you read email, surf the Internet, read eBooks, view photos, play games, listen to music and watch video files. Most tablets are based on a smaller operating system, which allows you to purchase and download additional applications from supported stores. Tablet PCs do not have a CD/DVD drive and will not run Microsoft Windows or its applications. Tablet PCs function as a secondary device for casual entertainment purposes and are not meant to replace a computer. They are ideal for use around the home and on the go with WiFi or 3-4G mobile broadband connections (pay as you go, contract may be required for service).
Reviews
Mike
OK Tablet but better options IMO
I will say the tablet is ok for the money, but I would personally recommend the Viking Pro 10.1" instead for the following reasons (and it's priced the same): 1. Screen Resolution - the resolution on the Viking Pro is much better. Makes browsing the web a lot more enjoyable and if you are using the tablet for games, videos, etc you will be a lot happier. 2. Operating System - While the Viking comes with Android 5.0 (Lollipop) it will upgrade to 6.0 (Marshmallow) which is same as this one. 3. Battery Life - Battery Life is better on Viking Pro than on this model. 4. Front Facing Camera - Viking Pro has 2.0 mp front camera while this one is at 1.0 5. Full HDMI output on Viking Pro vs mini on this model. If you don't have a mini HDMI cable this can save you money vs having to buy one. 6. Storage - You get a full 32gb of storage on Viking Pro while this one says 32gb but you actually get 25. 7. Keyboard Connection - Sturdy on Viking Pro while another user pointed out that it is rather flimsy on this model. These reasons alone IMO are worth sacrificing the 1.4" of screen you gain with this model over the Viking Pro... esp since that extra screen has worse resolution. If those reasons aren't appealing to you than this may be the tablet for you. Also to address the 2 star review because of no manual these RCA tablets actually have a built in User Manual under Settings > About Tablet in case anyone else needs it. Hope this review is helpful in your decision to purchase a new tablet. Merry Christmas to all!
iloveshibainus
Perfect Tablet for Kids and Adults
I had the pleasure of testing this tablet during a work event. This is the perfect tablet for both work and fun! This tablet is amazing and comes with different colored keyboards. The operating system on this tablet is Android Marshmallow, which showcases all the new designs and features. The size of the tablet is just perfect. I would be able to use it for online shopping or streaming videos on its crystal clear 11.5 inch HD screen. I can even use this tablet for work as it has a powerful WPS Office App where I can even access my spreadsheets. The keyboard is detachable and you can attach it when you need a keyboard to type on. This tablet would be perfect for my son to browse Youtube for toddler videos. Since the price is right, I will not get a heart attack if he breaks it! The price point is amazing for such a high quality product. This product even beats the quality on my iPad. Since holidays are coming up, this would make the perfect gift for my family. I am submitting this review as part of a contest.
DisplayDoc
Best value for a tablet I have seen to date.
I received this tablet a couple of days ago. When I opened the box and pushed the power button on the side of the tablet it immediately began to boot up. It was an 80% charge! The keyboard is responsive, I was easily able to get it connected to my network and I was up and running on the web. I installed several programs including you version Bible, Polaroid office, Amazon prime and Skype. I tried each application and all worked flawlessly. I especially like the fact that you can charge the tablet with the provided plug in power supply or the mini usb charger I use for my phone in the car. It has a full size USB port plus a micro usb slot which takes up to a 128 gbyte chip! When fully charged I get about 6 hours use time which is great. It plays videos flawlessly and can also connect using the hdmi port provided. I can't be more pleased with the purchase.
CatsReview
RCA Galileo Pro 11.5" 32GB Tablet
I bought this little device specifically to hook up to my flat screen to watch movies and boy it's right on....Love this little device...it does so much more....plan to buy for my adult children for Christmas.....Be sure that you pick up the cable to attach to the tablet and your tv it does not come with it.....Walmart also has these wires online: Link Depot 6' Gold Plated HDMI to HDMI Mini High Speed HDMI Cable with Ethernet.....Enjoy!!
montmillersr
Very user friendly
After boot up, it gave me a list of available Wifi servers and asked me which one I wanted. I answered the question and typed in the password and it asked me if I wanted to link with an associated device. (my cell phone) I affirmed and it told me the device had 32 programs that mine did not and gave me the choice on which ones to transfer to my tablet. I chose all of them. It asked other questions about syncing with google and so forth. It led the way and I just answered the questions. About 20 minutes later. I was fully set up. I was very pleased. The keyboard felt like a laptop.