RCA Galileo Pro 11.5" 32GB 2-in-1 Tablet with Keyboard Case Android 6.0 (Marshmallow)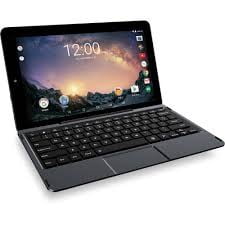 MSRP :

$99





Sale :

$87.99

Sold & shipped by Walmart
Product Description

Additional Information

Reviews
Product Description
Introducing the RCA 11 Galileo Pro 2-in-1 tablet with detachable keyboard. The 11 Galileo Pro operates on Android Marshmallow and showcases the operating system's brand-new material design. Captivate your eyes with the Galileo Pro's amazingly clear, 11.5-inch high definition screen. The impressive 1.3GHz quad-core processor is powerful enough to zoom through applications and tasks. Quickly update your social statuses, compose emails and navigate the Web with the detachable keyboard and built-in trackpad. When it's time to get down to business, open up the included WPS Office app and create powerful documents and spreadsheets. Effortlessly transition the RCA 11 Galileo Pro into a stand-alone tablet by detaching the keyboard. You may also dock the tablet to the keyboard in many positions to suit your liking or intended use. Use the tablet's Bluetooth functionality to pair and connect with other Bluetooth-enabled devices.
Additional Information
RCA 11 Galileo Pro with WiFi 11.5" Touchscreen Tablet PC:Technical Specifications:
1.3GHz quad-core processor
1GB DDR of system memory
11.5" touchscreen, 1024 x 600 resolution, virtual keyboard with Swype
Built-in 802.11 WiFi and Bluetooth v4.0
Additional Features:
Rear 2MP camera and front 1MP webcam with microphone, auto-focus and digital zoom
microUSB 2.0 port, miniHDMI port, USB 2.0 port, headphone jack, microphone jack
32GB onboard storage memory, additional memory via microSD card slot
Built-in speaker
Up to 6 hours of battery life on a single charge
Weighs 1.65 lbs; 11.81" x 0.43" x 7.28" dimensions
Software and Applications:
Android 6.0 OS (Marshmallow)
Google Play (for applications)
Android Music Player
Media Formats: popular media formats
What's in the Box:
Tablet and AC adapter
Detachable keyboard
What's a Tablet PC?
Tablet PCs are compact, ultra-portable entertainment devices that let you read email, surf the Internet, read eBooks, view photos, play games, listen to music and watch video files. Most tablets are based on a smaller operating system, which allows you to purchase and download additional applications from supported stores. Tablet PCs do not have a CD/DVD drive and will not run Microsoft Windows or its applications. Tablet PCs function as a secondary device for casual entertainment purposes and are not meant to replace a computer. They are ideal for use around the home and on the go with WiFi or 3-4G mobile broadband connections (pay as you go, contract may be required for service).
Reviews
NETTIE
VERY NICE TABLET
NICE BIG KEYBOARD EASY TO USE, HAS MAGNET THAT ATTACHES AND DETACHES KEYBOARD TO TABLET ITSELF WHICH IS NICE, COLOR QUALITY IS VERY NICE, VOLUME WHEN LISTENING TO MUSIC IS DECENT, CAME VERY NICELY PACKED WITH ABSOLUTELY NO FLAWS, FACT WAS IMMACULATE. ONLY THING IS I FIND IT DOES TAKE LONG TO CHARGE. YOU HAVE TO CHARGE OVERNIGHT. YOUR PLUGS AT HOME OR AIRPORTS MAY BE STRONGER THAN MINE . ONCE CHARGED WORKS ALL DAY IF YOU NOT PLAYING GAMES. OF COURSE PLAYING GAMES USES LOT OF BATTERY. I HAVE ALREADY RECOMMENDED THIS TABLET TO ALL MY FAMILY & MY BF. WHEN YOU OPEN TABLET WITH KEYBOARD ATTACHED, JUST PULL UP, TABLET WILL DETACH FROM KEYBOARD IF YOU DON'T WANT TO USE KEYBOARD, USE KEYBOARD ON TABLET. OVERALL VERY NICE TABLET AND I AM VERY SATISFIED. I WAS SURPRISED HOW NICE IT WAS WHEN IT CAME IN. EVEN CAME IN A BLK COVER. HOPE THIS HELPS
Oldtech99
Complement to my Cellphone
Galileo synced perfectly to my Samsung J320 V . Not heavy on cost; a little heavier than more expensive tablets. Does everything I need it to especially as a convenient writing and research tool: wifi and included keyboard great. Reasonably priced case finished it off with easy carry around and some physical protection (see Walmart offerings). What surprised me? Fast operation and good battery life. Lastly, I can use a cost efficient 128 gb mini sd card for storing my projects (as well as a cloud for back up). Very pleased with the RCA Galileo Pro.
luencas
Nice tablet.
I bought this tablet to replace another one that broke me (Samsung Galaxy 3). This tablet is very easy to use and comfortable, the only fault I find is that I could not connect it to the PC with a USB cable. In the configuration does not bring the option for USB and when I connect the tablet to the PC all you do is charge the battery and I can not transfer data from the PC to the tablet or vice versa. Otherwise I recommend it.
Ltkira
Nice tablet or replacement laptop
RCA Galileo Pro 11.5" 32GB 2-in-1 Tablet with Keyboard Case Android 6.0 (Marshmallow) Review A little history. I bought a 8" Nextbook 4 years ago from Wal-Mart. It did all I wanted, except its sound was weak, ear buds solved that. I watched TV and movies on it, Facebook, Twitter and other stuff. But I wanted a bigger screen. So I started doing research on tablets, and I got a Kindle Fire 10". It did have better sound, bigger screen and really great display, but was woefully inadequate in apps. I did get my VuDu to work thu Flixter, and could watch some movies and some TV. I was not very pleased. A few weeks ago I added movies to VuDu (Christmas) and was going to watch one, Flixter no longer could do my movies, and neither could the browser. It was my last straw. I started researching tablets.. again. I found the RCA Galileo Pro for $79. and I ordered it. My RCA Galileo showed to my local Wal-Mart, 1 ½ miles away, and arrived 4 days early! Yea! I got it home, plugged it in, and it booted right up. Setup was simple. I started adding over 80 apps. VuDu was preinstalled, so score one for the tablet. I took lots of pics of it. Total set up time about 3 hours, lots of apps and passwords, plus I was playing with it, my bad. I will use it primarily as a tablet, keyboard off. But I noticed during set up that the keyboard on (like laptop) was very responsive, and the keys are actually bigger than my Lenovo 14" laptop. That is impressive, I love my laptop, and the RCA physical keyboard keys are bigger. I know? Go figure. I never used the touchpad, I'd just touch the screen instead, but I assume it is as good as any, I however don't like touchpad's. The RCA has a full sized USB, I even attached USB speakers to it. I could attach thumbdrive, or even a external hard drive. I love that full sized USB, a really good perk. It has HDMI, mini USB, power port, ear bud port, and can handle up to 128 Gig mini SD card. I have a spare 16 Gig SD so I added it, and it synced right off. I have a few clouds, all set up. Any pics I take go straight to cloud. One thing I really liked, and didn't notice till last night. In setting you can set it so screenshots can have a icon on screen. There it is tucked next to the back arrow. SOOOO much easier than holding down power and sound at same time. I LOVE THIS FEATURE. I do a lot of screenshots. I have had a few glitches. My battery drained in less than 30 min, from 100% down to 4%. Minor panic. I swapped out the mini USB power cord for the power brick that came with it. At first it said it take 18 hours to fully charge. But 30 min later it was 100%. I will use its charger. It did seem to work fine with the mini USB, but that sudden drop was concerning. I will be paying attention and if I get more battery issues in next two weeks I will take it back. I'm not afraid to return stuff, and Wal-Mart always been good on returns. I doubt it will be a persistent issue. But I will be watching Now for the comparison. The RCA has weak speakers, except when it sends a notification, that is loud. It is not nearly the sound quality of Kindle Fire. However, with ear buds it is just fine and you can attach speakers, so it is not really a big deal. The screen resolution is not nearly as clear, and to watch a movie I have to twist and turn it to get a good angle (I watch in bed), but if I turn off lights it isn't that bad. It is passable. Besides the Kindle Fire cant even see the movie at all so better sound and screen is useless. I could buy 3 RCA's for what I paid for my Kindle Fire, so I am all good at it's minor issues. I have already recommended it to 3 people I know who are looking for laptop replacements. Four years later my Nexbook 8" Android, is a nice digital clock and weather station. It still can do a LOT more than my Kindle Fire. I just like a bigger screen. My kindle Fire does Facebook. Not much more. My RCA Galileo Pro is doing TV, movies, Facebook, Twitter and 80 more aps worth of stuff. If I ever have to evacuate again, (Hurricane Matthew) I will take the RCA and my cell. I doubt I would need my laptop, the RCA can take its place. Do I recommend it? Yes. For use as a laptop replacement, or a tablet. It can function either way. If I change my mind, I will update this. Picture one is my Lenovo KB and RCA KB. picture two, Warcraft on the RCA with subtitles, via VuDu, try that Kindle Fire.
Unhappymom
Unhappy customer
After less than a month, the internal screen has cracked. I noticed a small issue with corner of screen a week prior but had not contacted support (wish I had now). My son said the corner had the issue since he first turned it on. The tablet has only been used for playing games on apps. It has not been dropped or stepped on. I contacted customer service and they say warranty is now voided. In order to get it fixed, we have to pay. We haven't done anything to cause the internal screen to crack. I'm not interested in spending more money on a tablet that could easily break again without cause and then warranty is voided. If this is the way RCA treats their customers, I'll go somewhere else to spend my money.