RCA Viking Pro 10.1" Android 2-in-1 Tablet 32GB Quad Core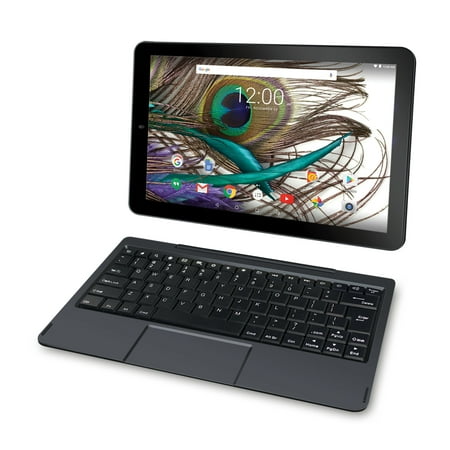 MSRP :

$129.99





Sale :

$77.99

Sold & shipped by Walmart
Product Description

Additional Information

Reviews
Product Description
Versatile and powerful, the RCA Viking Pro 10.1" 2-in-1 Tablet with detachable keyboard offers an adjustable and multi-faceted user experience to suit a wide range of uses. The 10 Viking Pro operates on Android 5.0 (Lollipop) and showcases the operating system's brand-new, critically-acclaimed visual design. The Viking Pro's amazingly clear, 10.1-inch high definition screen makes for an incredibly vivid and detailed viewing experience, and the impressive 1.3GHz quad-core processor is powerful enough to zip through applications and tasks quickly. Use the detachable keyboard and built-in trackpad to update your social statuses, compose emails and navigate the Web. When it's time to get down to business, open up the included WPS Office app to create compelling documents and spreadsheets. Effortlessly transition the RCA 10 Viking Pro into a stand-alone tablet by detaching the keyboard. Available in Pink, Sky Blue, Purple or Charcoal for a stylish, personal 2-in-1 tablet experience.
Additional Information
RCA Viking Pro 2-in-1 with WIFi 10.1" Touchscreen Tablet PC:Technical Specifications:
1.3GHz Quad-Core processor
1GB DDR of system memory
10.1" touchscreen, 1280 x 800 resolution
Built-in WiFi and Bluetooth v4.0
Additional Features:
Back 2MP webcam and front 1MP webcam
microUSB 2.0 port, USB 2.0 port, miniHDMI port, headphone jack, microphone jack, DC-in jack
32GB onboard storage memory, additional memory via microSD card slot
Up to 6 hours of run time on a full charge
Weighs 1.15 lbs; 10.2" x 0.39" x 6.5" dimensions
Software and Applications:
Android 5.0 OS (Lollipop)
Media Formats: popular media formats
What's in the Box:
Tablet, battery, keyboard and AC adapter
What's a Tablet PC?
Tablet PCs are compact, ultra-portable entertainment devices that let you read email, surf the Internet, read eBooks, view photos, play games, listen to music and watch video files. Most tablets are based on a smaller operating system, which allows you to purchase and download additional applications from supported stores. Tablet PCs do not have a CD/DVD drive and will not run Microsoft Windows or its applications. Tablet PCs function as a secondary device for casual entertainment purposes, and are not meant to replace a computer. They are ideal for use around the home and on the go with WiFi or 3-4G mobile broadband connections (pay as you go, contract may be required for service).
Reviews
Dori
was great while it lasted
I bought this for my grand daughter at Christmas and was amazed at what great quality it was. My grand daughter loved it. Unfortunately today when she went to put the screen onto the key board she pushed down and cracked the screen. She is a very small 10 year old little girl and could not have possibly pushed it that hard but none the less it cracked. Unfortunately we were not able to afford the extended warranty on it so it only has the limited warranty. She is so heart broken and school starts back in August and she needs it for school. The good thing is that I'm not that upset because like everyone says the cost was low. The bad thing is that I'm a teacher who does not work or get paid over the summer so I just can't afford to buy a new one right now. Does anyone know where I can get it fixed like cheap?
Rosa
Thank you
I recommend to everyone to buy it the size of the screen is unavailable and the price very low compared to other tablet it worth it and was very smart of me to choice this tablet , my daughter love it on behalf of me and my daughter I said thank you Walmart and the customer service for the excellent customer service they go beyond to satisfy the customer and how quickly my daughter received her give we place the Oder on Monday at 4:09 pm and by Saturday she received her tablet thank you again customer services you deserve a reward
ABCQuiltz4Kidz
RCA Viking Pro
They are excellent tablet have gotten for family & Friends . They are worth the money work well . Excellent picture . Camera wonderful. That kind -You.
Jay
I wouldn't recommend it
I just got it and already I have several problems with it. It's laggy, even when doing simple things. For some reason when using a browser it continuously refreshes the page. I was watching videos and it kept interfering with it. The touch pad is awkward and sometimes doesn't register the taps. The touch screen also isn't very accurate and sometimes needs to be tapped multiple times. The device's speed also iterferes with playing certain app games. The keyboard attachement makes it kind of heavy, and it's still somewhat heavy without the keyboard. It's bulky in design and not meant to be carried. The GPS doesn't track your movements when you use it and just gives you the directions to look at rather than tell you how to get there and track your movements even though location is on and it doesn't change and sets you at starting point that you're nowhere near. With location on. It seems like a cool thing but when it lags and messes up on just something simple it's not what I'm looking for.
pnoman
Great for websurfing and email while traveling.
We bought this to check email and look at the web while traveling. It is compact and easy to carry/set up. The screen is larger and much easier to read and navigate than using our phones. It also seems very solid and well made. We will not be using it as a tablet since my wife and I both prefer using the keyboard. In the couple of weeks we have had it, set up has been easy and it seems fairly intuitive to use, just like my phone. Don't buy it if you are planning to do photo editing, spreadsheets, music, etc. It probably can do some of it, but not quickly. In normal use just checking email and web, it moves fairly quickly. Battery life was listed as 3 hours, and that seems right. I've used it over an hour before the battery light came off "full". Wifi seems to connect quickly to my home system. Only one minor gripe, and that is I wish it had 2 USB ports so I can use plug in mouse and flash drive at the same time. But, I can buy a $10 USB hub with multiple ports. Very pleased and a good bargain.