RCA Voyager Pro Charcoal Tablet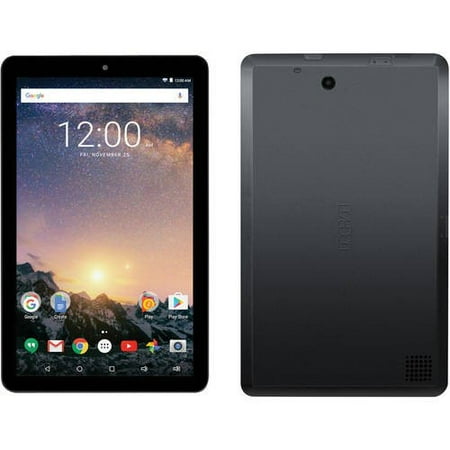 MSRP :

$69





Sale :

$49.98

Sold & shipped by Walmart
Product Description

Additional Information

Reviews
Product Description
Introducing the RCA Voyager 7-inch Google Certified Tablet. Operating on Android's sweetest operating system yet, Android 6.0 (Marshmallow), you can enjoy more of what the Google Play store has to offer. Share a smile with friends and family using the tablet's front camera. Use the tablet's built-in Bluetooth capability to connect and pair with compatible devices. Whether taking in a movie, playing a favorite game or surfing the Web, the RCA tablet's quad-core processor and 16GB flash-storage surely won't disappoint.
Additional Information
Product Features
7 inch multi-touch display
4 core processor
1024 x 600 HD resolution
Android 6.0
16gb storage (microSD expendable)
Compatible with Google Playâ¢
Front camera
Battery life up to 6 hours
rcaav.com
©2016 AVC Multimedia Trademark(s) registered
Android, Google, Google Play and other marks are Trademarks of Google Inc.
Bluetooth is a registered trademark of Bluetooth SIG Inc. Bluetooth technology is incorporated under license from Bluetooth SIG Inc.
The Wi-Fi Certified logo is a certification mark of the Wi-Fi Alliance.
All other trademark appearing herein are the property of their respective owners.
Reviews
Prestonian
Great tablet package!
Needed a very small tablet to take with me on my work trips that had Chrome browser & case with built-in keyboard like this does. Keys are spring-load and have okay function, but nicest part is not having to charge the keyboard like most others- the tablet hooks in directly in the back of the case to run the keyboard as well with no wires. You can also remove the tablet if you want it outside the case. Another nice thing is the hinge lid holds the table up without the need for an awkward stand, just like a normal laptop. The case hard plastic so very sturdy. Great design for a very small travel tablet like a laptop. 16 GB storage plus micro SD slot for another 32 GB. Runs the latest 5.0 Android Lollipop, so that is also nice. Has standard tablet functionality & pre-loaded programs. Really haven't found anything to dislike about it.
Bevv
Very durable easy set up
I ordered this for my five year old daughter. It came in the mail today. Admittedly I was excited so I opened it right away to set it up before I picked her up from school. I ordered this tablet in pink and it's the cutest thing. It looks like a mini lap top perfect for her little hands, but anyone could use this. Not just a child. Set up was super easy, I couldn't believe how easy it was. Her previous tablet was so complicated it took me half an hour to even connect to wifi.. I had this one up and running within five minutes. The case is super sturdy and thick. It folds in half to close. Seems pretty fast so far. I can't guarantee how fast it will be once we load all her games on it, but so far so good. Tablet came almost fully charged. She's been watching videos and playing on it all day and it just reached 5% battery. So the battery has lasted the whole day. Again, not sure if that will change the older it gets and the more use it gets. Very good volume. Clear screen. Self facing camera. I would recommend this product. The price can't be beat.
Kimm
Tablet RCA Android with Keyboard/Case
I purchased this tablet while traveling as I wanted something small enough to fit in my purse. I found the keyboard easy to use and the case durable enough to protect the tablets screen. I didn't want to take my laptop or a larger tablet with me that had to be carried in a separate bag. I like the fact I could use this anywhere and it took up very little room. I often Go Geocaching when I'm traveling and I'm away from Wi-Fi. I like that I can open 15 or 20 pages/tabs with my geocaching information on them close the tablet and then reopen it later out in the field to reread information. The camera seems to work fine and have used it several times. I do wish though that they had a camera that work on both sides of the tablet it would be easier to take landscape photos. The case was well-designed and has several nice soft plastic bumper pads that cushion it when it's closed. I have shared my new tablet with friends and several of them are now purchasing them.
Onetabe
New tablet
Just want to say I've received this tablet from Walmart, and it was fast delivery and when I set this baby up, wow! Its one of the best tablets I ever got, not bad for the price too.
MomOfFourBlessings
Great value
I purchased 2 of these tablets (blue and purple) for my 10 year old son and 7 year old daughter. They are great. Very easy to set up and use. My son prefers to use his with the keyboard and my daughter prefers to use the tablet by itself. They both love the colors. With Android and wifi, what more do you need? My son can even type his school papers on it and then print them (using cloud print). They can get all their games in the play store. My daughter's screen just froze up today, but I was able to find the fix online here (put a pin in the reset button on back for 45 sec and restart) and it's working great again (she was so relieved!). The one thing that is subpar about them is that the speakers/sound quality is really poor. The music to the games sounds grainy and although you can use it to listen to music, I wouldn't recommend it (and I am not an audiophile). But everything else seems to be pretty good, and when you compare this to the rest of the market, it is a great bargain.