Ozark Trail 52-Quart High-Performance Cooler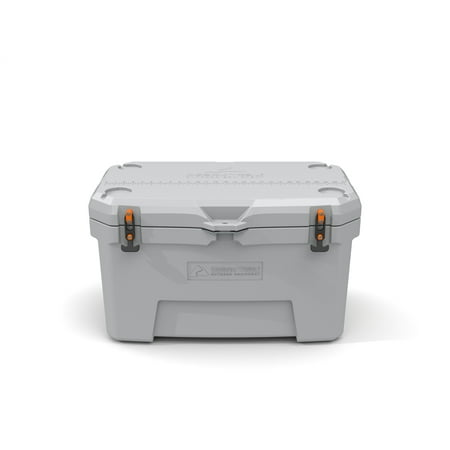 MSRP :

$147





Sale :

$137

Sold & shipped by Walmart
Product Description

Additional Information

Reviews
Product Description
Keep your food secure and chilled with the Ozark Trail 52-Qt High-Performance Cooler. The insulation keeps ice from melting for more than seven days for long-lasting storage. This heavy-duty cooler's seamless, one-piece construction holds up to rugged use. It also offers a whole range of handy utility features. Use the built-in bottle opener to easily pop the top of a frosty drink. Then place your beverage in one of the four convenient drink holders situated on the lid for a portable table space. The oversized drain lets you quickly empty out stored liquids. It even includes a built-in fish ruler on the lid to measure your big catch before you store it inside. Keep your rotomolded cooler in one place with the reversible anti-skid and anti-glide feet, and transport it comfortably using the heavy-duty handles. Finally, enjoy peace of mind with a design that is certified bear resistant.
Additional Information
Ozark Trail 52-Qt High-Performance Cooler:
Premium insulation and rugged construction are complemented by a whole range of features
Stainless steel locking plate with built-in bottle opener
T-handle latches
Reversible anti-skid/slide feet
Garden-hose-compatible oversized drain with threaded plug
Wire basket
4 drink holders
Built-in fish ruler
Heavy-duty handles with comfort grip for easy carrying
Tested by the USDA's Interagency Grizzly Bear Committee and certified bear resistant
Rotomolded cooler available in gray or white
Reviews
Jke1
Tough cooler
I purchased 2 52qt coolers several months ago. I read the reviews and it did leak some. I changed the o ring and it stopped. It holds ice for several days, and I'm very pleased with my purchase and product for the money. Last week I was hooking up to my 5th wheel RV and it slipped out of the hitch and all 1200 lbs landed on my cooler. Having this happen in the past the RV fell on my truck bed and caused several thousand dollars in damage. This time my ozark cooler saved my truck and as a result the cooler now has battle scares. I wish I would have taken pics when the trailer was resting on the cooler but my first instinct was to lift it off. It was crushed in and I thought my cooler was ruined. The caved in lid popped out and still works as if new. Now I have a reminder to help me make sure the RV is locked in and can't fall out when I use it again. I have not used any other coolers like the Yeti or rtic but would Highly recommend the Ozark Trails as the best bang for the money. James
Mlwang
Cold be(er)verages all day(s) long
Went fishing in the San Francisco Bay with about twenty of my closest friends, I was responsible for the be(er)verages. Loaded up the super cooler with 48 cans and then a dozen bottles of h2o. Topped it off with two packs of ice and for good measure I added in a few of the artic ice sub zero packs. Ice solidified into larger blocks after hours on the water. I got home and out of curiosity just kept the lid closed to see how long the solid ice chunks would stay. Grabbing just one can a day, the ice blocks stayed solid for about three days and the ice water frigid for four. The cans were still tolerable after four days which was pretty impressive. Solid design, feels indestructible. The thing is a beast and I loaded it up on a folding dolly to move it around. Definitely took two people to load onto the deck of the boat.
Jayste
Great Cooler - Made in the USA!
I purchased this cooler at my local Walmart store. It's well built and I love the price compared to the competition. The seal is so good that I can fill the cooler with water and tip it on it's side and it does not leak. The seal is glued at the seam where the ends meet so it has a continuous seal when the lid is closed. It's sturdy enough that I can stand on top of it and it will not flex. The latches are easy to use, but if you are going to be opening the lid frequently, just leave the latches undone and the seal will still do it's job of keeping the heat out. My cooler says it was made in the USA, which is great! The only odd thing is that it's stamped with what looks like a 5/17 date stamp, but I bought the cooler in April. It's my Back from the Future cooler!
saleetah
Solid construction and keeps food and drinks cold
We went camping this past weekend and this cooler worked out perfectly. It's very solid and on the heavier side so we just left in our trunk since we were able to drive up to our campsite. We packed loose ice throughout the cooler (although we should've put ice packs on the bottom AND top is the proper way) and they stayed solid for a few days. This cooler is a good size that had a lot of space for storing our food and drinks. There is even a basket that you can put smaller items into. The suction part of the lid is tight so there is some resistance when opening. We didn't use the strap down to secure since we weren't leaving it out on the campsite but it is a nice feature that prevents bears from opening the cooler. The price on Walmart.com is much cheaper compared to similar styles on other competitor websites.
motorbikeridr52
ozark trail high performance cooler
Put my drinks in Friday morning topped off with ice still has good ice 5 days later and less than half the price of what a yeti cost