Sylvania, 7" Dual Screen Portable DVD Player, Black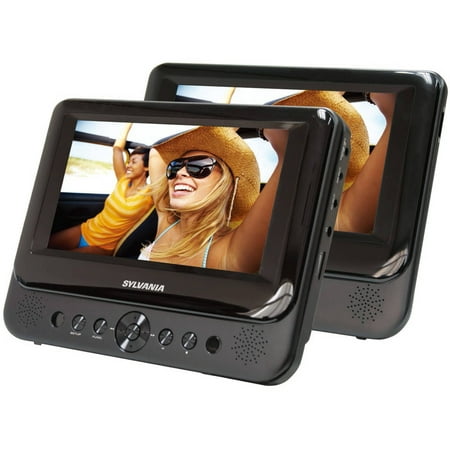 Sale :

$49.99

Sold & shipped by Walmart
Product Description

Additional Information

Reviews
Product Description
Pass travel time in style with the Sylvania 7" Dual Screen Portable DVD Player. It's an ideal choice to keep little ones entertained for road trips or when you're stuck in traffic. Indulge passengers with two 7" widescreen color LCD displays that are ideal for watching DVD movies and television shows. This black Sylvania DVD player also works with CDs and MP3s so that you can also enjoy music, audio books and other audio. A single cable connection and two included mounting straps make it easy to mount and install. Just attach screens to the car headrests. Plug the screens into a cigarette charger to keep them powered for the duration of your journey. A stereo jack lets passengers listen without disturbing those around them. This dual screen DVD player is compatible with various formats including DVD, DVD R/RW, VCD, CD, CD-R/RW and MP3.
Additional Information
Sylvania, 7" Dual Screen Portable DVD Player, Black:Two 7" TFT color widescreen LCD displays expand your entertainmentBlack Sylvania DVD player with built-in stereo speakersRock to your favorite tunes privately with the stereo headphone jackComes with ac/car adapter and 2x mounting straps so you can power dual screen DVD player using a cigarette charger and attach the player to your car headrestCompatible with various formats including DVD, DVD R/RW, VCD, CD, CD-R/RW, MP3
Reviews
Unhappy
Trash
We had this 2 weeks and the pieces on the DVD player that hold the straps broke while it was on the seat! We called the company to use the warranty and they wanted us to pay to use the manufacturers warranty! We then called Walmart since we had it less than 30 days and Walmart willingly replaced it as an exchange. We are pleased with how Walmart handled it but to have to pay to use a manufacturer warranty within the first 30 days? We will not buy this brand of products again. You absolutely get what you pay for.
BenM
Ben
I don't normally write reviews but felt I should inform potential buyers: you get what you pay for. First off, the straps immediately broke. No big deal, I just glued them. Second, it doesn't pick up where it left off when you turn it off. I knew this when I bought it and thought it wouldn't be a big deal. It was. It was a very big deal because every time you turn it on you have to wait for the whole thing to start up, play through previews and then skip through to where you left off using poorly designed buttons. Which brings me to my next complaint. The buttons. They are not labeled and only work correctly about 50% of the time, which is a big deal because you need to skip through videos a lot to pick up where things left off after you turn it off. Finally, had it for about 7 months before it just stopped ready disks, which actually seems a lot longer than a lot of the other reviews. So really, do yourself a favor. Spend the extra $25 and get a decent DVD player. It will be worth it in the long run.
Consumer1976
Pass
Junk.Issues in plug in ports to connect second screen.makes high pitch noise while playing.worked in a pinch but wouldn't recommend them.
willywonka84
Junk
Sure the price is nice but it's nothing but a headache. There is no remote and the buttons on the player are not labeled. The movie does not pick up where it is left off. No way to skip previews. For shorter trips, every time we got in the car, the previews start up and by the time we get where were going the movie is just starting. The kids basically just watched previews over and over. After about a week it started freezing up. Piece of junk. Returned it to the store.
KayKay
horrible
The clips on the back keep breaking this is my 2nd set about to return these and just go with a whole other brand of DVD players.