Proscan Premium Portable Bluetooth(R) Rugged Garage Speaker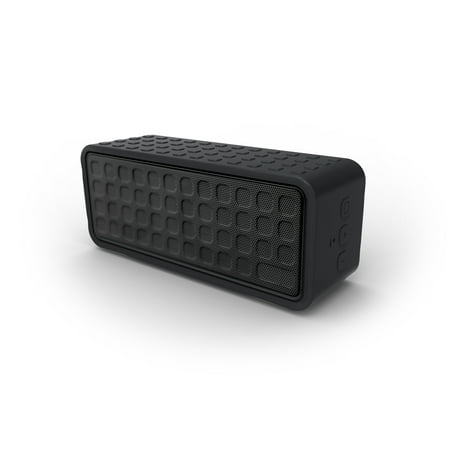 Sale :

$32.83

Sold & shipped by Walmart
Product Description

Additional Information

Reviews
Product Description
For Multi-Pack Savings Offer Click Here
A tough silicone casing gives this little speaker, lots of protection. With high quality sound and thick bass, the SP262 is perfect for many situation. Push buttons on the speaker used to control next and previous song, volume and even start and stop the music.
Additional Information
For Multi-Pack Savings Offer Click Here

Sylvania Premium Portable Bluetooth(R) Rugged Garage Speaker:
Protective silicone casing
Plays up to 8 hours
Aux in
Reviews
a35mmfanatic
Buy this!!
I absolutely LOVE this speaker. It is very light weight, is approximately the size of my hand from fingertips to wrist, and plays the music loud enough you can actually hear it, non like some speakers that are blue tooth. It is super easy to plug in and charge up for any time use. It takes pretty much no time to fully charge and the battery lasts a very long time. The best part is you can actually answer your phone calls through this thing and not have to pick up your phone. It has a microphone so that the people on the other line can hear you. This is super awesome since it is made to go in the garage and when you are doing something with tools but you cannot hold the phone in your hand, you just push one quick button and you can talk however long you need to. It also is great for when you are cleaning in the house and you are all over the rooms or on different levels of the house. You can put it on your main floor and still hear it all over the house. Unless you are using the vacuum...then you cannot hear it. I love this speaker and would buy it over and over. I highly recommend it for anyone, kids and adults alike.
Sk6760
Bumping speaker
This portable Bluetooth speaker is awesome! I've used it every single day since I got it and it is amazing. The sound quality is crisp and clean. For such a small speaker the sound is incredible. I would compare this to a Bose sound system. Comes with a rubber casing around it for protection. Very durable material. Highly recommend for anybody who likes music on the go or just a portable speaker for your music needs.
Ebonyone
Not a bad speaker.
I got this for bluetooth use when I convert one side of my garage into my workout area. Until that's finished, I'll be using it on my patio and cord-connected to my iPod. It works great and has very good, clear sound. There was a little bit of "crackling" when I plugged it in, but I made slight position adjustments and it went away. I'm looking forward to putting the speaker to full use once my mini gym is completed.
blitzon
sylvainia bluetooth speaker
this is a little gem it puts out great sound for as small as it is and connects to computer and craig 13.3 table well. i didnt use the mic much but it works
badbuy999999999
Better than a $15 product would be expected to be
I picked this up for an office gift and thought I would try it before I wrapped it to see how it sounded. I was impressed enough, I drove straight back and purchased 4 more for gifts and 1 for myself. My son listened to it and borrowed it... and kept borrowing it. So, I had to hunt another one down after Christmas. I found the last one in town and will probably order more for friends. It connects to bluetooth devices easily. Great rubber cover to protect it for outside use that can easily be taken off. Volume can be controlled by your phone or device and there's also buttons on the side of the speaker to control the volume from there. Good bluetooth range. The sound is as good as some $50-75 devices I have tried. Keep in mind it won't thump like a subwoofer but the sound is very good! Battery life is very good and I have listened to mine for several hours at a time before needing to be plugged in to charge. I HIGHLY recommend.