Graco Premium Foam Crib and Toddler Mattress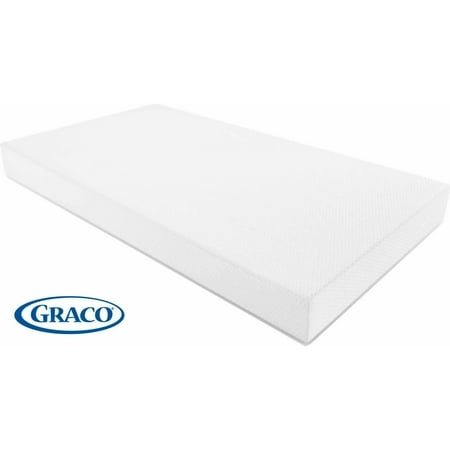 Sale :

$59.99

Sold & shipped by Walmart
Product Description

Additional Information

Reviews
Product Description
The Graco Premium Foam Crib and Toddler Bed Mattress (patent pending) is the perfect choice for your baby's crib. Designed to fit any standard/full-size crib and toddler bed, this mattress ships compressed in a lightweight, eco-friendly box that makes it super-easy for anyone to carry. Once the box is opened and the mattress is removed from its protective packaging, the mattress will begin its expansion process. Please allow at least 48 hours for the mattress to fully expand (actual expansion times may vary). This Graco mattress is made from high-quality, breathable foam that maximizes air flow for your child and will help them get the rest that they need. The Graco Premium Crib and Toddler Bed Mattress also features a removable and washable mattress cover and water-resistant lining to help keep your baby clean and dry. The mattress is made with anti-static and anti-microbial materials and is free of phthalates and lead. It meets all Federal flammability standards.
Additional Information
Graco Premium Foam Crib and Toddler Bed Mattress:
Fits all standard/full-size cribs and toddler beds
Mattress ships compressed in a small, lightweight and easy-to-carry box
Once the box is opened and the mattress is removed from its protective packaging, the mattress will begin its expansion process
Please allow at least 48 hours for the mattress to fully expand (actual expansion times may vary)
Features a water-resistant inner lining to help keep your baby clean and dry
Anti-static and anti-microbial
Meets Federal flammability standards
Free of phthalates and lead for your child's safety
6-year limited crib mattress warranty
Patent pending
Questions about product recalls?
Items that are a part of a recall are removed from the Walmart.com site, and are no longer available for purchase. These items include Walmart.com items only, not those of Marketplace sellers. Customers who have purchased a recalled item will be notified by email or by letter sent to the address given at the time of purchase. For complete recall information, go to
Walmart Recalls
.
Reviews
Tatt2edtears06
Kid & Kitty Approved
The Graco Premium Foam Crib & Toddler Mattress-in-a-Box is the best mattress my child has had yet. It comes vacuum packed and rolled into a small box approximately 3ft x 1ft or so, so it easily fits into any small car if you are not able to ship it to your home and need to pick up in store instead. No large mattress trying to squish into a car yay! Its super light and easy to maneuver and easy to "assemble" too. Simply remove from packaging and let unfold on floor. Mine said to put on the first protective covering but it came already on the mattress so that saved me a step. Then there is a second zippered covering you have to put on. This one was a little trickier, as it didn't seem to have all the corners where needed, and it zipped up on the long side of the mattress instead of the bottom short side (which was portrayed in the instructions). This threw me off a but but it didn't fit any other way so I just went with what I could. Last but not least you need to leave it out for 48 hours to expand to its full potential,and it says to "fluff" if needed. However, after 24 hours mine seemed to have expanded to full capacity and was ready for use. That was mine though and others may take a little longer, so if you need this mattress for use for a certain time frame I recommend buying it a few days before you need to use it so it can expand correctly. Other than that I have had no issues. The material on the outside (washable) covering is a little coarse and really need to have a nice crib sheet over it. I do worry a bit when it comes to having young babies on this mattress, as I know most baby crib mattresses are a little on the harder side to prevent smothering in a young child. While this foam mattress is no where near as soft and squishy as a typical memory foam mattress, it is still much softer than the old crib mattress we had before. But my toddler loves it, and I think the tad bit of more soft it gives her has really helped her sleeping habits and waking up in the middle of the night. My child really likes this mattress and I am sure your child will too.
LadyRedRider
Firm but not too firm, thick and plush
As a healthcare worker I recommend firm mattress for the safety of babies and small children. This mattress fits the bill exactly. The cover is of good quality and removable for easy cleanup. Although this arrives in a small box, it is not a thin item just packed very well. Absolutely satisfied with the quality and size. Would recommend turning the mattress monthly to keep the form of the mattress. Children should be placed on firm but comfortable mattress for their safety as well as support for their growing bodies -this mattress is exactly as it should be. As an adult I like to make sure that the product is best for children so I spent the evening sitting and laying on the mattress to test it for rebound after long term indention - rebounds to exact unused size without long term dents - a sign of a good product. The thickness allows for full support and a cradling effect while preventing the face from getting into a smothering indentation. So far we are thrilled with the product, baby/toddler sleeps well without safety or comfort issues. This is a definite recommendation.
keurig
the land of nod
I AM AMAZED AT ALL THE THINGS AVAILABLE TODAY FOR OUR CHILDREN'S SAFETY AND COMFORT. MY GRACO PREMIUM FOAM CRIB AND TODDLER BED MATTRESS JUST ARRIVED. IT CAME COMPRESSED IN AN ECO-FRIENDLY BOX. REAL EASY TO CARRY AND WEIGHED ONLY 10 POUNDS. YOU REMOVE THE MATTRESS FROM THE BOX AND CAREFULLY CUT ONLY THE PLASTIC OUTER WRAPPING. THEN THE MATTRESS WILL UNROLL AND LAY FLAT. IT TELLS YOU ALL THE INSTRUCTIONS ON PUTTING ON YOUR MATTRESS COVERING. THEN ALLOW UP TO 48 HOURS TO BE AMAZED AT THE EXPANSION. IT IS HIGH QUALITY BREATHABLE FOAM THAT MAXIMIZES AIR FLOW FOR YOUR CHILD TO HELP HIM GET THE REST HE NEEDS. IT MEASURES 5HX 2LX27.62WX6. IT HAS A WATER RESISTANT LINING WITH A REMOVABLE WASHABLE MATTRESS COVER. IT MEETS FEDERAL FLAMMABILITY STANDARDS WHICH IS VITAL WHEN IT COMES TO CHILDREN. IT IS ANTI STATIC AND ANTI MICROBIAL MATERIAL THAT IS FREE OF PHTHALATES AND LEAD FOR YOUR CHILD'S SAFETY. IT COMES WITH A 6 YEAR LIMITED MANUFACTURER'S WARRANTY. IT SEEMS LIKE THIS MATTRESS WILL BE THE CULPRIT IN MANY MANY RESTFUL NIGHTS AND NAP TIMES. I AM VERY IMPRESSED WITH THE COMFORT AND SAFETY FEATURES IT COMES WITH. IT GETS 5 STARS FROM ME.
chercast
Graco Memory Foam Mattress for Toddler Bed - Crib
So being the grandma I am I wanted another bed for my grandkids. I have twin beds right now for them but I have three grandkids so my granddaughter sleeps on the floor. I seen this Graco Premium Crib and Toddler Bed Mattress and thought how great would that be for my granddaughter. And I could easily store it under the twin bed when not in use, kind of like a trundle bed. I was wondering how thick and how nice a bed in a box was going to be. I must admit I was very impressed. It says wait 48 hours for it to completely conform to it shape. At first it wasn't that thick but when the time was up it is now five inches thick, very impressed! The mattress size is 28" x 51" x 5". It comes with a nice removable and washable mattress cover but I don't believe it is water proof so I would recommend getting a water proof mattress cover to protect the foam mattress. In their defense it states it has a water resistant inner lining. It is a memory like foam mattress. It is pretty firm but yet has a little give to it. It is comfortable. My granddaughter is so happy now because she now has her own bed when she come to stay with grandma. Very happy and would recommend.
Lorinzo
Makes a great dog bed for seniors.
If you decide to purchase the item, don't use any sharp tool, to remove the plastic. But if you succumb to the temptation, take Elmer Fudd's advice, "Be vewy, vewy, careful." Apparently, cutting the waterproof liner enclosing the mattress or puncturing those items, is a common occurrence. "The oops" happened to me, and I noticed that it happened to another reviewer, during their video. Another clue is in GRACO's warranty no-nos. While we're on the subject, here's an inside look at the warranty. (Something I don't think you get to see until AFTER you buy a product; unless you're a firm believer in opening the package, while you're at the store.) 1. The purchaser is responsible for paying for shipping when repair is needed, 'whether it's your fault, my fault or nobody's fault'. (Heard that in a John Wayne movie.) 2. It has a pro-rated 6-year warranty with a 100% trade-in, during the first year of purchase. The warranty isn't as good as one might hope. Their list of "accidents" is so descriptive, that they gave themselves enough loopholes to get out of further action on their part. Also, it sounds like after the 12 months, they won't reimburse you for your purchase price, but rather an undisclosed value system, based on the damage. 3. The No-Noes (damages not covered under the warranty): Tears, punctures or damages, due to customer abuse or accidents; damages caused by improper use, negligence, excessive strain, accidents, acts of nature (clever way of saying it.); and damages caused by extreme temperatures. Apart from shipping accidents, you're probably not going to use the warranty anyway. I mean, how much does a baby weigh? My dog is 25 pounds and it doesn't look like she's even dented the fabric. Everyone expects the diapers and the pads to catch the flowing river. And if that doesn't happen, you have a back up--a zippered waterproof mattress pad, encasing the mattress. If you want further protection, you could always buy another waterproof mattress pad. I had a twin-size pad, and I covered it over the plastic sheeting. And this method, protected my GRACO mattress and pad from getting soiled, when my dog couldn't get outside to use the bathroom. As far as comfort is concerned, I sat on the end with my 150+ pound body, and my posterior didn't even feel the hard floor. The cushiony foam came to greet all my chunky curves and I felt quite cozy. But alas, the bed is for my dog, who has been sleeping on a towel lately, in between washings of her body pillow. The mattress and its covers, appear to be good quality and made by those busy Chinese hands. Having this product come along, courtesy of the Spark Review program, was such a needed blessing. Because for the past two years, I've been waiting for manufacturers to come out with the ultimate dog bed, for a price that doesn't make me roll my eyes.