Graco Premium Foam Crib and Toddler Mattress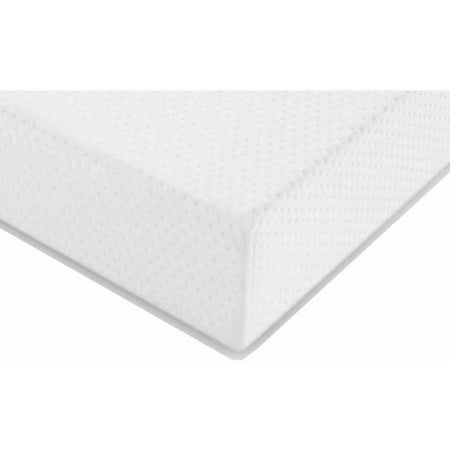 MSRP :

$59.99





Sale :

$49.99

Sold & shipped by Walmart
Product Description

Additional Information

Reviews
Product Description
The Graco Premium Foam Crib and Toddler Bed Mattress (patent pending) is the perfect choice for your baby's crib. Designed to fit any standard/full-size crib and toddler bed, this mattress ships compressed in a lightweight, eco-friendly box that makes it super-easy for anyone to carry. Once the box is opened and the mattress is removed from its protective packaging, the mattress will begin its expansion process. Please allow at least 48 hours for the mattress to fully expand (actual expansion times may vary). This Graco mattress is made from high-quality, breathable foam that maximizes air flow for your child and will help them get the rest that they need. The Graco Premium Crib and Toddler Bed Mattress also features a removable and washable mattress cover and water-resistant lining to help keep your baby clean and dry. The mattress is made with anti-static and anti-microbial materials and is free of phthalates and lead. It meets all Federal flammability standards.
Additional Information
Graco Premium Foam Crib and Toddler Bed Mattress:
Fits all standard/full-size cribs and toddler beds
Mattress ships compressed in a small, lightweight and easy-to-carry box
Once the box is opened and the mattress is removed from its protective packaging, the mattress will begin its expansion process
Please allow at least 48 hours for the mattress to fully expand (actual expansion times may vary)
Features a water-resistant inner lining to help keep your baby clean and dry
Anti-static and anti-microbial
Meets Federal flammability standards
Free of phthalates and lead for your child's safety
6-year limited crib mattress warranty
Patent pending
Questions about product recalls?
Items that are a part of a recall are removed from the Walmart.com site, and are no longer available for purchase. These items include Walmart.com items only, not those of Marketplace sellers. Customers who have purchased a recalled item will be notified by email or by letter sent to the address given at the time of purchase. For complete recall information, go to
Walmart Recalls
.
Reviews
Tatt2edtears06
Kid & Kitty Approved
The Graco Premium Foam Crib & Toddler Mattress-in-a-Box is the best mattress my child has had yet. It comes vacuum packed and rolled into a small box approximately 3ft x 1ft or so, so it easily fits into any small car if you are not able to ship it to your home and need to pick up in store instead. No large mattress trying to squish into a car yay! Its super light and easy to maneuver and easy to "assemble" too. Simply remove from packaging and let unfold on floor. Mine said to put on the first protective covering but it came already on the mattress so that saved me a step. Then there is a second zippered covering you have to put on. This one was a little trickier, as it didn't seem to have all the corners where needed, and it zipped up on the long side of the mattress instead of the bottom short side (which was portrayed in the instructions). This threw me off a but but it didn't fit any other way so I just went with what I could. Last but not least you need to leave it out for 48 hours to expand to its full potential,and it says to "fluff" if needed. However, after 24 hours mine seemed to have expanded to full capacity and was ready for use. That was mine though and others may take a little longer, so if you need this mattress for use for a certain time frame I recommend buying it a few days before you need to use it so it can expand correctly. Other than that I have had no issues. The material on the outside (washable) covering is a little coarse and really need to have a nice crib sheet over it. I do worry a bit when it comes to having young babies on this mattress, as I know most baby crib mattresses are a little on the harder side to prevent smothering in a young child. While this foam mattress is no where near as soft and squishy as a typical memory foam mattress, it is still much softer than the old crib mattress we had before. But my toddler loves it, and I think the tad bit of more soft it gives her has really helped her sleeping habits and waking up in the middle of the night. My child really likes this mattress and I am sure your child will too.
LadyRedRider
Firm but not too firm, thick and plush
As a healthcare worker I recommend firm mattress for the safety of babies and small children. This mattress fits the bill exactly. The cover is of good quality and removable for easy cleanup. Although this arrives in a small box, it is not a thin item just packed very well. Absolutely satisfied with the quality and size. Would recommend turning the mattress monthly to keep the form of the mattress. Children should be placed on firm but comfortable mattress for their safety as well as support for their growing bodies -this mattress is exactly as it should be. As an adult I like to make sure that the product is best for children so I spent the evening sitting and laying on the mattress to test it for rebound after long term indention - rebounds to exact unused size without long term dents - a sign of a good product. The thickness allows for full support and a cradling effect while preventing the face from getting into a smothering indentation. So far we are thrilled with the product, baby/toddler sleeps well without safety or comfort issues. This is a definite recommendation.
keurig
the land of nod
I AM AMAZED AT ALL THE THINGS AVAILABLE TODAY FOR OUR CHILDREN'S SAFETY AND COMFORT. MY GRACO PREMIUM FOAM CRIB AND TODDLER BED MATTRESS JUST ARRIVED. IT CAME COMPRESSED IN AN ECO-FRIENDLY BOX. REAL EASY TO CARRY AND WEIGHED ONLY 10 POUNDS. YOU REMOVE THE MATTRESS FROM THE BOX AND CAREFULLY CUT ONLY THE PLASTIC OUTER WRAPPING. THEN THE MATTRESS WILL UNROLL AND LAY FLAT. IT TELLS YOU ALL THE INSTRUCTIONS ON PUTTING ON YOUR MATTRESS COVERING. THEN ALLOW UP TO 48 HOURS TO BE AMAZED AT THE EXPANSION. IT IS HIGH QUALITY BREATHABLE FOAM THAT MAXIMIZES AIR FLOW FOR YOUR CHILD TO HELP HIM GET THE REST HE NEEDS. IT MEASURES 5HX 2LX27.62WX6. IT HAS A WATER RESISTANT LINING WITH A REMOVABLE WASHABLE MATTRESS COVER. IT MEETS FEDERAL FLAMMABILITY STANDARDS WHICH IS VITAL WHEN IT COMES TO CHILDREN. IT IS ANTI STATIC AND ANTI MICROBIAL MATERIAL THAT IS FREE OF PHTHALATES AND LEAD FOR YOUR CHILD'S SAFETY. IT COMES WITH A 6 YEAR LIMITED MANUFACTURER'S WARRANTY. IT SEEMS LIKE THIS MATTRESS WILL BE THE CULPRIT IN MANY MANY RESTFUL NIGHTS AND NAP TIMES. I AM VERY IMPRESSED WITH THE COMFORT AND SAFETY FEATURES IT COMES WITH. IT GETS 5 STARS FROM ME.
MamaBear
BEWARE OF THE FIBERGLASS
I dread writing this post, but find it necessary to warn other moms (or others who do the laundry), as well as solicit any advice or solutions, about a very drawn out (and continuing) textile nightmare. Months ago, my oldest daughter complained about incredibly itchiness all over her body. Coming from a family of food allergy prone kids and adults alike, I immediately assumed it was her diet, as we have had food allergy problems before. We did an immediate food withdrawal of a few foods, started her on Zyrtec and Benadryl It didn't get better over time. It was a 24 hour itchiness that affected her entire morning, noon, and night. Slowly, we believed it not from an internal cause, but an external cause. Her clothes. She seemed much better when she ran around the house in her birthday suit. Also, when both my husband and I noticed the intense itchiness when we put on certain clothes, we were certain. Obviously, we thought it was the detergent (which for the past 2 1/2 years had caused no problems). Maybe it was a bad batch, or a new formula? We switched to another free and clear brand. No change. I washed with only baking soda. No change. Eventually, I only used hot water washes. No change. Next, I thought it was the washer itself. It was one of those new water saver washer that didn't have a middle agitator. Instead, it sprayed out water through holes and swirled it around. While we had had no problems from the first few months, maybe it was not cleaning as well as it should and left residues or allergens behind. One day, my husband noticed a sparkly material all over a pair of black flannel pants. "What's this???" It looked like residue from an ugly tinsel Christmas sweater...little innocent sparkly specks settled in the fibers, which were visible only on dark clothes. Fast forward many weeks and itchy loads later. After many more trials, errors, and failures, all while in the midst of potty training (which, at one point, made me think it was residue poo poo infecting our clothes), my daughter one time peed a gallon of urine all over her mattress. For the second time since we had purchased it months ago, I stripped the Graco foam mattress of its three layers, tossed those sheets in the wash, vinegared the foam, rubbed it clean, and set it out to dry. The load with the layers was washed, tumbled dry, and tossed in the living room floor to fold. My husband dutifully folded the mountains of clothes when suddenly, he exclaimed, "It's the mattress cover!!!" We found out that one of the layers (sandwiched between the top layer and waterproof layer) was a flame retardant fiberglass layer. The little sparkles were none other than fiberglass. These little monsters had clung tenaciously to our clothes, sheets, towels, jackets, rags...you name it, they flocked and set up house. They are hard to see on light clothing. So, when you put on an undershirt, it's hard to notice at first. Eventually, the fiberglass interact with your skin, and cause an intense itchiness. Some of the pieces, since they are glass, burrows into your skin so that you are terribly itchy even after you remove the clothes. Thus, the culprit. To our great dismay, we had been infected every article of clothing that we had ever washed since the that fiberglass sheet had been introduced into our washer and dryer. The glass clung to the washing bowl...to the crevices of the dryer...to the little holes and nooks and crannies. And every time an unaffected piece of clothing entered into the washer, or was washed and dried with an affected piece of clothing...it also became an enemy too. For the past two weeks, we have slowly discovered the dreadful reality that everything we suspected had every been washed was now a carrier. We are also in the process of replacing our 6 month new washer and dryer, as well as every article of suspected clothing. It has been more difficult than I thought. Stores no longer carry warm clothes as the spring arrivals come. I find it extremely sad to throw away my favorite puffer jacket from Old Navy...or all my comfortable pants that simply fit my short frame when most pants drag the floor like wedding dress trains. What is most saddening is seeing my daughter's body flaring up with rashes and itches...and trying to do a massive clothes purge, but having nothing but spring clothes to replace it. Someone said to me, "Wow, you get a new wardrobe for your family!" Personally, I would rather cut fat off of chicken meat than go clothes shopping. Does this seem extreme? Honestly, I feel it is...but after trying many techniques to rid us of this fiberglass (vacuums, lint rollers, packing tape, rubber brushes, 8 rewashes of the same load, and many many failed attempts that have led to our affected clothes infecting our unaffected clothes), my husband and I have argued and collaborated that this is the only solution to isolate the problem. We called Graco, and though they are familiar with this occurence, skirted the problem and blamed the consumer. "Didn't you read the warning sign?" There is no warning sign by the way. "We aren't responsible. We only license it."
eiowadfa
DO NOT WASH THE COVER!!!
This mattress comes with two liners. Both zip up around the mattress and can be removed. I originally purchased this for my 90 lb great dane puppy. Naturally, it got dirty over time. I removed both covers and washed them. I put them in the dryer on AIR dry. The innermost lining exploded into fiberglass. FIBERGLASS. I started to itch and my face was stinging and I couldn't figure it out. Until I discovered the tiny little shiny pieces everywhere. They were all over me, all over the cover, all over the floor. Much to my dismay, they are also covering the inside of my very expensive dryer. I threw the cover in the garbage immediately. I can only hope that the 30 minutes of vacuuming to the inside of my dryer was sufficient enough. I do not know if the top cover can be salvaged, as it was washed with the inner cover and is covered in fiberglass. The attached photo is the fiberglass that I discovered in my dryer's lint screen.