Achim Nexus Dark Slate Marble 12x12 Self Adhesive Vinyl Floor Tile - 20 Tiles/20 sq. ft.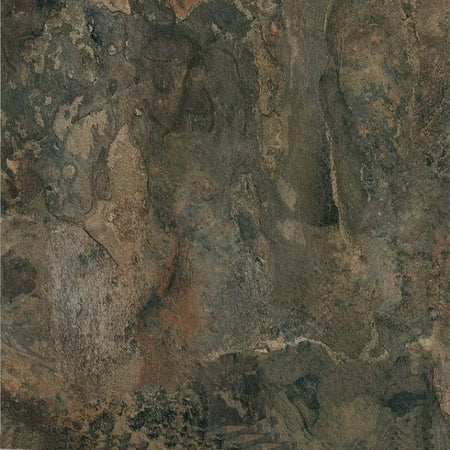 Sale :

$10.98

Sold & shipped by Walmart
Product Description

Additional Information

Reviews
Product Description
Do you want to give your room a brand new look and at a low cost? Look no further than the assortment of Nexus Tiles! The tiles can be used in any room in your home including the kitchen, dining room, bedrooms, bathrooms, foyers and basements. No messy glue or adhesives needed. Just peel and stick the Nexus tiles to a flat and dry surface and show off your beautiful new room to all your friends and neighbors.
Additional Information
Easy Do-it-Yourself Installation – Just Peel 'N' Stick.
No Wax Finish.
12 inch x 12 inch Tile - 1.2mm Thick.
20 square feet per box (20 tiles per box).
5 Year Limited Warranty.
Reviews
Kristen
Quick fix
We needed to give our bathroom a facelift and had limited time to get it done. We picked some of this up and it was fairly easy to put down and looks really good. If you do it right you shouldn't even get any lifting, we haven't.
tiles
Sticky tiles.
Theses tiles are glossy somewhat cheap looking. Had a hard time getting theses to stick to new subfloor. Had to use an extra adhesive. Ok for the small space I needed for. But any bigger I would go with a better brand.
Samantha
Tiles
I have used these same tiles jut a different color in my kitchen. It's been 2 years and they are holding up great. My floor with these looks wonderful and I just can't stop staring at the difference of the room.
Sheeta
Beautiful
My son installed this in my downstairs smaller bathroom. He took his time, was careful, especially around the stool and pedestal sink. Tools he used; paper for patterns around the tricky stuff, pencil, scissors, exacto knife and a heat gun. He'd get the piece the shape he wanted before he took the paper off... then would lightly heat the adhesive back (after he peeled off paper). The heat activates the glue better. Anyway it turned out beautifully! He was able to get the pieces to where they looked like they were actually installed before the sink and stool. There were a few places where I had to get up adhesive with my goo gone. It will seep through the seams when heated, but was no biggie. Don't use a roller.... we tried it and it was leaving lines... so he just patted it with the palms of his hands. Looks 1000% better then my old floor and so far holding up great (been like 6 months).
eboseman
Great flooring for the price
When I initially recieved this vinyl flooring in the mail my first thought was that it was too shiny and a tad bit on the cheesy looking side. However, I was using it to cover very old (and very ugly) vinyl flooring that was previously in my bathroom so I decided to give it a try. I was able to cover my entire bathroom floor in just a couple of hours. The vinyl is very flexible and easy to cut to fit around tubs, toilets, and sinks. After the installation was complete I fell in love with the way it actually looked on the floor. It flows together seamlessly and gives my bathroom a very rich feel. I would certainly recommend if you are looking for nice flooring on a budget!