Achim Nexus Granite 12x12 Self Adhesive Vinyl Floor Tile - 20 Tiles/20 sq. ft.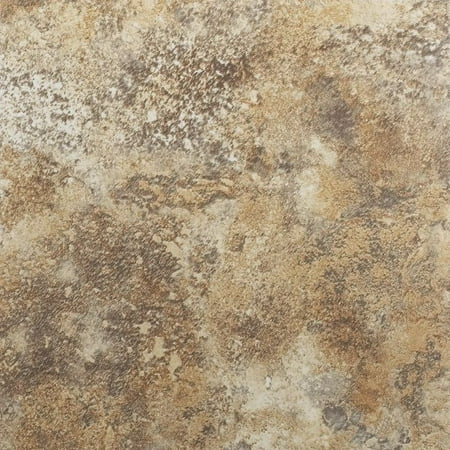 Sale :

$9.98

Sold & shipped by Walmart
Product Description

Additional Information

Reviews
Product Description
Do you want to give your room a brand new look and at a low cost? Look no further than the assortment of Nexus Tiles! The tiles can be used in any room in your home including the kitchen, dining room, bedrooms, bathrooms, foyers and basements. No messy glue or adhesives needed. Just peel and stick the Nexus tiles to a flat and dry surface and show off your beautiful new room to all your friends and neighbors.
Additional Information
Easy Do-it-Yourself Installation – Just Peel 'N' Stick.
No Wax Finish.
12 inch x 12 inch Tile - 1.2mm Thick.
20 square feet per box (20 tiles per box).
5 Year Limited Warranty.
Reviews
Addy
Great Price!
Bought it for my utility room in the basement...wound up covering the ENTIRE back room of my basement!!! Looks fantastic, easier to do, & probably cheaper than it would have been to paint the floor!!! Would not recommend for high traffic areas such as a kitchen or bathroom (corners are weak, & did have to apply a little additional adhesive in spots) but great fix for a great price!!!!
strongestfaith1
Fast and Easy to Use!
I bought these to put in place of the carpet in front of our main entrance. The carpet and pad were worn out from traffic in and out as well as all the sand, mud, salt and wetness from rain and snow. There are 20 tiles and its easy, just peel and put ii down. You can't beat the price, easy to do plus its looks great too!
Jessica
Made the whole room at an affordable price!
I am a disabled single mom and live on a very tight budget and when I found out I was expecting a second, I didn't think I would be able to do everything to the house I wanted to before baby arrived. I searched the web thoroughly for the best prices on flooring options and this was it. I didn't have high hopes because the price was so low but boy was I surprised! I used it in the basement area and installed it over a painted concrete floor. It made the rooms I used it in look much bigger and was a breeze to install! I was able to easily finish the project in just a few short hours on my own in my final trimester of pregnancy! It made the space look so much bigger and the quality of the print on the tiles is so good I have had to tell a couple people that it was self adhesive tile! Most self stick tiles look cheap and have that linoleum look to them but these tiles were of such good quality they mimic real tiles wonderfully! They were not flimsy and had high quality backing on them. You do have to be careful thought that you place them where you want them though because the glue is no joke and it is not coming back up! I liked these tiles so well I ordered more and did an additional room I hadn't planned on being able to afford to do!! A great deal!!!!
FamilyForTheHolidays
Made the whole room at an affordable price!
Little darker than expected-still usable-not very "sticky" tho. Have done one small area 24 hours ago-and still dealing with corners coming up-shure hope I don't have to "re clue" these"?!
Kaye
Nexus Granite Vinyl Floor Tiles
I have received many compliments on these beautiful tiles, and people can't believe how much I paid for them. I would definitely purchase this product again, on my next project.