Scott 1000 Toilet Paper, 27 Rolls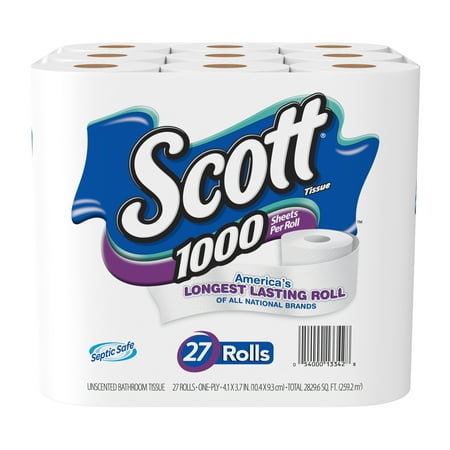 MSRP :

$16.98





Sale :

$16.97

Sold & shipped by Walmart
Product Description

Additional Information

Reviews
Product Description
Scott Tissue 1000 Sheets Unscented Bathroom Tissue gives you the long-lasting quality you want in 1,000 septic safe sheets. Get the performance and long-lasting rolls with the value you expect.
Additional Information
Scott 1000 Sheets Per Roll Toilet Paper, Bath Tissue:
1000 sheets in every toilet paper roll
Fewer toilet roll changes for your family, more value for your home
Breaks up four times faster than the average bathroom tissue
Sewer-safe and septic-safe 1-ply toilet tissue
Toilet paper safe for use in RVs and boats
FSC (Forest Stewardship Council) Certified from responsible sources
Performance and value from a brand you can trust
Reviews
MRS 23
Thinner and thinner !
I have been using your toilet paper my entire life. Recently I have noticed in the last 35 pack that I purchased at Costco's the toilet paper is so thin I must use Double Vie about. I will no longer be using your product because the cost is prohibitive since I am only getting 1/2 of the amount that I had previously gotten. Your toilet paper was recommended to me by my plumber I will be calling him for another brand on Monday. I have read many reviews where you are saying that you have not change the consistency. There is no comparison Of this product and your product of the past. I can actually see through it! I don't want to use you newbsofter paper since it does not last as long . I'll be purchasing another brand once this runs out which will be soon since I need to use so much more!
HappyHealthySenior
Best Toilet Paper
I found Scott 1000 toilet paper years ago. I quickly realized it is a GREAT PRODUCT, at a VERY INEXPENSIVE price. I'd go to my local "S" store to purchase this item. But, they no longer stock Scott 1000. I was shopping one day in a local Walmart store and stumbled across seeing this item! I was thrilled! Recently, I wanted to see if I could do my purchases over the Internet, get free shipping, not have the need, the time, or the gas expense of driving to and from the local Walmart store for this purchase. I found this item is not only available over the Internet, it comes in 29 rolls from Walmart. That sounds like a lot; but, sooner or later, the quantity will be used up. Besides, can your economy car actually handle 29 rolls of toilet paper? Do you want to have to lug it up your walkway and into your home? I placed my order. It arrived within 1 week, and delivered right on my doorstep! I'll do it again. I'm just thrilled I found where I can purchase Scott 1000!
Texrican
Bad quality to use
I purchased the Scott 1000, and I hate it. The toilet paper is not strong enough to use. It might work for the septic, but not so much to wipe. I have wasted my money. Thank You
Jfitch
Smell
I just purchased a large pack at a local big box store and it has a very musty perfumey smell, it makes me cough and about throw up every time i go into the bathroom. Not sure if this is why i keep sneezing and coughing. I am returning it today but i wanted to know why the rancid smell.
Neyney
Scott 1000
I always use Scott it last longer than most toilet papers. And it's great for my septic tank