Keepsake Personalized Women's Square Class Ring available in Valadium Metals, Silver Plus, and Yellow and White Gold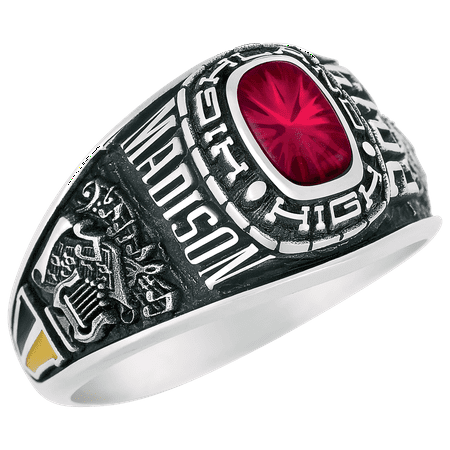 MSRP :

$578





Sale :

$118

Sold & shipped by Walmart
Product Description

Additional Information

Reviews
Product Description
Additional Information
Customize the text border surrounding the square-cut center stone with high school name Personalize with name
Reviews
KatM116
Beautiful ring for a fraction of the price
I purchased this ring almost 3 years ago when everyone was ordering their class rings through the company my school was associated with. While most of my friends paid well over $200 for their rings I paid only $100. It's came out beautifully and just as I expected it to, if anything my ring looks better than the ones the huge company sells! I feel as though all of the classic rings that the huge companies sell are way too bulky, but this is just the perfect size on me. I will say that it's true over time the wear and tear does make the school colors banner chip off (although mine just recently fell off), but it doesn't bother me at all it still looks like its part of the ring design. If I remember correctly, the whole process from order to delivery took about a month, so I actually had a class ring before anybody else in my class has theirs. I still wear my ring everyday and I love it.
momintx75
Just rec'd daughter's class ring - it's BEAUTIFUL!
We've had some financial set-backs this year and I was worried that we wouldn't be able to purchase a class ring for our daughter. The company that the schools use is way too expensive. I started looking online for alternatives and remembered that my family had ordered my class ring from Walmart in the 90s. I was pleased to see that they still offered them and had a huge selection! My daughter quickly "designed" the ring she wanted and the total price was only $103 - with her name, her activities, her birthstone, school mascot, inscription, and the classic design that she wanted. It looks just like the $$$$ one the school was offering. The quality is excellent and it's a beautiful ring! Walmart created and sent the ring to us way ahead of schedule too! It was suppose to arrive the 2nd or 3rd week in september, but it arrived today 8/29 --- so she got it before she goes back to school on the 3rd next week. Thank you so much walmart!!! (sorry my phone pics aren't the best)
payitosmommy
beautiful ring, minor problems
After only 3 weeks after ordering it, I received my ring. I loved it right away! A week n a half later, I noticed the stone (peridot) looked chipped underneath, like if it was lifted. Im not sure if it was because I had hit it on the sink once or twice while washing dishes, but I still think its kinda low quality because it should be able to withstand something so minor. Im not sure if I should take it in, or if not because it would be a waste of time if they tell me they wont fix it. Not a very goodnpic but the top half of the stone where its lighter is where it lifted
Grateful
beautiful ring, minor problems
a beautiful, well made ring and reasonable price. Quality and workmanship is excellent.
Abbiecat
Perfect Little Ring
I'm quite pleased with this ring. $115 is WAY better than paying $300-$400 for the same basic thing through Josten's. I love the detail of the ring and also the stone cut(it sparkles in the light). I hope Walmart comes out with a college ring as well. I'd definitely buy it from them.