Keepsake Men's Oval Class Ring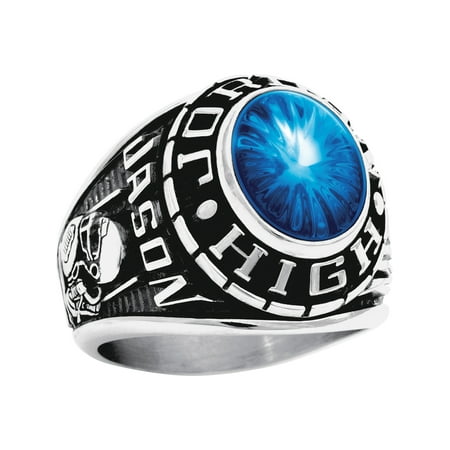 MSRP :

$118





Sale :

$98

Sold & shipped by Walmart
Product Description

Additional Information

Reviews
Product Description
Additional Information
Keepsake Guy's Classic Oval Silver Class Ring:
Customize the text border surrounding the oval-cut center stone with high school name
Personalize with name, mascot name, school color shield, choice of simulated gemstone color, a name, choice of activity side panel and graduation year
Available in valadium, silver plus, 10kt and 14kt yellow or white gold
Every piece of Walmart jewelry passes rigorous inspection at our Quality Assurance labs. So you can buy with confidence — guaranteed.
Reviews
WCC334
Classic Class Ring
I ordered this ring for my son, for the price it was a great value and the ring looks really nice. I chose this ring because he is not very good at keeping up with jewelry so I thought spending less money for this ring if he lost it I wouldnt be out much money and it can always be replaced for the same price as having to pay a high price to replace a expensive ring.
LizzybRN
Equal to Balfour and lots cheaper!
This ring was much nicer than I even anticipated. The stainless steel looks like white gold. The options to choose the sides and stone for $100 was a super value. I paid $400 for a 10K yellow gold for my daughter this year from the Balfour company at school. I bought one here for her boyfriend. I should have gotten hers here as well. The stainless steel rings are superb quality and look like white gold. Two years ago I paid $320 for my other daughter's Balfour in 10K and now that she is in college she never wears it. I would never order from anywhere else again but Walmart. They even had the school colors on a shield on each side of the ring that even Balfour does not offer. I recommend this ring to any parent buying for their kids in high school. You will not be disappointed! Shipping time was much faster than the website states. It was less than half of the time stated.
JLM775
Exceptional Quality and GREAT price!
Folks, if you're on the fence about getting a Class Ring from Wal-Mart, let me be the person who tells you this; It's worth EVERY penny, and it's a piece I'm proud to wear. I graduated in 1995 from High School, and got a Class Ring from one of the big-name ring manufacturers in 10kt Gold. I still have this ring, but it's a huge chunk of Gold (picture a Super-Bowl sized ring here), and it makes me nervous to wear it, as I'm afraid that I'll end up losing it. I actually DID lose it for about 6 months, but thankfully found it at the bottom of my couch. Now, that was about 6 years ago, and since then, I haven't touched it. Ever since then, I had thought of getting another one but never committed on one until about a month ago, when I was passing by the Jewelry counter at the Wal-Mart I work at. After examining the sample rings, I decided to order the Oval Classic Personalized in the Gold Valadium, which is a very high-quality gold-toned Surgical Steel that matches the lustre of gold. A little less than a Month later, I recieved my ring. :) Folks, comparing this ring to my "Chunk-of-Gold" Class Ring, it's VERY difficult to tell which is the Gold and which isn't. :) The finish and lustre of the Golden Valadium is top-notch, and is as heavy as the 10kt Gold Ring I own. The stone set in the crest (I selected the Ruby) is actually more eye-catching than my original, and compliments the overall setting. The side panels are extremely detailed, intricate in every detail to my selected designs. The side panels even have my schools colors placed in a small set of panels under the main side panels, which is something none of the big-name ring manufacturers offer! :) Bottom-line? This is the ring to wear if you want to show off your school pride and not have to worry about losing, because it's inexpensive enough to replace if something does happen to it. I love this ring so much, in fact, that I'm thinking of getting another one just because!
hardee89
Beautiful Ring, Beautiful Price
I decided to purchase my class ring from Walmart.com, and I am super glad I did. I only paid $200 for a ring that would have cost me over $600 had I ordered it through the school. It looks incredible on my finger and the ring is perfect. I would recommend this to anyone who wants a class ring.
walmartshopper10000
WONDERFUL VALUE PERFECT CLASS RING!!!
I have to admit I was leery of ordering a class ring that only cost $199...It' couldn't possibly look as good as those from other mfg or jewelers could it? Well YES IT DOES and we saved a ton of money buying this GUY'S personalized class ring from Walmart.com. It arrived even faster than originally estimated and is even more beautiful than we would have imagined. My husband's class ring came from one of those other places and I have to say my son's is much nicer. Thank you Guy's and Walmart for putting an affordable option out there that looks better than the pricier options.