Earthwise TC70001 Corded Electric 8.5-Amp Tiller Cultivator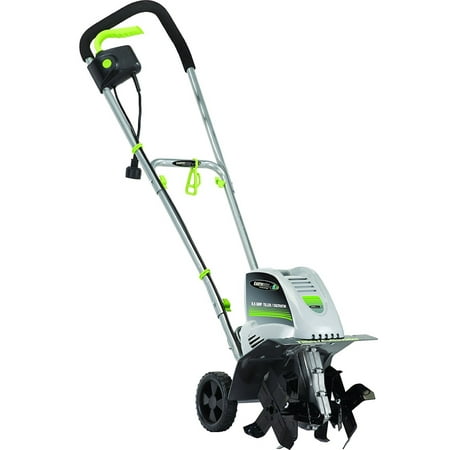 MSRP :

$109





Sale :

$92.33

Sold & shipped by Walmart
Product Description

Additional Information

Reviews
Product Description
The Earthwise Corded 8.5-Amp Tiller and Cultivator is ideal for completing your garden tool collection. This device will take the difficulty out of tilling your yard in spring when it is time to plant your garden area. This electric garden tiller has a slim, sleek design that will appeal to your sense of style while providing you quality performance that you can rely on. This machine has dual four-blade steel tines that maximize efficiency in your gardening efforts. The Earthwise 8.5-amp electric tiller cultivator has a convenient cutting width of 11". With a helpful tilling depth of 8-1/5", this tool will prepare your soil precisely how you want it for planting. Using this tool is an excellent way to get your garden going strong by getting your yard ready for the healthy growth you want. Because it has such a slim design, this piece will store nicely in your garage when you are not using it.
Additional Information

Earthwise Corded 8.5-Amp Tiller and Cultivator:
Dual 4-blade steel tines
Cutting width of 11" and tilling depth of 8"
Electric garden tiller is the optimum choice to meet your gardening needs
Full dimensions: 40 inches x 14 inches x 42 inches
Carton dimensions: 14.5 inches x 14.5 inches x 20.5 inches
Weight: 26.5 pounds
Materials: Metal steel tines electrical wiring plastic
Powered: 8.5 Amp -120 volt 60 Hz electric mower
Model: TC70001
Corded
Assembly required: Yes
Reviews
box1480partsissue
Missing Parts!!
On my way to Wal-Mart now (thank god). Had it shipped to house & opened box and missing center bracket. (box marked 1480 in black marker) and wonder if I received someone else's return. Was looking forward to using it this weekend and will give it another chance & try to reorder but if no go I'm off to lowe's... After reading reviews...highly recommend extended warranty. If get new and ok I will update review.
typingfast
Earthwise Corded 8.5-Amp Tiller and Cultivator
When I purchased this tiller, I knew it wouldn't break up new ground. I used it to tear up the St. Aug. grass and most of the roots. Then I had to dig up the spot I wanted to make my garden by hand. This little fellow didn't have the weight, a drag stick and the muscle to dig into this Louisiana soil. It has a little clay mixed in with it and it sticks to everything. Once I got the ground dug up so the tiller could break it up into a fine dirt, it did one heck of a job at that. I then bought some top soil so the dirt wouldn't clump together again. That little tiller did it like it was born to do. I wasn't sure about buying it, but I'm going to get my money's worth out it. It's light, powerful, and it can do the job easily. I'm a little to old to be using a gas powered one, and a bum back makes sure I don't get another gas tiller. So it you have a small garden, this one would be ideal. But don't count on it to dig up new ground if you have some clay in it. It is worth the money.
Atlanta1979
Great little tiller
I bought this electric tiller because the gas tiller I previously owned died and I no longer wanted to be bothered with gas and oil purchases and the difficulties I had getting it started. I LOVE THIS MACHINE! Initially I only planned on tilling up my flower beds and still paying somone to till up my back yard so that I could reseed this Fall. However, it works so well, I tilled up the yard myself - it went through my Georgia clay very well. I followed instructionos of another reivewer who said it works best pulling back to you, and that is very true. It will dig deeper when pulled back to you. I did have to clean out the weeds caught in it a few times - had to do that we the gas tiller as well though, so that was fine. Assembly was easy, though initially a bit confusing (my daughter helped - she loves to read instructions...) It came with gear oil - which, if you read the instructions you will see that you do not need in the first two years... It is light weight and easy to carry and a little powerhouse that does not break the bank! Enjoy!
CBRSER
Great little machine so far
Bought this to till my garden 50' X 6' it worked GREAT. Did not have to fight it like the gas machines. My garden is up on a 4' high walled area, easy to lift it up only 30 lbs. Compact easy to get around the fruit trees. It did my whole garden area in a matter of minutes. I was having so much fun I decided to go around all my fruit trees as well and do the flower beds. Best way to use it is let if walk out away from you then pull it back. It seems to dig through the dirt best this way. Vines will get tangled on it but that is true for all cultivators/tillers. The only issue with the machine is the push button to engage the pull lever is too far down. You have to use both hands to get the unit started for a small statured person it might pull out of their hand. I am glad I bought it. It would have taken me a couple of hours by hand to do what I did in minutes with this machine. Did leak a little oil from the gear box though in shipment.
SkinnyBytes
Mighty little tiller!
I had a 10'x20' raised zen (rock) garden in the backyard, that I dug out and converted into vegetable garden. I needed a small tiller to break up the soil and for tilling future plantings, and based on research and reviews went with this Earthwise electric tiller. I must say I was surprised when it arrived in a tiny 2'x2' box, and after assembling it was quite surprised how small it was. I wasn't sure this puny thing was going to cut it. However, after spending the afternoon tilling my new garden with this thing, I was impressed. This thing tore right into our hard Arizona clay soil with no problems, and easily dug 6 inches right into it breaking it up. Within 2 hours I had the 10'x20' area nicely tilled, including adding a layer of compost and mulching that in as well. Overall, it was perfect for my raised garden. Small and light, easy to manuever, and plenty of power to churn up tough ground.