Lubriderm Daily Moisture Body Lotion, Fragrance-Free, 16 fl. oz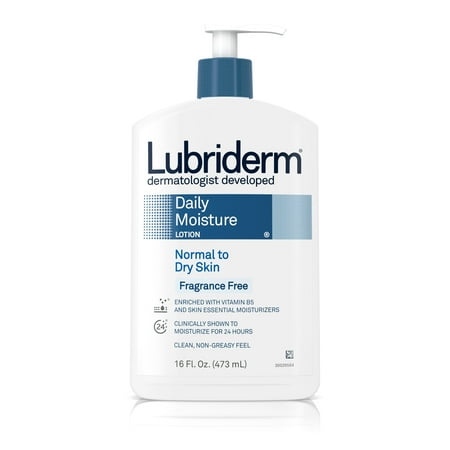 MSRP :

$8.36





Sale :

$5.47

Sold & shipped by Walmart
Product Description

Additional Information

Reviews
Product Description
Ideal for normal-to-dry skin types, Lubriderm Daily Moisture Fragrance-Free Body Lotion replenishes and helps moisturize dry skin. From a dermatologist-developed brand, this daily moisturizing lotion is clinically proven to moisturize for 24 hours. It is formulated with vitamin B5 and skin essential moisturizers to help improve your skin's moisture barrier. And it has a non-greasy formula, for a pleasant, soft, and smooth feel to the skin.
Additional Information
16-fl. oz pump bottle of Lubriderm Fragrance-Free Daily Moisture Body Lotion
Clinically proven to moisturize skin for 24 hours
With Vitamin B5 and skin-essential moisturizers
Improve skin's moisture barrier leaving a pleasant, soft, and smooth feel to the skin
Body lotion replenishes and helps moisturize dry skin
Ideal lotion for normal-to-dry skin types
Is unscented and has a non-greasy formula
A dermatologist-developed brand
Reviews
AGirlThatHasBrokenOut
I Broke Out
This product was working quite well at first on my new tattoo which is on my middle finger and since I was using it on my tattoo I was think hey why not use it on my hands too. A few days go by and I noticed bumps on my outer hands and on the innner fingers but I didnt think it was a big deal because that happens when my allergies flare up. And this morning I applied it to my arms up to my elbows around 7am ish and I went the whole day at school without anything on my arms. I went to my my boyfriend's therapy session with him arond 3:45pm and about 4:15pm all if a sudden my arms started to itch and burn so I pulled up my sleeves and it was red with bumps. I showed my boyfriend and went to the restroom to get cold paper towels to put on both arms. I came back almist a minute later and it had gotten 10 times worse just that quick. I started to panic. It is now 10:45pm and it is still itching and burning. Worst lotion experience ever. This is worse than the reactions I have to Aloe Vera.!
icanseeclearlynow
Love fragrance free products!
I try to use all fragrance free personal care products and also look for products for dry skin. The Lubriderm is thicker than some of the other lotions (name brand and generics) I have used and gives better coverage while soaking into the skin. No use using a product that just lays on the skin and then gets washed off. A small amount goes a long way to moisturize my face, hands, rough feet, etc.
LNEdiacos
Best moisturiser in the world!
Forget all those expensive creams - Lubriderm is incredible. What I love about it is that it doesn't leave your hands greasy, I think because it's water based. It lasts for ages & feels like it becomes one with your skin. It has given me great skin. Try it!
Rhianna1
Great for Tattoos!
This was literally the only thing we used for my mom's tattoo as it was healing. It's light and unscented, so it makes the healing process super easy. It also doesn't pull the color out of it like other lotions may do. Now that her tattoo has healed, I use it, and I love it! It's super hydrating without feeling greasy.
Helenaw6
Good lotion
I love this lotion, it helps my skin feel great without the greasy feeling. I eill be buying this from now on