Lubriderm Daily Moisture Body Lotion, Fragrance-Free, 16 fl. oz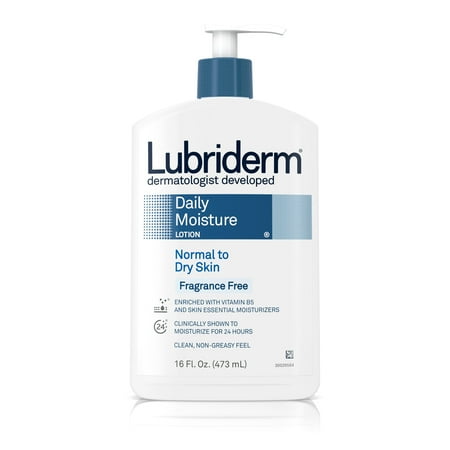 MSRP :

$8.61





Sale :

$5.47

Sold & shipped by Walmart
Product Description

Additional Information

Reviews
Product Description
Ideal for normal-to-dry skin types, Lubriderm Daily Moisture Fragrance-Free Lotion replenishes and helps moisturize dry skin. From a dermatologist-developed brand, this moisturizer lotion for body skin is clinically proven to moisturize for a full 24 hours. It is fortified with vitamin B5 and essential moisturizers to help improve your skin's moisture barrier. It is fragrance-free and has a non-greasy formula, for a pleasant, soft, and smooth feel to the skin.
Additional Information
16-fl. oz pump bottle of Lubriderm Fragrance-Free Daily Moisture Body Lotion
Clinically proven to moisturize skin for 24 hours
With Vitamin B5 and skin-essential moisturizers
Improve skin's moisture barrier leaving a pleasant, soft, and smooth feel to the skin
Body lotion replenishes and helps moisturize dry skin
Ideal lotion for normal-to-dry skin types
Is unscented and has a non-greasy formula
A dermatologist-developed brand
Reviews
KayV5
My mother SWEARS by this lotion
Our whole family has sensitive skin and since my mother discovered Lubriderm she hasn't touched another lotion. This is her all time favorite and she uses it every day and also uses it on my 3 year old niece.
AGirlThatHasBrokenOut
I Broke Out
This product was working quite well at first on my new tattoo which is on my middle finger and since I was using it on my tattoo I was think hey why not use it on my hands too. A few days go by and I noticed bumps on my outer hands and on the innner fingers but I didnt think it was a big deal because that happens when my allergies flare up. And this morning I applied it to my arms up to my elbows around 7am ish and I went the whole day at school without anything on my arms. I went to my my boyfriend's therapy session with him arond 3:45pm and about 4:15pm all if a sudden my arms started to itch and burn so I pulled up my sleeves and it was red with bumps. I showed my boyfriend and went to the restroom to get cold paper towels to put on both arms. I came back almist a minute later and it had gotten 10 times worse just that quick. I started to panic. It is now 10:45pm and it is still itching and burning. Worst lotion experience ever. This is worse than the reactions I have to Aloe Vera.!
Shannon
Not moisturizing
This lotion did not moisturize my skin at all. My skin soaked it up in no time and it's was almost drier than before I put on the lotion. It says it's supoose to be for dry skin but it's really for normal skin. Do not buy it if you have slightly drier or dry skin.
Shannon
I like the lotion but problem with pump
I like the lotion, but the tube on the pump assembly is way too short to reach bottom of the container. This results in wasting a lot of lotion unless one resorts to taking out assembly and manually shaking lotion out or cutting bottle to reach lotion. Very inconvenient. Is it possible Lubriderm has not realized this?
L
Poor lotion!
Not a good lotion. It leaves your skin feeling dry, if not drier than what it started out. I feel as if though I didn't even apply lotion after about 30 minutes....skin looks as though I didn't apply lotion. Not a good look!