Lubriderm Daily Moisture Hydrating Lotion with Vitamin B5, 16 fl. oz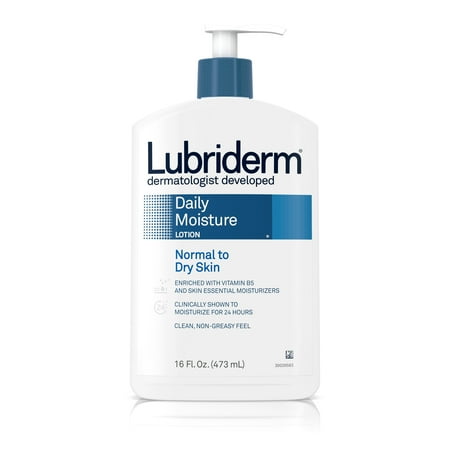 MSRP :

$13.05





Sale :

$5.47

Sold & shipped by Walmart
Product Description

Additional Information

Reviews
Product Description
Pamper your dry skin with Lubriderm Daily Moisture. Whether your skin is rough, dry and chapped from cold weather or recovering from sunburn, this normal-to-dry-skin moisturizer will soothe your body and restore your epidermis to its natural balance. Infused with vitamin B5 and a delicate blend of ingredients, this Non-Greasy Moisturizer (16 fl oz) leaves your skin feeling soft, smooth and supple. Lubriderm Daily Moisture is perfect to use after taking a shower at home, at the gym or when traveling.
Additional Information
16-fl. oz bottle of Lubriderm Daily Moisture Hydrating Hand and Body Lotion
Helps replenish, moisturize, and hydrate dry skin for healthy-looking skin
Lotion is clinically shown to moisturize for 24 hours
Enriched with vitamin B5 and skin-essential moisturizers naturally found in healthy skin
Daily lotion helps improve skin's moisture barrier. Is for normal-to-dry skin types
Is great for smoothing over hands and body every day
Moisturizing lotion is non-greasy for a clean, pleasant feel on the skin
From Lubriderm, a dermatologist-developed brand
Reviews
luddog
Clinically tested for twenty-four hour moisture.
Lubriderm Daily Moisture Lotion for normal to dry skin is a non-greasy, vitamin enriched and creamy lotion. It was developed by dermatologists and a product of Johnson and Johnson. I could not detect any scent good or bad for this lotion. It is gentle, fast absorbing and does not contain a sunscreen. It took a couple of days to see the difference but, my hands are in water so much I could not tell if it moisturizes for twenty four hours and I love the hands free pump. Although, I received the lotion without any cost to me from the Spark Reviewer Program, I find Lubriderm to be a quality lotion.
quartzlady
Lubriderm Normal to Dry Skin Lotion
This lotion comes in a 16 Oz container. It is a daily moisturizer lotion. This lotion has been dermatologist developed. It has been shown to be able to moisturizer for a full 24 hours. It contains vitamin B5 and other essential nutrients that are needed for a smoith and conditioining effect. When I applied it, there was a creamy texture and it goes right into your skin. I kept checking it and found it to not have any greasiness at all to it. It has a slight scent to it and enough to be pleasant, but not at all overpowering. I can say after applying this lotion to my hands, my hands are still velvety soft. I have very sensitive skin and also some scents tender to bother me and this is why I am very picky what I use. This Lubriderm does mark off all the boxes and will be a great addition to my skin care treatment. I am so glad that I chose this lotion to try out. This will now be my new daily moisturizer. With this year's cold weather, this is much needed.
sayno
Lubriderm Daily moisture lotion
I have very sensitive and eczema prone skin.I received this product 2 weeks ago and have been using it every day. A bumpy rash (eczema I assume) flared up on my shoulders and now on the rest of my body. Returning back to the Fragrance free edition because that gave me no irritation. It may just be an allergy to a chemical within the product. It feels so light and, is absorbed into my skin and makes skin feel so smooth and moist. My hands stay smooth until I wash them several times during the day. there is never any redness or other reaction on my skin, I find now in the Winter months that I use the lotion a lot more that in the summer, I am very happy with the results I find by using this product. I would recommend it very highly. And will give it a top rating.
mike97401
Get Lubriderm Smooth
Regardless of season, Lubriderm battles dry skin from the first application... and no oily residue like othr products. Smooth skin. Whether natural skin conditions to friction from clothing causing problems, this manages and controls them. Works easily into the affected sites. Ask a dermatologist (or others): they can tell you it's safe and right on spot to combat dry skin. Again, regardless of hot or cold weather this products accomplishment is alleviating skin conditions. Fragrance is mild, not wild. Doesn't require a huge quantity to get results. Same as it was decades ago: fantastic. Way less expensive than other brands out there and equally, if not better. Definetely recommend.
AADPP
Moisture lotion
This lotion feels very rich and moisturizing when it comes out of the bottle and when you rub it into your skin. However, after a few minutes, it left my skin feeling dried out. So I applied more lotion and, again, in a few minutes my skin felt dried out. Waited a while and tried it again with the same results. Found it to be a disappointment.