Lubriderm Men's 3-In-1 Moisturizing Lotion with Aloe, 16 fl. oz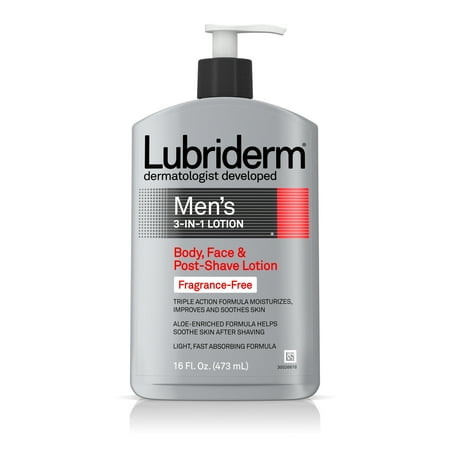 MSRP :

$8.87





Sale :

$6.96

Sold & shipped by Walmart
Product Description

Additional Information

Reviews
Product Description
Lubriderm, the brand developed by dermatologists, now offers formulations designed specifically for a man's skin. Lubriderm Men's 3-in-1 Lotion makes taking care of your skin easier by moisturizing, improving and soothing skin in just one step. This specialized fragrance-free lotion, with minerals and essential moisturizers, is designed to improve the skin's moisture barrier. This aloe-enriched formula, which can be used as a post shave lotion, comes in a 16 fl oz container and can help soothe skin after shaving. Now your dry skin needs can be met with the Lubriderm Men's 3-in-1 Lotion.
Additional Information
16-fl. oz pump bottle of Lubriderm Men's 3-In-1 Unscented Daily Body Lotion with Aloe
Helps moisturize, soothe, and improve the look of skin in just one step
Can be used as a body lotion, face lotion, or soothing post-shave moisturizer
Lotion is specially formulated for men
Is enriched with soothing aloe, minerals, and essential moisturizers for healthy-looking skin
Lotion is lightweight, fast-absorbing, and non-greasy
Fragrance-free formula
From Lubriderm, a dermatologist-developed brand
Reviews
GuyFromWilliamsburg
Great for after shaving use
I use this lotion on my face and head after shaving and it's remarkable. I definitely felt the different compared to some store brand lotion I bought when buying groceries. I'm prone to razor burn and this makes it seem like it's not even there. I'll continue to use this product until Lubriderm releases something better or I die. Hopefully the former.
Zack50
Top quality product
I'm very pleased with the overall quality of this product. Very rarely does a product fit its claim especially when stating it's a 3 in 1 of something. This does it all and does it very well. I use it everyday and like that it is fragrance free so that I can wear my favorite cologne without it mixing and smelling funny. This will help with dry skin and great for an aftershave. You won't be disppointed. Besides what a great value!
MoeD
Excellent Lotion for Women Too
I am a woman. I am a product "junkie", but I have always been annoyed with the whole women have to find a body lotion, a face lotion, eye cream, wrinkle cream.... yada yada. I just wanted something that is ALL in one without a ridiculous price. I found this on a whim while trying to find an unscented lotion for my husband (he HATES men's lotion smell). Well, after reading the ingredients (zinc, magnesium, copper, aloe &more) I bought this and tried it after my shower. I LOVE this! I put it on my face and body. It absorbed fast and left my skin so soft! It even left my usually cracked lips feeling moisturized without feeling greasy. I am very acne prone/sensitive skin, and this stuff I feel 100% good about putting this on my face. It truly is unscented. I love this product!I am getting rid of all of the products I use and just going to keep it simple with this lotion. It has better ingredients than a $30 women's face cream (in my opinion). Lubriderm PLEASE do not change this formula or stop selling this because it is the perfect staple for men and women. Thanks for making it!
Andrea19693
Will purchase again.
I want to be upfront before I continue my review. I haven't used many of these sorts of products before, and it has always been my assumption that the amount of product dispensed when the lever is fully depressed is the amount designed for a single use. Buyer beware, it isn't. A full press fully moisturized my face, neck, shoulders, abdomen, legs, body, my neighbor, his family, and the entire census-designated area in which I live. HOWEVER, I can confidently say that all 50,000 of us had noticeably softer skin and, in general, a sunnier disposition the next day. To be more serious, I live in the High Desert of California. Winters here get dry, and this product has been an excellent addition to my regime and has completely eliminated dryness in any post-shave or face wash routine. As I've recommended it to friends and family, I'd recommend it to the public.
Toastty
unscented
I got this for my husband. I like that this is unscented bc we have a lot of sensitive noses in our home. I don't like the overpowering smells in other products. My husband thinks it works well too.