Dickinson's Witch Hazel Cleansing Astringent, 16 Fl Oz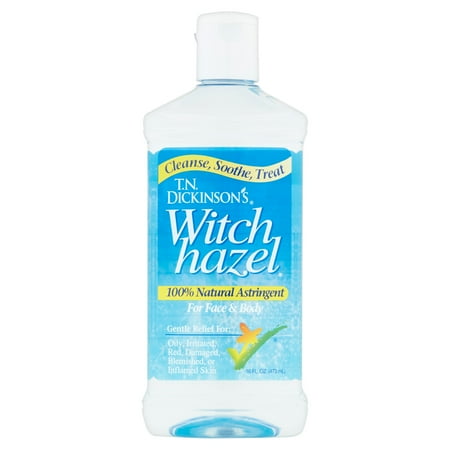 MSRP :

$9.17





Sale :

$9.23

Sold & shipped by Pharmapacks
Product Description

Additional Information

Reviews
Product Description
Discover a cleanser, toner and astringent all in one in the 16-fl oz bottle of T.N. Dickinson's Face & Body Witch Hazel Astringent. Natural witch hazel is safe to use daily without stripping your skin of essential moisture. T.N. Dickinson's Witch Hazel will also relieve skin irritations due to cuts, scrapes and insect bites.
Additional Information

T.N. Dickinson's Face & Body Witch Hazel Astringent, 16 fl oz:

100% natural astringent
For face and body
Cleanse, soothe, treat
Uses: temporarily relieves minor skin irritations due to minor cuts, minor scrapes, insect bites
No artificial fragrances or dyes
Dermatologist recommended
Cleans deep down to the pores
Gentle relief for oily, irritated, red, damaged, blemished or inflamed skin
Witch hazel astringent, 16 fl oz
Reviews
Pam24Yrs
BETS TONER IN MARKET
I have been reading about witch hazel at a lot of the websites recently, for acne. Finally decided to give it a try. This product is amazing. Ok, I agree I am not a fan of the smell, but well I have used worse products that don't even work. So, the smell fades away pretty quickly actually and it works like magic in clearing the skin. All I do is wash my face, and apply this on the clean face. Just a little bit goes all over and let it dry out and that's all my night routine is right now and it has worked like magic in cleaning my scars and my pimples. Definitely recommended.
jonele
good
I watched reviews about this product on YouTube, I have combination skin which is mildly ance prone i decided to try it. The first three days I felt it made my skin dry, but I decided to see how it would be after one week. My skin had to get use to it being that i changed my routine for the witch hazel, instead of using my Daniel Kern benzoyl peroxide ance treatment ( which does clear up the my skin greatly, but dries it out). I wash my face at night with neutrogena naturals scrub then I get a cotton pad and put witch hazel on it and ( not smear it but pat/ blot )all over my face mostly the areas that tend to break out the most. After a week I have noticed a diff. My face doesn't get that oily, my forehead which started breaking out of nowhere cleared up and the huge pimple I usually get on my chin that hurts is going away! Without me having to pop it. My skin looks so much vibrant and it seems to be clearing up my blemishes. I use it at night and in the morning. Sometimes I put almond oil as a moisturizer afterward the witch hazel absorbs becus almond oil absorbs in the skin leaving it smooth and does NOT clog pores. I'm satisfied with this product and I.will recommend it ! Remember give it atleast a week or two your skin has to adjust to the changing of the routine and dab it or pat it on the skin with cotton pad not smear or wipe !
Raelynnnnnn
Takes Time..
I had gotten witch hazel about 2-3 months ago in hopes of calming down my mild acne around my t-zone and hairline that I have lived with for about 2 years, I had applied it almost everyday with a triangle shaped sponge, once in the morning after washing my face, and maybe before I go to bed. I hadn't noticed anything really happening for the first few weeks besides that my face was a lot softer. i noticed a bit of clearing with the first month, and my skin becoming less oily. Now my acne has reduced a lot, i still have a pimple here and there and a few still left on my forehead and nose. I had used witch hazel maybe once a day, but now my skin is soft, not as oily, but i now have to start clearing up my acne scars. i am happy with this product but its not as fast acting as i would've liked it to be.
Kierra
Takes Time..
it keeps your face clean and oil free without over drying, it leaves moisture for glowing skin.
kay
good
love it but it smell like collard greens .....very good at keeping mosquitoes