Gatorade Thirst Quencher Drink Mix, Lemon Lime, 51 Oz, 1 Count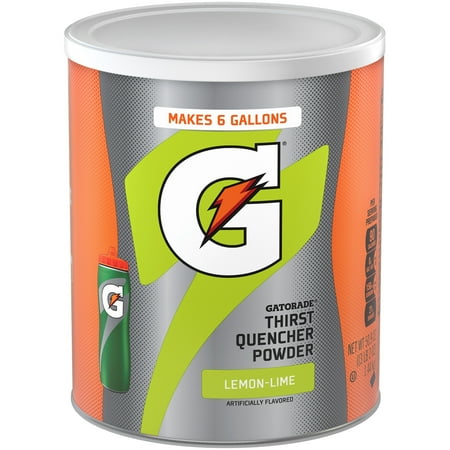 MSRP :

$40.77





Sale :

$8.38

Sold & shipped by Walmart
Product Description

Additional Information

Reviews
Product Description
With a legacy over 40 years in the making, it's the most scientifically researched and game-tested way to replace electrolytes lost in sweat. Gatorade Thirst Quencher hydrates better than water, which is why it's trusted by some of the world's best athletes.
Additional Information
Replenish like a professional athlete with this specially-formulated Gatorade Lemon-Lime Sports Drink. When you sweat, you lose more than just water and so "just water" won't quench your thirst. After a hard work-out or sports match, your body has lost some necessary electrolytes that make your muscles work. Refuel and refresh with this Gatorade sports drink, whether you're coming out of a decathlon or an intense game of touch football. The Gatorade Lemon-Lime Sports Drink is specifically designed to rehydrate active bodies. Plus, the natural lemon and lime flavors make this sports drink delicious as well as replenishing. Drink like the athlete with this thirst-quenching Gatorade Lemon-Lime Sports Drink.
Gatorade Thirst Quencher Lemon-Lime Sports Drink, 51 oz:
No fruit juice
Natural lemon and lime flavors with other natural flavors
Contain hydrating agents and electrolytes for replenishing active bodies
Ingredients: sucrose, dextrose, citric acid, salt, sodium citrate, natural lemon and lime flavors with other natural flavors, monopotassium phosphate and yellow 5
Reviews
MAPhilly
Great flavor at a cheap cost
In the interest of environment (reduce plastic and transportation costs), recently I decided to discard all products where water constitutes a large portion of the contents. So I switched from liquid soaps to bar soaps, liquid shampoos to shampoo bars, liquid laundry detergent to detergent powder etc. And so in the process was searching for Gatorade powder as well. Surprisingly it is not found easily in local pharmacies and grocery stores around Philly, so I ordered it online from Walmart. This one makes 6 gallons of Gatorade in just about $10 (rounding off including tax and shipping), whereas you pay $1 for a quart size Gatorade bottle. You do the simple math.. why to pay for water??? I like the flavor and so easy to carry on my hiking trips, especially when I have to fly!
nomilk
Gatorade Powder
Priceless purchase. I won't have to buy that flavor again for at least a year!!! Planning on getting a different flavor and I'll be set. Just wish I had found this a long time ago!!! LOL
Blue1
51 Oz powder Gatorade Lemon-lime pricing
I have been buying orange and lemon-lime flavor powder Gatorade 51 Oz cans in the past for $9.28 and the product is very good. I work all day in the sun and the Gatorade works well for me i.e. not tired and no cramps. But what in the world have you done to pricing. The lemon-lime has gone from $9.28 to $21.88. I am sure somebody made a pricing mistake . . . Yes???
baylorchick
Great price + free shipping
I live over an hour from the nearest Walmart and the grocery stores don't carry this product. I was so glad that Walmart.com offered this product and gave me free shipping!
sobs
lemon lime gatorade
best of all the flavors--wish you carried it in your stores