Scotch-Brite Heavy Duty Scrub and Scour Pad, 6 Pads per Pack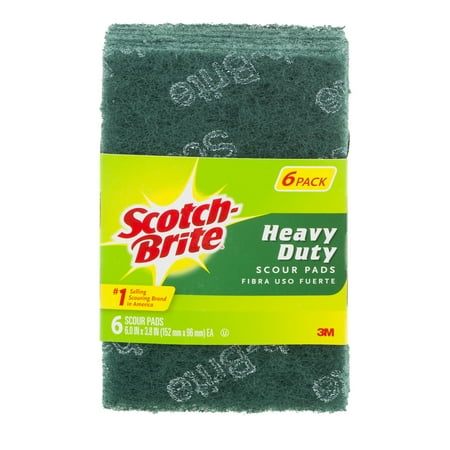 MSRP :

$12.04





Sale :

$4.48

Sold & shipped by Walmart
Product Description

Additional Information

Reviews
Product Description
Clean tough messes easily with Scotch-Brite Heavy Duty Scouring Pads. They work 50 percent faster than most others on the market, ensuring that you spend less time cleaning. Use this 6pk of 3M Scotch-Brite Pads to clean up kitchen counters, bathtubs, showers and more.
Additional Information

Scotch-Brite Heavy Duty Scour Pad, 6 Pack:
Superior cleaning strength
For any serious indoor and outdoor scouring jobs
Ideal to use in garage, bathroom, outdoors and especially in kitchens
Cleans tough, baked-on messes
Use on cast-iron pots, stove burners, broilers
Good for garden tools, grills and much more
Scotch-Brite scrub sponges are made in Canada
Reviews
mrsmac
Great cleaning product!
I really enjoy using the Scotch Bright Heavy Duty Scour pads. I use them to do my daily dishes because they do an excellent job on my plates and glasses to the frying pan and stock pot. Thank you for an excellent product at a great price. I have also used the product on my kitchen counters. The counters are an older material that stains easily. When I use the Scotch Bright Heavy Duty Scour pads and some chemical the stains go away. Thank you again for the super product. I first learned about the miracles of the scour pads at a restaurant that I worked at. Again, the Scotch Bright Heavy Duty Scour pads cleaned up the greasy, messy gas burner stove to a beautiful clean metal stove. I have used the product for decades and am very happy that the Scour pads have kept the same great product quality to clean the everyday items in life. I greatly appreciate the Scotch Bright Heavy Duty Scour pads and will being buying a patch this week.
Dawn71
Scotch Brite Makes Life Easier.
I use the Scotch Brite scouring pads for the tough jobs such as cleaning the bathroom sink, the bath tub, the oven and the outside of appliances that get that stuck on muck that you just can't seem to remove any other way. For example, my refrigerator is in a cubby hole next to the sink, and when I pull it out to clean that side, it's just so dreadful once you see what is there that you have to clean. Things get spilled in between the sink and fridge, especially if you have kids, or someone that shakes, like I do on occasion, and it makes a mess. I honestly don't know what I would do without these scouring pads, it saves a lot of work and time just having them when I need them. I am disabled and I can't stand very long at a time. These give me the tools I need to be able to continue to do my job as a home-maker/house-keeper, without them, I would hate to think of the things I could no longer accomplish on my own. Great product. [This review was collected as part of a promotion.]
silvertonemuffin
ANOTHER SCOTCH-BRITE -
I MUST REALLY LIKE THIS COMPANY. HAVE A LOT OF THERE THINGS. THEY DO WHAT IT SAYS. MAKES CLEANING EASIER. YOUR FINGERS DON'T GET ALL CUT UP. NOW IF I COULD GET SOMEONE ELSE TO DO THE WORK I'D BE HAPPY.
silvertonemuffin
Scotch Brite Heavy Duty Pad
I have been using the Scotch Brite Heavy Duty Scour Pads for over 20 years to clean the tough stains on my stainless steel pots, and other heavy duty pots and pans. I am still blown away by its awesome strength and durability, because it usually last for more than a month, of every day use. This pad is effective in getting rid of the dried on mess on my gas range, and the black marks in my lovely pots, on the occasions when my husband is trying to be a chef and ends up burning everything in my lovely pots. This usually leads to a major cleaning job on my part, which involves me trying to clean up all that dried on sauce or liquid that has boiled over on the stove and the sides of my poor pots. But, having my Scotch Brite heavy duty pad in hand, I have nothing to worry about! Within minutes, with just a little bit of elbow grease, my pots and Pans are brand spanking new again! I am very happy with this product.
RescuedByTheLamb1
Scotch-Brite Heavy Duty Scour Pads
These are great for cleaning hard to get off stains where they can be used. They are not scented. They are a good size so I cut mine in half ... makes them a little more manageable.