Command Large Picture Hanging Strips Value Pack, White, 12 Pairs (4 pairs hold 16 lb)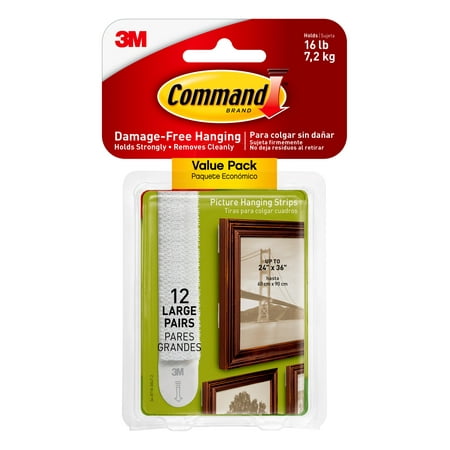 MSRP :

$8.99





Sale :

$7.88

Sold & shipped by Walmart
Product Description

Additional Information

Reviews
Product Description
Decorate your home or office area with these Command large picture hanging strips. These strips make decorating quick and easy, and let you hang your photos and the like without needing a hammer, nails or other hardware. One click tells you that the Command picture hanging strips are locked in and holding tight, removing the guesswork. Best of all, when you're ready to take down or move your pictures, they come off cleanly without nail holes, cracked plaster or sticky residue. Command strips can be used on almost any flat and clean surface, allowing you to decorate in places that would be tricky to pull off with conventional methods. With these strips, you can easily hang frames, pictures and other items on your wall. Personalize your home without risking damage -- or your deposit..
Additional Information
Command Picture Hanging Strips, White, Large, 12 Sets of Strips per Pack:
Simple to use
Command Strips are ideal for hanging picture frames and photos
Set them up in the living room, family room, bedroom or elsewhere
Can hold frames of up to 24" x 36"
Can hold a weight of up to 16 lbs
Easy to take off the wall and move
Will not leave wall damage, cracked plaster or sticky residue
Safer to use than nails
Color: white
Clicks to let you know when they are locked in
Reviews
LadyBandit
UPC : 051141357577 - Command Large Picture Hanging Strips Value Pack, White, 12 Pairs (4 pairs hold 16 lb) - PickPanda.com
Love how easy they are to use. Just wish they would hold bigger pictures.
dmarier5947
Absolutely Love them and so easy to use
I had never tried these until I just recently went to finally put pictures up in my new house. Most of my pictures are not nearly as heavy as these say they will hold and I have discovered I can make them go further for the price by cutting them in half long ways. I first secure the two halves together and then cut them up the middle. It's easy to apply them as well after I put the two halves together and cut them up the middle I remove the adhesive backing and apply it to the picture, then remove the other backing. I can hold it a little out from the wall and get it straight them press it firmly to the wall. I usually use one cut strip on each side and one across the bottom of the picture and so far it has held very well. I do have one picture of my great, great, great grandfather that is in a heavier antique frame that I did use 3 full size strips on even though it's not all that heavy I just didn't want to take a chance since it's so old.
Confused
Misleading
I bought this product under the assumption that each strip would hold 16 pounds as the front of the box states. However, when I attempted to read the extremely fine print on the back to verify the weight amount, I was unable to even read the directions, even with my glasses. I had to go to this website to locate the information and I'm still very confused where the 16 pounds comes in. now I have multiple boxes of strips of 3M command boxes that I don't know what to do with. I like the other Command strips, but I don't plan on using strips all the way around the frame to hang a 16 pound picture.
EKNY
Great product, easy to use, very happy with them!
I used these strips to hang picture frames along our stairway and am super happy with the product! One set of strips velcro'd together supposedly holds up to 4 lbs, but we were conservative and used one strip only for very light frames, and two strips for anything that seemed to be 4lbs or more. It was so easy to position the frame how we wanted it on the wall and just PRESS it to the wall, rather than have to figure out where to put a nail to get the frame to hang in the right position. I removed some frames to replace pictures, etc, and it was so easy to peel the frame off the wall and re-stick it on the wall via its velcro partner. These strips are certainly more expensive than using nails, but I highly recommend them as they are easier to use and don't damage walls! A+ product!
Nuhhuh
Follow directions & they work well
* FOLLOW DIRECTIONS - make sure to clean the walls or surfaces before you apply these. * Remove carefully - DENTAL FLOSS will get the stuck pieces off furniture, cabinet doors, and walls without damage. If you're careless and just try to rip them off, you'll certainly wreck something. Yes, they really DO work, mind how much weight you put on them and you can get very creative. Best hacks around! I use 3M command strips for almost everything, cafe curtain rods, wall organizers in the bathroom, brooms in my hall closet, posters (poster strips) - not for heavy framed paintings and not for shelves and other things our cats use for perches, but almost everything else. I hate patching holes in textured stucco walls and I love being able to reposition things. WIPE THE WALLS with rubbing alcohol or hand sanitizer first, though, or these things won't hold weight, they'll just grab your dust. I bought these to hang soundproofing panels and bass traps in a studio room. Because the 3M strips don't stick directly to foam, I made a sandwich of the 3M strips with the heavy-duty 2-sided mounting strips that came with the soundproofing. Those went on the foam, where they stuck so well I wouldn't want to remove them. Fortunately the 3M hanging strips stick to the mounting strips *AND* to the painted textured stucco walls in my studio, so I could put up my soundproofing, adjust positions, and even remove everything when I move to a different place. The soundproofing is too expensive to throw away so I'm delighted I found a way to make it removable! I also used 3M rope light hooks to suspend some foam panels from the ceiling to hang down behind my workspace, and 3M hanging hooks to mount soundproofing curtains (using binder rings and binder clamps instead of expensive hanging rings). Thanks, 3M! Studio's all set!