Scotch-Brite Lint Roller Twin Pack, 60 Sheets, 2 Count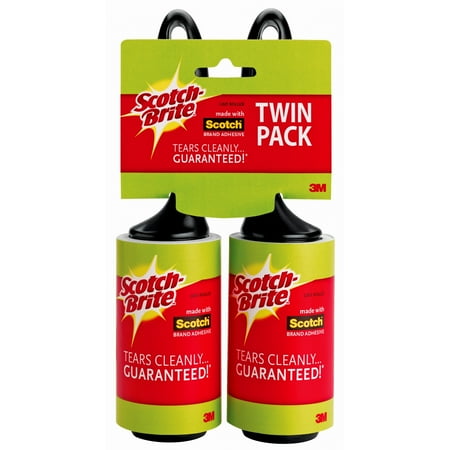 Sale :

$5.78

Sold & shipped by Walmart
Product Description

Additional Information

Reviews
Product Description
The Scotch Brite Lint Roller Value Pack includes two, 60 sheet rollers, so you're well-supplied for months to come. Don't let lint and pet hair keep you from looking your best. This lint roller pack is a must for keeping your clothes looking great.
Additional Information

Scotch-Brite Lint Roller, 2/Pack, 60 Sheets Each:
Keep clothes lint, fuzz and hair free
Scotch-Brite grabs tough to remove pet hair
Use on pants, coats, sweaters, dresses, suits, formal wear and more
Keep clothes lint, fuzz and hair free
Can be used on furniture and auto interiors
Hanging hole on handle for easy storage and accessibility
Lint roller is 2 pack of rollers
#1 selling brand
Guaranteed simple, clean removal of sheets
Will not damage fabric
Ideal size for taking on the go
Durable and sturdy handle
3M lint roller has smooth rolling action
60 sheets on each roll
Reviews
shelley_ar_14850000
I'm free of dog hair!
I received a Scotch-Brite Lint Roller from PinchMe for free in exchange for my opinion. I have 3 dogs and anyone that has dogs usually is in need of dog hair removal from their clothes. I was so happy to get this lint roller and try it out. It has a handle on one end with a roll of sticky tape on the other end. The tape is perforated after each section of tape you use. After you use it for lint or hair removal, you tear the piece of sticky tape off and discard it and another clean piece is ready to be used. I found this product to be very effective and the only thing I wish it had was some way to store it so it doesn't get stuck to something while not in use. It does sit upright in my cabinet but would be nice if I could carry it in my purse sometimes in case I need it. This isn't anything that would stop me from buying it though. It is an effective lint remover/dog hair remover and since my dogs aren't going anywhere, this is a nice addition to my family. Its something I highly recommend. [This review was collected as part of a promotion.]
michelle_ma_15365321
Scotch Brite Lint Roller
I was absolutely thrilled to test the Scotch Brite Lint Roller as a sample received from PINCH Me. I use lint rollers on almost a daily basis and this one worked incredibly well. I loved that it especially worked well on difficult fabrics like fine knitwear. Although I do like the convenience of a disposable lint remover I'm not keen on the idea of one more cleaning product in my house that I have to keep replacing-- and therefore continue to add to my cleaning budget. Most washable lint rollers last a good number of years in my house before replacing-- and although it is a pain in the butt to clean off-- I would rather spend less money on cleaning products, with one less item on my shopping list, and know I'm putting less trash in a landfill. That said, the lint roller worked so well on difficult fabrics (particularly for business/work clothes) that I may end up purchasing a couple of these lint rollers and just use them for special occasions so that they can last me the year. [This review was collected as part of a promotion.]
charlene_fl_15366808
Scotch-Brite Lint Roller
I receied a sample of Scotch-Brite Lint Roller from #PINCHMe. Until I received a sample of Scoth-Brite Lint Roller, I was using a store brand roller. Since I tried the Scoth-Brite LInt Roller, I have now switched brands. I have 2 cats when I love on my babies, I have a lot of cat hair left on my clothes. I used the Scotch-Brite Lint roller & I was very impressed at how well, the roller removed the hairs from my clothes. It had enough sticky substance to remove the hair. Very easy to tear off sheet. The handle is the right size. Not flimsy @ all! It rolls really easy while rolling on your clothes. I also tested to see what else I could try to pick up with it. My daughter spilled some cereal (cocoa puffs) I rolled the Scoth-Brite Lint Roller over the ceral & it picked it up. I also tried it on the fl.oor in the bathroom. It removed the hair off the floor. It also works really well for removing lint off clothes. Over all this is a great product. Would be nice if there were more sheets on the roller. [This review was collected as part of a promotion.]
collette_va_14870753
Love My Scotch-Brite!!
Scotch-Brite Lint Rollers are the best! They come in different sizes and are inexpensive so you can have a large one to take care of furniture and clothes at home or you can put a mini one in your purse to have with you for those needed touch ups while on the go. The roller lived up to its claim of being easy to use. It rolls easily and each perforated sheet tears off with no problem. It is amazing how much each sheet can pick up. We all know that anything black will tell the tale of whether a lint roller works or not and Scotch-Brite's do a phenomenal job including getting off those pesky little "pills" that stick to clothing and sweaters especially. One swipe dos the trick with everything from dog fur to lint to dust to hair. It even does an amazing job on my car seats. Thank you PinchMe for the sample. I had used them before so I was very excited to be reminded what a fabulous product that the Scotch-Brite Lint Roller is. I would highly recommend this to and do to everyone. Run and get yours! [This review was collected as part of a promotion.]
niala_nc_14852857
Magical critter hair removal!
First off, let me start by saying we have 1 Maine Coon long-haired cat, 2 dogs - one of which is white, and 3 of us in our home that regularly wear black to work - my husband and I for corporate work, and my daughter's uniform. This lint roller is AMAZING! I was skeptical when I received my sample from PinchMe, because my experience with lint rollers is that they get about 50% off, and that's it. But, on our dress clothes, the difference was complete and immediate! No rolling over the same spot over and over! I was so excited, I tried it on our sports socks (which have been permanently fuzzy) and while it took a little more effort to get the meshed in hair, it eventually got out most of it. Such an improvement! I feel like it's a magic wand. I went into the living room and Voila! hair free couched! I went to our coats and Voila! hair free coats! I want to order these by the case! I'm so grateful that we're never going to be identified as pet owners by the hair on our clothes ever again! [This review was collected as part of a promotion.]