Scotch-Brite Non-Scratch Scrub Sponges, 9 Pack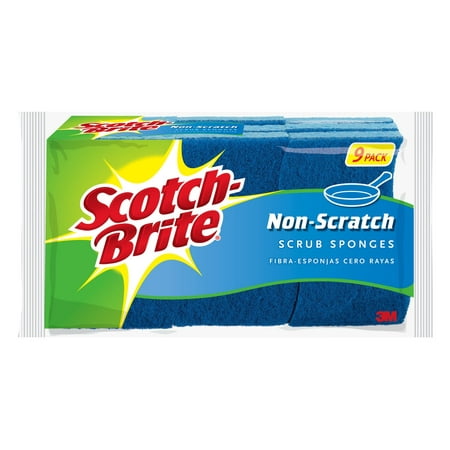 MSRP :

$29.17





Sale :

$7.97

Sold & shipped by Walmart
Product Description

Additional Information

Reviews
Product Description
Keep your home cleaner with these Scotch-Brite Sponges. The sponges feature a no-scratch surface that won't damage dishes and other sensitive surfaces. You can even use them on Teflon, Silverstone and Calphalon non-stick cookware. These multi-purpose scrub sponges tackle tough food residue without leaving any scratches.
Additional Information
Product Features
Safely cleans all premium cookware including stainless steel, copper & non-stick coatings
Kosher
3M Home Care Division,
3M Center,
St. Paul, MN, 55144-1000.
Scotch-Brite.com
3M, Scotch-Brite and the unique shape are trademarks of 3M.
©2016, 3M. All rights reserved.
Reviews
MAJW
What happened? Now 10% smaller and less durable?
Scotch has downgraded this sponge, they are smaller than they were, thinner and shorter. The scrubbing material seems the same. The sponge separates from scrubber more easily than before. The sponge material is not the same and does not last as long.
lindal
Non-Scratch Sponges receive 5-stars from me!
These Scotch-Brite Non-Scratch Scrub Sponges get a 5-star rating from me! I use them daily and they never fail even when I've been using the same one for months! I have new, clean ones I use for dishes and tables, etc.; and I love them because they don't show dirt or stains on them after one single use (like the old yellow ones did). Then, I take the old used ones and re-use them on tubs, floors, outside patio furniture, and more because they're still good and they don't lose their ability to scrub! I love this product and I would never want to be without it! 5-Stars from your best consumer of this product and your green scrubbies, too!! Thank you for such a FANTASTIC Product!
Candice
Why do they now stink so quickly?! 😒
I've ONLY used these sponges for at least 10yrs because of the quality. I've noticed this past year tho that they just don't last as long as they used to. I'm very aware that its now recomended sponges be changed every month because of bacteria. My sponges seem to only last a week then starts getting so disgustingly smelly I can't stand it. My family of three kniws bit to let it sit in water, squeeze out after every use and let sit and dry overnight BUT still they don't last. I even tried throwing them in the dishwasher when the stink starts, but that didn't help them. The smell sticks to my hands, my dishes and now my newborns bottles, dishes and toys. I've just bought another 9pk but will be buying another brand when these finish because I'm sure I'll have the same problem. Getting a headache just thinking about the smell 😒
June
Good sponge for non-stick surfaces
Scrubs well without scratching surface on none stick surfaces
lionqueen
Cheaply Made
The 4.8 star rating that 3M wants you to see is, in fact, untrue in light of their recent debasing of this once excellent product. The vast majority of the 4.5-5.0 star ratings are 2, 3, 4, even 5 years old! For approximately 20 years, even I had insisted on no substitutions. ScotchBrite was the best, until my most recent purchase at a warehouse club facility. As soon as I held the sponge I was horrified that this once-upon-a-time wonderful product would be so downgraded by 3M. In my husband's hand this puny, cheaply constructed sheet of sponge attached to a thin layer of "scrub" material is lost. It only stands to reason, being a conglomerate, that 3M has reduced the intrinsic value of this product BUT NOT THE COST. Producing a quality product is apparently not hardwired into 3M; making "money for nothing" is. This item is going back to the club store for a refund. I will never purchase it again & intend to advise them of the inferiority of what they are selling to their members.