Scotch Long Lasting Storage & Packaging Tape 4 Pack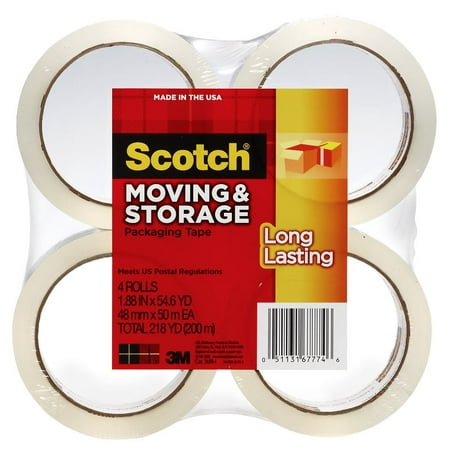 Sale :

$9.97

Sold & shipped by Walmart
Product Description

Additional Information

Reviews
Product Description
"Scotch Moving and Storage Tape features a water-based adhesive that is UV-resistant and holds strong in hot and cold temperatures. It offers a durable seal that's great for both moving and long-term storage. Tape meets U.S. Postal Regulations for standard packages. Scotch Long Lasting Storage Packaging Tape- 4 pack, 1.88"" x 54.6 Yds"
Additional Information
For the memories you want to keep for a long time and for documents that must be kept safe and sound—put Scotch Long Lasting Storage Packaging Tape on the job to seal boxes in storage. Designed for lasting protection, this tape creates a durable seal with its long-lasting adhesive. This tough tape is clear to the core, UV-resistant, and stays sealed even in extreme temperatures -25° to 160°F.
Scotch Long Lasting Storage Packaging Tape: Withstands extreme conditions and stands guard for lasting protection. Strong, secure, solvent-free acrylic adhesive. Designed for lasting protection. Stays sealed in weather extremes (-25 degrees F to 160 degrees F)UV-resistant adhesive. Clear to the core. Resists slivering, splitting and tearing.
Reviews
Thomas
Worse than worthless
It appears someone else beat me to it. We're moving and have probably gone through a dozen rolls of your "long lasting" packaging tape. Initially I thought the boxes we are using were coated with something preventing the tape from adhering. It doesn't appear to be so as numerous boxes have required re-taping - and I shudder to think what we will face in 3-4 years when we're ready to recover our goods from storage. Will we have to, very carefully, re-tape each of our MANY boxes? How doe Scotch/3M compensate one for this product performance failure? This is not what I expect from Blue Chip names like Scotch and 3M.
DonB
Terrible tape! Not sure why it's still being made
I'd give 0 stars if I could on this product. I should've read these reviews before I wasted the money on a dispenser pre-loaded with one roll and then a 3-pack. This tape is absolutely terrible. I don't understand why the company continues to make this product. All 7 boxes that I packed last night will need to be retaped (with a different brand of tape) because none of the tape is sticking to the boxes, even with reinforcement. Very disappointing and a huge waste of money.
MikeDinATX
Horrible performance
Scotch is a brand I've always trusted, but this tape is awful. The attached picture was taken maybe 20 minutes after sealing the box and the tape just lifted right off. There are dozens of other boxes that look the same. Very disappointed.
BRaven1612
"Note to Self" = never ever buy this tape again
Impossible to get the tape started. a simple ARROW on the tab would at least let the customer know which way to start trying to free up the end.. I scraped through at least 20 layers of tape in an effort to get this started, wasted enormous amounts of time and tape and never did get it started.
Disappointed Customer
Tape Doesn't Stick
Tape does not stick to boxes. The tape came loose on every box it was used on. Was forced to re-tape every box a second time with another brand.