FUTURO Graduated Compression Anti-Embolism Stockings, Knee Length, Closed Toe, Large Regular, White, 1 pair/pack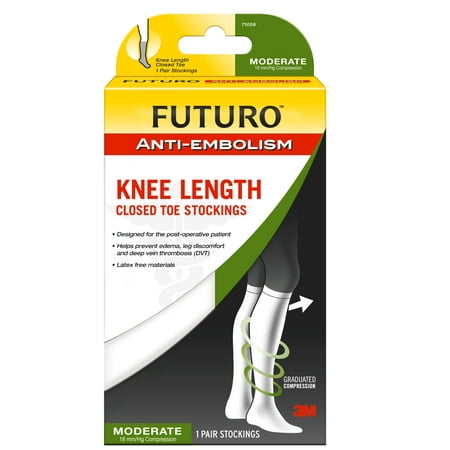 MSRP :

$18.74





Sale :

$12.65

Sold & shipped by Walmart
Product Description

Additional Information

Reviews
Product Description
Enjoy an empowering boost to your day. If you're constantly in motion, traveling, or working in a hectic office, the FUTURO Energizing Ultra Sheer Knee Highs for Women will help keep your legs feeling energized throughout the day and into the night. These comfortable, silky-soft knee highs look sophisticated and stylish and will help keep you looking and feeling fantastic too. Mild compression. Ideal for everyday use, especially when standing or sitting for long periods, walking or traveling. Enhanced toe with run guard and reinforced heel for maximum durability.
Additional Information
Help yourself recuperate properly so you can get back out there. FUTURO Anti-Embolism stockings provide the medically proven benefits of graduated compression to offer effective support, as well as soft, durable materials for outstanding comfort and fit. Our graduated compression stocking knitting technology is specifically designed to speed blood flow by providing the most compression at the ankle and gradually diminishing pressure up the calf. Moderate, graduated compression which accelerates blood flow up the leg, helping to reduce the dangerous formation of blood clots following surgery. Knee length. Specifically designed for the recuperating patient.
Reduces the danger of blood clots
Designed for the recuperating patient
Soft, durable materials for outstanding comfort and fit
Graduated compression knitting technology accelerates blood flow up the leg

Reviews
Bubbies222
they work great...
I am in a wheelchair and my legs swell really badly. These stockings are wonderful. I had found the same exact ones in another store for $9.00 more so thanks Wal-Mart for the great price.
eb0398
Needed medical supply
Ok, so i've had 2 Pulmonary Embolisms. No one usually survives one. Had another pair of these compression socks but needed a second pair. I don't wear them daily but, If I have a long car or plane trip or even a long walk, I need them to keep the blood from pooling or clotting in my lower legs. The compression forces the blood back into my veins thus reducing the risk of a clot leading to a P.E. This type of compression sock is about 3X's the cost at the DR.'s office. Although still around $40 $$ at Walmart ..... Worth 3Xs its weight in LIFE !!!
OB1501
Swollen leg relief
Just out of hospital with a staph infection in left calf which ballooned into Cellulitis. These stockings have helped reduce swelling to within 1/4" of my right calf within a week! Great product/great value. My only (male) complaint is the white colour (LOL)!
cookie2141
these are good but Curad brand is WAY better
The fabric in these is pretty flimsy. My stockings didn't stay up very well after a few hours. No padding at all in the foot area. I also got a pair of the Curad brand stockings. Much better product for close to the same price. Check it out for yourself.
Nicknameshavebeentaken
Learning something every day....
The top of my hubby's foot (anatomical name is dorsum pedis) and the calf area of his leg were very swollen and very painful. Thought he'd need a size extra large but trusted earlier posts and purchased the large. A friend told me to Roll the top of the stocking down to toe area -- easier to get on. Took some effort, but sock worked very well.