Nexcare Opticlude Orthoptic Eye PatchNexcare Opticlude Orthoptic Eyepatch, Regular, 3.18 in x 2.18 in (81 mm x 55.5 mm), Beige, 20 patches/box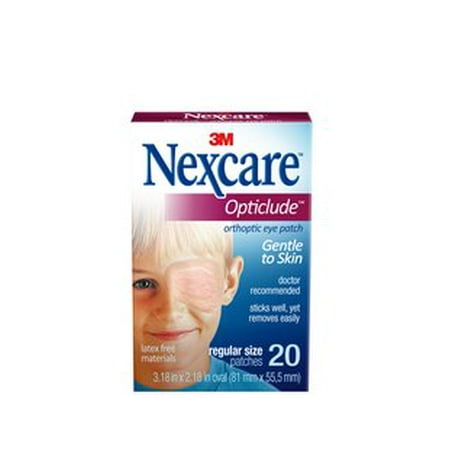 MSRP :

$6.6





Sale :

$3.32

Sold & shipped by Walmart
Product Description

Additional Information

Reviews
Product Description
Additional Information
Nexcare Opticlude Orthoptic Eye Patch is used to treat amblyopia in children. Amblyopia, or "lazy eye," is a common condition among children and is caused by strabismus--a condition where the eyes are misaligned--or eye conditions such as near-sightedness, far-sightedness or astigmatism. Nexcare Opticlude Orthoptic Eye Patches feature a gentle, hypoallergenic adhesive and highly breathable backing. These doctor-recommended orthoptic eye patches stick well and are easily removed.
Gentle to skin
Doctor recommended
Sticks well, yet removes easily
Highly breathable backing
Ideal for treating amblyopia (lazy eye) and strabismus (crossed eyes), as part of your doctor recommended treatment
Comfortable to wear
Absorbent non-stick pad
Gentle, hypoallergenic adhesive

Reviews
ABJE
Best Orthoptic Patch
My 7 yr old has to wear a patch for one hour per day. We tried Coverlet and other brands and they were uncomfortable and painful to remove. Nexcare patches make occlusion therapy bearable. These are a great value at Walmart because their price is far below what other retailers charge.
zeplan
great product
We have a hard time finding this product any where. My husband is blind in one eye and this product is the only one that he can use that works. Thank you so much for having this brand.
caretakerof3
Excellent eye patch for young children!
Both of my children need to patch one eye each day for several hours. The patch that goes over their glasses left a sticky substance behind and the black cloth "pirate" patch was too easy for them to take off. I learned about the Nexcare patch from our doctor and because it is like a gentle band-aid over thier eyes, neither child touches or plays with it and it comes off with very little pain. Excellent product. Thank you!
Ande
Perfect Eye Patch blends in with skin color
For any one that has had any type of eye injury or medical condition, and needs an eye covered for any reason, you know how uncomfortable it can be to get around on one eye. The type of covering or bandage you use is very noticeable, and sometimes very awkward in front of family, friend, or co-workers. I have worn these bandages now for two weeks, and it has made this experience a little less painful. I was also able to peal the bandage off when needed, and then re-applied it. This the best of both worlds when you need to get around the house, working, etc., and it covers your eye area with the similar color to you forehead and cheeks .
Acousticneuroma
Used them for 4 years
The ones you sell in the store now in place of them are JUNK! the replacments stay on at night for 30 minutes tops