VTech Touch & Learn Musical Bee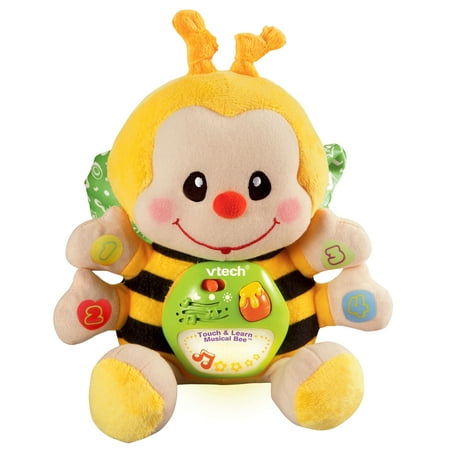 MSRP :

$34





Sale :

$14.37

Sold & shipped by Walmart
Product Description

Additional Information

Reviews
Product Description
Delight your baby with the VTech Touch and Learn Musical Bee. This tuneful stuffed animal teaches basic numbers, shapes and colors. The bee is made of yellow plush with black stripes. He has bright shiny black eyes and a big smile. Shake the bee toy to hear upbeat melodies and fun sounds. Soothe the baby to sleep with lullabies and soft sounds found in nature. A sound sensor automatically activates to lull fussy babies back to sleep. The wings make crinkly sounds when grasped, delighting babies from 6 months to 2 years of age. This VTech bee features four buttons for a baby to press, which teaching little ones about colors, numbers and shapes. The honey pot button activates the music. Infants will be enthralled by the flashing light in Play Time mode. A soft, glowing light helps the baby drift off to sleep in Sleepy Time mode. The VTech Touch and Learn Musical Bee requires two AA batteries, which are not included.
Additional Information
Reviews
yyola
it is not a 5 its a 10
it is my sons favorite toy. he was only 3 weeks old and would stare at it for a while now at 11 weeks he talks to it smiles and hits it so she can sing. I got it as one of those black friday specials little goofy bee and makes him so happy. Has a light and lots of sounds and songs and I hink there is a sensor bc always start playing if he stasrts crying. And its still running on the same batteries and it plays ALL the time
lgh50
Great toy.my great granddaughter loves her Bee
This Bee is a must for infants,Aussie is 6 months and she loves her Bee,she sings with it and likes its wings, lights and sounds.Bee will be a learning tool.
Shar
Son loves this toy
My son is 5 months old and he absolutely loves this toy
rosiesgirl
Son loves this toy
My grandson is a little too young but I like it and he will too.
LylaShaysMama
More fun for bed than for play
I bought this for my daughter's first birthday because I thought "Oh its VTech...it will be good for her to learn!" But I was kind of dissapointed to find out when I got it that it really dosnt do much for learning. It has 4 legs with numbers and different colored shapes on each one. So it counts to 4, and says what color and what shape it is. But my daughter, even being 1 yr. old hasnt really figured out how to press the small, and kind of awkward buttons. I do, however really like how it has a "play" and "sleep" mode. And she really like to cuddle with it and listen to all of the pretty lullaby sounds it makes in the sleep mode. But another thing I don't care for is how they didn't put a volume level on it. Because there have been times when shes fallen almost asleep with it playing and then all of the sudden it says "Sshh It's sleepy time" except it says it fairly loud...kind of defeating the purpose.