Little Tikes Lil' Ocean Explorers 3-in-1 Adventure Course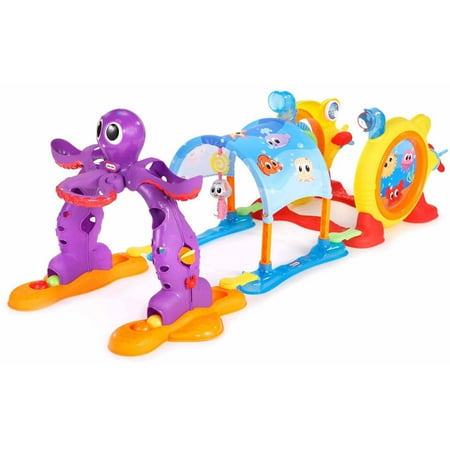 MSRP :

$79.99





Sale :

$29.19

Sold & shipped by VIPOUTLET
Product Description

Additional Information

Reviews
Product Description
Little Tikes created Lil' Ocean Explorers to help babies learn to sit, crawl, stand and walk. We believe that little bodies were meant to sit up with pride, little arms were meant to reach new goals, little legs were meant to stand up tall and little feet were meant to chase big dreams. The line features lovable sea creatures designed to help develop fine motor skills, coordination and confidence. Dive into adventure! The 3-in-1 Adventure Course stimulates and entertains your baby throughout three key developmental milestones. When sitting, your baby gets tactile with features like the submarine Peek-A-Boo door, the marine stretch wall, ball drop periscope and multiple clicker knobs. When crawling, watch your baby explore the course, discovering new ways to play. And when standing, through sounds and phrases from their new octopus friend, your baby will be encouraged to play ball!
Additional Information
Little Tikes Lil' Ocean Explorers 3-in-1 Adventure Course: 3 interchangeable play stations for multiple course combinations and easy storage Submarine play station: Peek A Boo door with rotating wheel, ball drop, stretch wall, clicker knobs and spinners Underwater play station: Crawl-through canopy and repositionable rattle link toy Octopus play station: Pull-me-up handles, ball drop, clickers, spinners, rewarding sounds and phrases when baby stands 20+ encouraging reward sounds babies will love Requires 3 AA batteries (not included)
Reviews
Breidi
Amazing and Hours of Fun!
I have twins, one with special needs and one normal. They are 8 months old and this toy is awesome for both. It promotes fine motor skills for both baby's and even some of the physical therapy stuff we are working on with the special needs baby this has helped with. There are so many things to keep them busy. It makes many different noises and keeps them entertained for long time periods. It helps the baby's with pulling up, grabbing and moving the balls, hearing different sounds, there is a mirror and lots of surprises with each piece. My children have really enjoyed this. The only bad thing is it takes up a lot of the play area and it is not very easy to move and store if they are not playing. It really hasn't been much of a problem for us because I leave it up all the time and they play with it every day. There are lots of colors and it really is a fun toy! I would definitely buy this toy if you want something to keep your child entertained and teach them motor skills as well.
widow09
Could be better, but overall fun for babies
I got this for my twins whenthey were 9 months old, and they loved it at first. For the price, I'd think there would be a little more than what it is. The octopus is fun, even my 6,7,8,and 9 year olds love playing with the twins with the octopus. The balls for the octopus are so small though that they get lost easily and other toys with plastic balls can't fit the toy. The tunnel is way too small and built too close to the octopus. When the twins crawl through, they hit their heads on the hard plastic octopus and play time is essentially over. The yellow end piece has been awesome for the twincesses, they're 13 months old now and still love all of the clicking and spinning gadgets. If the babies start crawling from the octopus side, they'll make it through the tunnel to the other end. There's no hope for a turn around or any room for error other than a face plant once in the tunnel.
Blessed mom of 3
Good idea but...
I will start by saying that I think the overall idea of this product is good, it has multiple ways to play and can be set up two different ways, its very colorful and has plenty of things for little ones to do. Now for the cons... Its way too small!!! My 7 month old got this for Christmas and this has honestly been a huge disappointment hes already too big to crawl through it he hits his head on the octopus every time he tries to crawl through it which ends with him screaming to the top of his lungs. Also if you set it up with the octopus in the middle so your child does not crawl straight through its very unsturdy my lo falls over all the time when he pulls up to play due to the pieces falling over. Just to give an idea of size my baby is 20lbs and 28 inches. So bottom line the idea is good but the actual product needs some work. For the price I would not recommend if I could return I would.
Crys2013
Finally Something Different!
I was browsing online one day looking at different toys for my kiddos for Christmas that they can both play together. One is 8 months and the other is turning 3 on Christmas Eve. I came across this and was WOWed by it's design and features. Perfect for my 8 month old crawler who also loves balls along with my 3 year old. I don't see this toy made like every other toy out there which is a huge plus! I finally seen this at my local walmart for a great price, it was the only on there and I grabbed it. It is a purchase I'm positive I won't regret.
KerriV
Great toy for an 8 month old to grow into!
I had high hopes for this toy, given the price and was not disappointed! My little guy is 8 months old so I purposely bought a toy that would be able to grow with him. While my son can't use all aspects of the toy yet, the ones he can use he absolutely loves! The assembly was pretty easy and he's loving the portion that you can "sit" with. I joke with my friends that my son is a "sack of potatoes" since he hasn't started to crawl yet. I sat him down with this toy and looked away for a few moments and looked back and he was up on all fours, trying to move towards the other side! He hasn't been motivated to crawl at all until this toy. The colors are very vibrant too. Overall, this is a very interactive toy. I'm excited to watch my son learn more and more with this. I can't wait to see him with the Octopus part. I'd recommend this product for sure!