Little Tikes Slam 'n Curve Inflatable Water Slide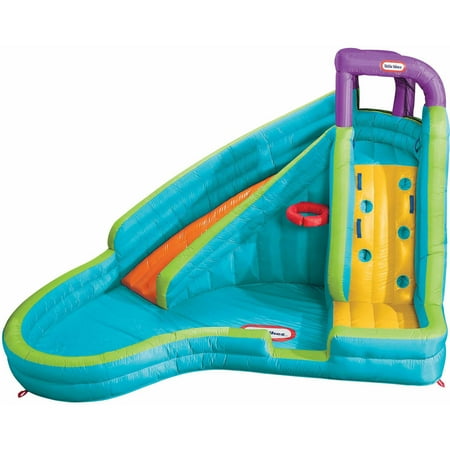 Sale :

$270.89

Sold & shipped by Walmart
Product Description

Additional Information

Reviews
Product Description
The Little Tikes Slam 'n Curve Slide is a fun summer activity for children. This inflatable backyard water slide features an inflatable climbing "rock wall" that leads to a slippery slide. The Little Tikes Slam 'n Curve Slide ends with a gentle curve that leads into the water pool. This Little Tikes Water Slide has a roomy splash pool for a fun end to the ride. An inflatable basketball hoop and ball come included with this inflatable backyard water slide for extra poolside activities. The Little Tikes Slam 'n Curve Slide is large enough for several children to play together, yet deflates and folds compactly for convenient storage. A heavy-duty blower with GFCI plug comes included for inflation. This inflatable backyard water also comes with stakes, a repair kit and a storage bag.
Additional Information
Little Tikes Slam 'n Curve Inflatable Water Slide:
Inflatable backyard water slide and pool built from puncture-resistant material
Fun inflatable rock wall leads to a slippery slide
Slide with a gentle curve at the end for a ride into the refreshing pool
Roomy splash pool
Includes: Inflatable basketball hoop and ball
Step-down inside wall for easy entrance and exit
Stakes anchor the bouncer firmly in place
Large enough for several children
Deflates and folds compactly for easier storage
Blower required for inflation
Heavy-duty blower with GFCI plug included
Comes with stakes, repair kit and storage bag
Maximum weight capacity: 350 lbs
Accommodates up to 3 children
Connect to your garden hose and turn on water flow
Dimensions: 10'8"L x 13'1"W x 7'9"H
90-day limited warranty
Reviews
maegen
We got our money's worth, shopping for another one
I bought this for my sons' 5th and 3rd birthday parties. They are both in the summer so I figured, even if I only get to use it for the 2 parties, it is close to what I would have paid to have 2 parties at a venue. I kept it out all summer in Louisiana where it is super hot. I rolled and folded it up for the winters and stuck it in the shed. I didn't take special care of it. It lasted us 4 summers. The boys are now about to be 9 and 7. I pulled it out for one last try but it was leaking too much air. The boys were able to play on it for a few hours but it was a little squishy instead of firm. It would have lasted longer but the purple part at the top is woven thinner than the rest and the boys and all the neighborhood friends (5-6 kids everyday of summer) pull on and hold on to that spot when they are at the top or sliding down. I tried to tell them to stop hanging on that part, but it was hard for them to remember. It is large and cumbersome which makes it hard to put away, but that's why I just left it out all summer and let them use it everyday. Now I am shopping for a new one, new style but I am afraid to get a different brand. This one was worth the money, kids loved it and I would buy it again.
Ebony
GREAT purchase/investment
I purchased this slide for my son's 4th birthday! He and about 10 other children (ranging in age from 4-12), had a BLAST! They were heading up two at a time, coming down the slide with the inflatable toys and just plain being ROUGH! I was surprised at how well it held up! The spray attachment at the top of the slide provided an adequate water-flow going down the slide! I was inspired by all of the amazing reviews about this slide and am so grateful that I purchased it! It's something that I know my kids will enjoy for years to come!
bowers99
Great value and Kids LOVE it
My 3 year old daughter spent 7 hours on it yesterday with her 10 year old cousin and has help up perfect. I can not foresee it ripping and tearing but I fee comfortable with the warranty by Little Tikes. I have read previous reviews complaining about cleaning and mold but our experience was easy, we let the water out of the pool by deflating it, swept all remaining water out and then inflated it again for about 30 minutes and used a towel to dry up corners and remaining water. Dry within 30 minutes. I think all and all for 250 bucks it is a win win for all of us
Hildie7
Great Summer water slide.
This water slide was great. My grandson and his friends love it! I highly recommend this water slide.
Egretrose
Worth the money!
I bought this slide for my sons third birthday party. We went to another water slide party a few weeks before and the rented slide was way to big and scary for the little kids 2-4. The little tikes slide was perfect. My 11 year old 110lbs even loved it and her friends played on it all weekend. We had a few adults go down with out issue. I did place a larg tarp under the slide for added ground protection. I left it up all weekend. The hardest part was drying it off and rolling it back up for storage by myself. I'm sure a larger and stronger person like a man would not have a problem.