Sawyer Permethrin Clothing and Fabric Insect Repellent Trigger Spray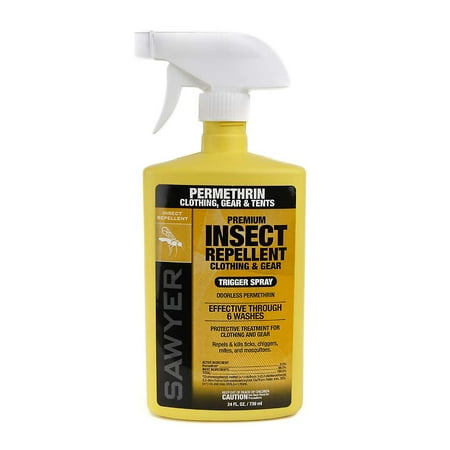 Sale :

$9.97

Sold & shipped by Walmart
Product Description

Additional Information

Reviews
Product Description
This Sawyer Premium Permethrin Clothing Insect Repellent repels insects and kills ticks, mosquitoes, chiggers, mites and more than 55 other kinds of insects on contact.
Additional Information
Sawyer Products Premium Insect Repellent for Clothing and Gear:
The Sawyer Premium Insect Repellent is for use on clothing, tents and other gear
Repels insects
The Sawyer Premium Permethrin Clothing Insect Repellent kills ticks, mosquitoes, chiggers, mites and more than 55 other kinds of insects on contact
The active ingredient, Permethrin, is a synthetic molecule similar to pyrethrum which is taken from the chrysanthemum flower
When applied to clothing, Permethrin binds to the fabric eliminating the risk of over-exposure to the skin
Odorless when dry
Will not stain or damage clothing, fabrics, plastics, finished surfaces or any of your outdoor gear
Single application of the Sawyer Premium Permethrin Clothing Insect Repellent lasts 6 washings
Follow the directions for use on the package label
The Sawyer Insect Repellent for Clothing and Gear is a contact insecticide
Same active ingredient used in hair shampoos for head lice
As a clothing, tent or sleeping bag application, Permethrin is very effective at keeping ticks from attaching to you and at reducing the mosquito population in your camping area
An effective repellent against mosquitoes and flies
The Sawyer Insect Repellent for Clothing and Gear can be used in conjunction with a skin-based repellent
Can be used as the primary repellent if the exposed skin area (gaps in the treated clothing) is not too large
By storing the treated clothing in black plastic bags between uses the protection can be extended considerably
For treatment of packs, tents, camp chairs and other non-washable items the application will last through 42 days of exposure to sun and air
Treating a tent and camp chairs while camping is an excellent source of bug protection
3 oz of formula per garment is recommended
If you are treating your socks, they count in the overall application as well and the formula used is part of the 6 oz needed to treat an outfit
Applying less than 3 oz per garment will lead to unsatisfactory results
Treating your shirt and pants is much more effective than just treating 1 of the garments
Treating your back-pack significantly adds to the protection from your shirt and pants
Sweating and exposure to water does not significantly deteriorate the application of Sawyer Premium Insect Repellent
Do not expose cats to wet Permethrin as it affects their central nervous system
Cats can be around Permethrin-treated fabrics once the application has dried
Reviews
sunoh100
Great product
I bought large bottle in very LARGE quantities of this product from other vendor, but I needed more so I bought extra 4 more bottles from Wal-mart, which was half the size bottle. I used this product for my organized group to Ecuador on a missionary trip. EVERYONE used this product during the missionary trip and they cannot say enough of compliments to me. They literally saw all kinds of bugs ACTUALLY being killed or falling out from garments touch. This product WORKS so well from mosquitoes, ticks, fleas...... EVERY bugs that mentioned on the bottle. I HIGHLY recommend this for EVERYONE. My other group that went to Mexico on a missionary trip did NOT prepare like I have and took other typical repellent. It DIDN'T DO ANYTHING. When they returned home, they had ALL kinds of bug bites ALL OVER their bodies. They spent over a week applying alcohol ALL over their bodies (chest, legs, back, neck, feet, arms, and hand) 'cause of the bug bites they got from Mexico during the missionary trip.
CTHankster
Very Good Tick & Deer Fly Repellent
FIRSTLY. READ AND UNDERSTAND WHAT YOU ARE USING. Apply only to your clothing and avoid contact directly onto your skin. You will not need much for it to be effective. While it is DEET free, the long term effects of PERMETHRIN are not too well documented. SECONDLY, it is a darn good product. We live very near Lyme CT, where Lyme Diseaase got its name. Deer and other critters roam our yard and fields. Ticks are common. It's better to repell them than have to go through treatment of the disease. So far, I've had good luck. BTY be sure to wear a treated hat and also "blouse" your pants too.
BumperPoolGirl
Amazing Product!
This is by far the best product to use to combat ticks, and other bug's while working outside. My Husband found this product on line, and purchased it early this summer from Wall Mart. If you want to be protected while in the yard ( or really working in heavy brush and tree area's) this is the most effective product you can use. It keeps you tick safe. Sometime's you may find one on your clothing BUT the tick is DEAD!!!!! We swear by this product, and Thank Walmart for carrying it! Do Not hesitate to try and use this product! Would have given it a 10 star if possible, and of course Walmart 100 stars. We live in more of a rural area, and Thank Walmart for being near!!!!!!! Joannie :) & Tony
Harmoniez
Works
I used this to spray around in the storage that had old stored clothing and shoes, and it seems to have gotten rid of the dust mites and all, that was breaking me out. I had taken a few of the boxes of clothing into the living room to take the items out and sort thru them and was getting bites there as well, so I sprayed everything down.. even the carpet.. and it seems to have controlled it. I will certainly keep this product around ! There is a slight smell that leaves very quickly.
comanch8
Great product to guard against ticks!!
I only used once so far on a trip to the bear woods. After careful examination did not find a tick on my person.