Equate Maximum Strength Lice Killing Shampoo, 8 Fl Oz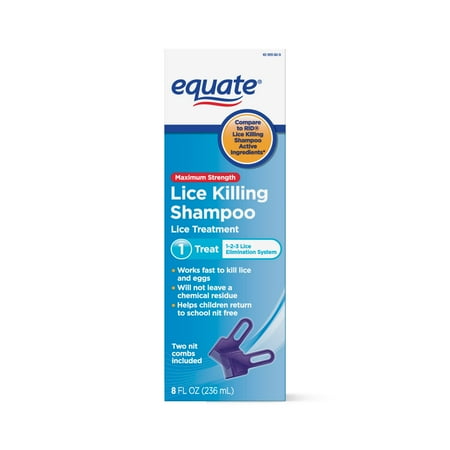 MSRP :

$7.96





Sale :

$6.98

Sold & shipped by Walmart
Product Description

Additional Information

Reviews
Product Description
Equate Lice Shampoo is highly effective when used as directed. It can be used at home and will remove head lice without leaving any harmful chemical residue behind. Equate lice killing shampoo is only recommended for those over the age of 6.
Additional Information

Equate Lice Shampoo:
Highly effective
No active chemical residue is left behind
Equate lice treatment shampoo is easy to use
Works fast to kill lice and eggs in 3 steps
Active ingredients: piperonyl butoxide 4%, lice treatment and pyrethrum extract (equivalent to 0.33% pyrethrins), lice treatment
Helps children return to school nit free
2 nit combs included
Contains 1 treatment
Size: 8 oz
Compare to RID Lice Killing Shampoo active ingredient
UNDERSTANDING LICE
Head Lice
• Lay small white eggs (nits) on the hair shaft close to the scalp.
• Nits are most easily found on back of neck or behind ears.
• Disinfect hats, hair ribbons, scarves, coats, towels, and bed linens by machine washing in hot water (above 54°C (130°F)), then using hottest dryer cycle for at least 20 minutes.
• Items that cannot be washed (bedspreads, blankets, pillows, stuffed toys, etc.) should be dry-cleaned or sealed in a plastic bag for 4 weeks, then removed outdoors and shaken out very hard before using again.
Reviews
AMomma
It works.
Great price. Perfect size for double treatments, one initial treatment and the follow up 2 weeks later. Do not skip the follow up treatment! This works.
MomOfFourBlessings
Worked great!!!
A few months ago, I realized that somehow all 4 of my children had lice. (Oh no!!) I went to Walmart intending to purchase a different product, but they didn't have it in stock, so I ended up getting this instead. I'm so glad I did! For less than $10, I treated all 4 kids (plus my husband and I, just in case). It killed most of the adult lice and the rest seemed impaired (they were moving very slowly) making it easy to remove them from the head. The treatment itself was easy to do, instructions were clear, it wasn't terribly messy, and the smell was not offensive. This is NOT a product that kills the nits (eggs). (Most OTC products are not ovicidal.) You have to remove them, either with the provided combs or your fingers. It was fairly quick and easy (10 min) to do on my boys but took a good 2 hrs for my one daughter who has hair down to her waist. Then you have to follow up for the next week, thoroughly checking and recombing if needed. I went ahead and retreated both my daughters' hair after a week, to kill any remaining nits that had hatched. After that, we have been lice-free (although my head itches while I'm typing this review!). I read more than I ever wanted to know about lice, and the main takeaways were (1) kill the live lice, (2) remove the nits, (3) wash bedding but don't spend much time/energy cleaning as lice/nits can't survive long off the head. Overall, although I did bemoan "ain't nobody got time for this!" while dealing with the lice, this product helped me successfully defeat our infestation on the first go-round. And you can't beat the price.
smartmommyoftwo
Life saver!!
I bought this shampoo after learning that all three of us had gotten Lice, it was fast and easy to use and my kids did not mind the smell of it and had almost instant relief from the itch!
ABMink
Not worth being packaged.
I bought this product to treat my child's head for lice. After the following the directions and combing out what were supposed to be dead infestation, I realized that it had been ineffective. Immediately after the medication was given the bugs on his head were still alive. I assumed they were dying and just not dead yet so I continued to comb over his head thoroughly removing any bugs or nits. I had faith that I was just paranoid, and the treatment had at least killed the eggs and was planning to follow directions and retreat in 10 days. Thank goodness i did not wait that long because in 3 days I looked at his head and there was so many bugs there was no way the first treatment had done anything. At this point I took him in the backyard shaved his head, and sprayed Raid bug killer with permetherin on the clippings.
VATIM
EQUATE LICE SHAMPOO
This is the same product as RID. This should be your first try at getting rid of the lice, but understand that some areas have become immune to the Pyretherin poison. Search the internet, and you will see that just as easy as I did. This product was mildly effective on my childrens hair, but we still had nits that persisted the second treatment. I have tried several formulas and these things are just a pain to get rid of. Natural products work too...maybe.