New Bright 1:24 Scale Radio Control F/F Truck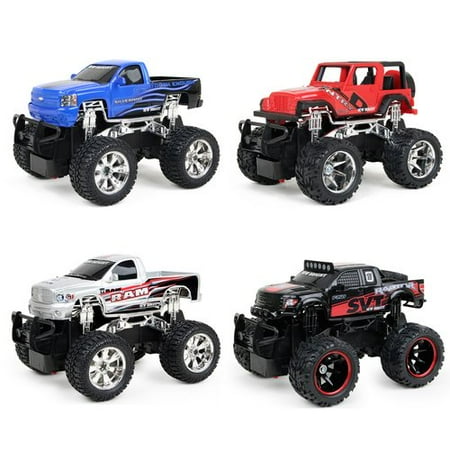 MSRP :

$12.94





Sale :

$9.97

Sold & shipped by Walmart
Product Description

Additional Information

Reviews
Product Description
The bright colors, cool styles, sharp details and easy handling of the New Bright 1:24 Scale F/F Radio Control Truck add up to hours of fun for kids ages 4 years and up. The miniature monster trucks and jeeps are available in a wide variety of styles and colors. Each New Bright truck is an authentic 1:24 scale copy of the original. The remote control is wireless and its dual joy stick design is very kid-friendly. The vehicles themselves have oversize wheels that move well over almost any flat surface, bright chrome-colored trim and dark cow catchers. Each truck toy comes complete with an instruction manual.
Additional Information
New Bright 1:24 Scale Radio Control F/F Truck:
1:24 scaled
Full function
New Bright truck comes with wireless controller
Includes instructions
Requires 3 AA batteries for vehicle and 2 AA batteries for controller (not included)
Actual color and style may vary by store; check your local store for availability
Reviews
Upmup
I wondered how they could make an RC car for <$10
The answer, I found, was they can't. In fairness, I am not an RC car person - I was buying this to disassemble and use the controller and electronics for another project - but before starting to take it apart, I put brand new batteries in to give it a try and enjoy it for a few minutes. The car stopped responding within a few moments of use, and then would only operate for a short time before becoming completely unresponsive again. Even when the car did operate, it was so slow and underpowered (even on a completely flat and smooth desk) that I can't imagine anyone getting much enjoyment out of it, even if worked. In other comments, In case you still want to give tis toy a try, I noticed some complaints about the claim that there are two different frequencies available so that two cars can operate simultaneously - two frequencies are available, however you must check the box for a sticker that says which of the two the car uses. You can't switch from one to the other after the fact.
dpj002
Don't hold up!!
I have now bought 5 of these. I wanted 2 of them to drive on a flat service for a couple hours with friends. I bought 2, tried them out and a wheel fell off in first 10 mins. Took that one back and exchanged it for another one(49mhz). New one (49mhz) ran good for first 45 mins then stopped turning left or right. I sent my wife to the store to buy another new one and tried to fix the busted one. When she returned she had bought both a 49mhz and 27mhz. I pulled out the 49mhz one first as it was the one I needed really. The new controller actually would drive the old 49mhz one just fine. After 5 mins it stopped working and now won't steer the truck left or right. I'm taking it back. So frustrating!! If you want to get one, I recommend getting the one that uses the 27mhz controller. If you need two trucks you will be disappointed :( I didn't have high hopes for these at $10 but not lasting 10-15mins is horrible.
Brazilchick32
Go look for something better
Just bought this for my 5 1/2 year old and it is cute but it does not work unless on flat surface. Won't even go over short grass. Batteries died in 24 hours as well. Going to return it and spend the extra money to get a better one.
PAULZNET
fun toy when it works.
Worked good for 10 days now. only goes forward or reverse. When you press forward it goes forward when you press left or right it does not go forward or reverse. I'd say this is a cheap toy. Spend the extra money and get a better one.
leadfootsu
Watch out world --kid's got a truck!!!
The little 2 yo who got this for his birthday totally loves it! Took him about 30 seconds or less to figure out how to run it, and now he doesn't want to put it down!