COFFEE-MATE The Original Powder Coffee Creamer 35.3 oz. Canister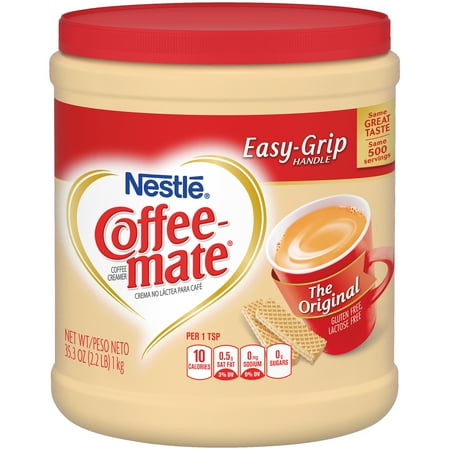 MSRP :

$5.75





Sale :

$5.22

Sold & shipped by Walmart
Product Description

Additional Information

Reviews
Product Description
Coffee-mate Original Powder Coffee Creamer is a delicious powdered creamer that delivers the perfect blend of creaminess and sweetness without altering or masking the taste of your coffee.
Additional Information
Nestle Coffeemate is coffee's perfect mate.
Non-Dairy, Lactose-Free Coffee Creamer
500 servings of great-tasting Original flavor
Gluten Free, Cholesterol Free
Nestle Coffeemate's canister with its unique easy-grip handle is perfect for home or office
Reviews
Jewvonne
Quality plain delicious coffee creamer
I have used this powdered coffee creamer for more years than I care to admit. I drink my coffee daily using this plain, but rich dairy-flavored Coffee Mate - I will allow no other brand in my home. Occasionally when I'm having coffee at a friend's and they only have a cheap coffee creamer powder, it frankly spoils the moment for me. Don't you hate it when you are served some kind of mystery powder in a packet in a cafe? Compared to Coffee Mate, all the others have no taste and just color the beverage. I'm tempted to carry a small container of my Coffee Mate with me so I won't be so disappointed. True, there are some very nice exotic flavored Coffee Mates which I also enjoy, but for everyday enjoyment, this plain flavor cannot be beat. A bonus in this larger size is the nice plastic container - They are great for storing dry dog/cat food, lawn fertilizer and bird seed, etc in a more manageable amount.
Gigi
First Time With Coffee Mate.
My first Coffee-Mate purchase. Now I understand why people LOVE this stuff. This gives the coffee a special something, a creaminess unable to experience with half and half or any other known creamer in the market. I was skeptical about how well this would go with medium roast but it balances super well while still keeping the true taste of whatever coffee you've brewed. A tad darker in color than with diary creamers but the taste is perfect! I use a heaping TSP and that does it. I know the ingredients are not healthy, but it's a straight forward artificial creamer and complaining about something already obvious to the naked human eye, really does not provide a clever review. But, at my own risk, I like this very much in my coffee and I do recommend this and till I get tired, I will continue purchasing this. Maybe try other flavors. Fast shipping, well packaged, fresh product and most importantly, no spills! Well done, Walmart!
mrblueu
No Spoon Residue - The Winner
I really like the large size of the coffee-mate creamer. I use Great Value powder creamer too at times but for me, I find Coffee Mate has more flavor. Something else I have noticed is that Coffee Mate does not leave spoon residue. I don't place the utensils such as spoons in my dishwasher. I wash them by hand. I use a spoon to place contents of creamer into my coffee and stir. When I remove the spoon from the coffee after stirring, the spoon is clean when using Coffee-Mate. However, with Great Value there is always a paste like substance left on lower spoon handle. What this tells me is that Coffee-Mate dissolves readily and completely. For me, several things make Coffee-Mate the winner. I can rinse my spoon quickly and place in dish drainer. I know that it dissolves completely in coffee. It is a flavor that I can actually taste.
M One
Non Dairy?
If it has Sodium Caseinate In It Then, It's Not Non Dairy. Caseinate Is Made From Milk! (Dairy)
numberonebargainhunter
coffee mate
This is the best creamer ever. It has a real cream flavor and aroma.