Sharp Green LED Dual Alarm Clock, Silver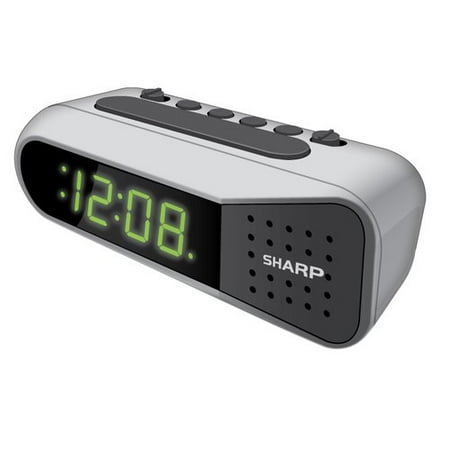 Sale :

$9.88

Sold & shipped by Walmart
Product Description

Additional Information

Reviews
Product Description
Be on time with the Sharp Green LED Dual Alarm Clock. This sleek alarm clock features a cool greed LED display. The ascending alarm volume helps you wake up, so you'll never miss another appointment.
Additional Information
Sharp Green LED Dual Alarm Clock, Silver:
2 alarm settings
Ascending alarm volume
Snooze function
7/10" green LED display
Electric power dual alarm clock with battery backup
Reviews
MikeO
Defective
There is a defect in the latest batch of these clocks. I have 2 from a few years ago that work fine and wanted another. Bought 1 and found defect; returned it and bought another; same defect. Might try a third time if I have the time. The problem is that the alarm indicator comes on by itself and stays on when the alarm switch is set to "off." Any movement of the alarm switch will turn off the light but it will come back on by itself within 12 hours. There is something wrong in the circuit board. It is confusing and leads one to believe the alarm is set when it is not. I am not the first to find this defect - another reviewer on another site had the same problem with 2 of these clocks. I will try to post a pic as proof.
gravytrain2011
Terrible clock
After I plugged the clock in and set it up, it started getting really hot (over heating). I set the time and alarm. It the morning after turning off the alarm I noticed the back of the clock was super hot, at that time all the lights on the front of the clock turned on and it started beeping (the alarm was turned off). Waste of time and money. I'm pretty sure any other alarm clock is better than this one!
BAEEJ5
Poor quality
We have bought two of these now. The first one worked well, but died after 6 months. We just went back to the store and bought another. We figured that it was probably just a fluke. When we plugged it in we discovered that not only did one of the numbers not display correctly, but that the alarm itself was also broken. It's going back. Don't waste your money.
bewarned
clock died after 1 year
One morning, exactly a year after I bought this Sharp alarm clock, it stopped working. I heard a rattling sound inside when I shook it. When it was running it always seemed to get too hot, so maybe something burned out inside. Save your money.
GMontag
DOA
This looked like the perfect alarm. No unwanted features, a big snooze button, two alarms. Simple. However when I plugged it in and tried to set the time it just beeped at me. Sometimes the time would advance,but then the whole display would light up, beep, and go back to 12:00.